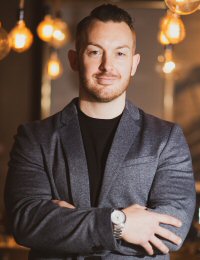 In the United States Texas is known as the home of pioneers and risk takers – and applying a Texan theme when having the confidence to open up a restaurant in Hong Kong amid the COVID-19 pandemic is a fine example.Chef-restaurateur duo Chris Grare and Arron Rhodes have just launched a smokehouse barbecue in the city's Central business district. Smoke & Barrel is their second Hong Kong restaurant following Kinship, a family-focused Central restaurant which opened last year.Serving up old-school American barbecue using only US meats and slow-and-low traditional cooking techniques, the restaurant houses an imported wood-fired smoker. This turns out the hallmark flavours hickory wood imparts to Texas-style barbecue, according to Mr Rhodes.Smoke & Barrel made its debut early in October. What's it like opening a restaurant during a pandemic?
Things seem to be slowly going back to normal and we've been pretty busy so far, with bookings of up to 150 covers per day. We considered pushing back another year but that's because we were looking for the right venue. I put in a low offer to the landlord and he took it. By this point, we hadn't started fundraising, so had to run around investors but managed to get the cash in place. We have a great venue with 120 seats, so it's a big space.We saw some other restaurant groups were opening new outlets so we decided to go for it too. As Netflix started showing the American Barbecue Showdown last month, it's been good timing as it's driven a lot of interest. How did you overcome the challenges about setting up a restaurant during a pandemic?
We did wonder "what if the government closes down dining completely?". But in the end [restaurants were] only shut for six or seven weeks. We've been allowed to meet our full dining capacity, although our licence is restricted to until midnight. Other than that, everything has fallen into place. Do you feel you have found a niche in a very competitive dining market?
Yes – Hong Kong has many different types of restaurants but smokehouse barbecue has never really taken off here. One of the first things we did when coming up with ideas for our dining concept was to ask, "What is the city missing?" There's so many burger joints, Italian and French restaurants. We also wanted to find a concept that was reasonably low-price. Before opening, we were cooking 24 hours a day and sleeping in the restaurant as we worked to get the smoking just right. Are you finding that people are more open to eating out now? What kind of capacity are you experiencing?
We're fully booked for Thanksgiving already – customers have booked and paid in full to guarantee their table. We anticipate that restrictions may still be in place for the rest of the year, but we're confident it's going to get busier into 2021.

You are launching a takeaway and pickup service – do you expect to see much demand?
I think there will be, yes – there's a lot of people calling for it. We've signed up to Deliveroo and people will also be able to pick up [their orders] from the restaurant. We've also sent out samples onto junk boats to get some feedback. Barbecue food is often eaten as a takeaway out of containers, so we're hoping we'll get a substantial income from delivery service.

What synergies are there between your two restaurants?
The philosophy of how we treat customers and staff, and the style of service. We treat people as if they are friends and family coming to your home and call everyone by their first name. We have 26 staff at our new restaurant, and it's been a lot easier to find them than with Kinship. Due to the pandemic, hotels and the aviation industry are still struggling, so there's some great staff out there looking for work who really understand customer service, like cabin crew. Would you like to open other Smoke & Barrel outlets, or debut other different dining concepts in the future?
We're thinking of more Smoke & Barrel outlets in Hong Kong and maybe Mainland China. And yes, we do also have some ideas for different dining concepts. But for the moment, we're focused on getting Smoke & Barrel up and running. We've achieved a lot in short space of time – in less than a year and half, we've set up two restaurants. Sometimes we have to pinch ourselves!Long term, we will set up a holding company and operate all dining outlets under that. We want to be a small food and beverage group with five to six restaurants maximum. The thought of doing 15 to 20 restaurants is very scary! Now we have 38 staff but getting up to 100 employees, there's a lot of people to manage. When we open the next one, we'll need to employ people in more operational roles, like HR and marketing. How do you plan to grow Smoke & Barrel's business going into 2021?
The goal is to open for longer as much as we can. We may even introduce some eating challenges, with those who succeed getting a free dinner, or maybe their name on a plaque on the wall. Something like this would do well on Instagram, especially if we invite a couple of celebrities.
Related link
Smoke & Barrel