Online shopping has been growing in popularity for many years and the COVID-19 pandemic, which kept consumers around the world at home, turbocharged the trend. And with shopping comes the need to return items. Return Helper - a winning start-up in the third Startup Express programme organised by the Hong Kong Trade Development Council (HKTDC) – spotted the business opportunity created by the relatively high return rate for online shoppers, and created a one-stop cross-border e-commerce returns platform. Now a recommended service provider for eBay, its monthly return processing volume has reached 10,000 pieces, with each piece earning more than HK$77 (US$10).
High return rate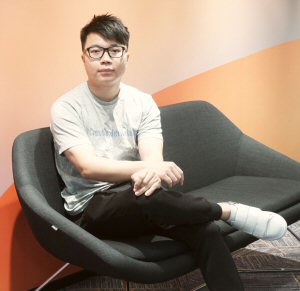 Return Helper co-founder and CEO Roy Wan studied business information systems at the City University of Hong Kong. After graduating in 2009, he worked for cross-border e-commerce firms including eBay and Continental Global Service. He noted that cross-border e-commerce has grown rapidly but the return rate is high: "The European and American markets have robust protections for consumers, and the return rate of online shopping is 20% to 30%," Mr Wan said. "Holiday discounts bring even higher return rates."Many manufacturers based in Hong Kong and Mainland China export to Europe and the United States and supply products to large e-commerce companies such as Walmart and eBay, Mr Wan said. "When returning goods, they usually rely on traditional logistics providers (such as DHL and FedEx) to bring the items back to Hong Kong," he said. Small and medium-sized manufacturers find they do not have the resources to deal with the cost of such returns and processing – a single courier fee can reach as much as HK$200. Returns involve logistics, testing, maintenance, waste recovery and recycling. "We hope to provide an end-to-end, one-stop processing solution that also integrates data to suggest the most cost-effective solution to the e-commerce provider."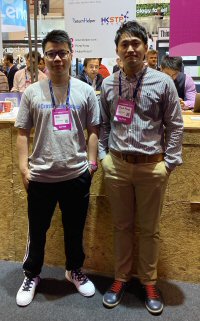 Mr Wan and Paco Wong – a fellow high-school student who graduated from the University of Hong Kong in computer engineering – co-founded the joint venture with about HK$500,000. At the end of 2018, they founded Return Helper which became a Hong Kong Science and Technology Park incubation company, receiving start-up subsidies and services such as a visit to the Web Summit in Lisbon, Portugal last year (main picture). Mr Wan said the one-stop returns solution allows e-commerce companies to choose to redirect returned goods in the destination country so long as they are not damaged. Inferior goods can also be resold on the second-hand market. Other options are to recycle or discard the goods to save cross-border freight and other operating expenses. " just like outsourcing the entire return process to us; we also believe that the return processing at source is more cost-effective," Mr Wan said.
Big and small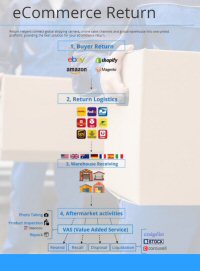 Mr Wan said his previous work experience led him to propose cooperating with overseas logistics companies and third-party warehouses: "The United States is the largest e-commerce returns market, so first we negotiated with the US Postal Service. The overseas operators appreciated the importance of returns so negotiations went smoothly." At the same time, Mr Wan introduced the cross-border returns programme to small and medium-sized e-commerce companies in Hong Kong and the mainland. When Return Helper officially launched in June last year, there were already more than seven logistics companies from seven countries on board. These included the US's Federal Express, US Post, Royal Mail, Australia Post, DHL from Germany, France Post and Spain Post. Return Helper became one of eBay's official service providers within three months.Return Helper already had about 500 e-commerce companies – mainly from Hong Kong, the mainland and Southeast Asia – on board at the time of launch, Mr Wan said. Monthly processing volume rapidly increased from a few dozen pieces to more than 10,000 pieces. Each return brings in more than US$10. "Without this monthly processing volume, large logistics companies may not be willing to cooperate and provide express discounts," Mr Wan said. Currently, online buyers requesting returns are mainly from the US and the United Kingdom.Having initially focused on small and medium-sized e-commerce companies, Return Helper is expanding its market to include large enterprises, Mr Wan said. Recently, the firm signed contracts with the mobile-phone case online store CASETiFY and Hong Kong online cosmetics supplier StrawberryNET, and plans to expand its mainland marketing team. "The mainland's exports to the European and American markets amounted to US$100 billion and the return was about US$10 to US$15 per piece. I hope that related services can be added to push the earnings to US$20. "The company is also actively looking for recycling partners in the US and negotiating cooperation agreements with large companies, which will help resell returned products in the second-hand market.Mr Wan said Return Helper's Startup Express win had brought many benefits. The HKTDC not only arranged media visits, exchanges, inspections and promotional activities and allowed the firm to meet potential investors, buyers and partners. The "start-up zones" at exhibitions and conferences would also increase exposure to the public. The HKTDC's offices in the mainland and Taiwan let Return Helper promote its business at a local level.
Related link
Return Helper