As the COVID-19 pandemic slashed international travel to near-zero for several months and local lockdowns crimped domestic options, tourism has been one of the hardest-hit industries. A United Nations World Tourism Organisation report said that as many as 120 million jobs could be at risk in the sector and the economic damage is likely to exceed US$1 trillion in 2020 alone. COVID-19 could set the global tourism industry back two decades.But Hong Kong is fighting back. With tourism a pillar of the economy, leading industry body, the Hong Kong Tourism Board (HKTB), has leveraged its experience to engage its global counterparts to chart the way forward.
Post-pandemic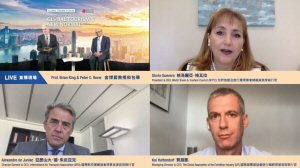 A recent online forum – "Beyond COVID-19: Global Tourism's New Normal", hosted by HKTB, is believed to be the first event of its kind focusing on post-pandemic tourism prospects for Hong Kong, Mainland China, Asia, and the world.More than 4,000 tourism industry representatives, journalists and academics registered for the event as global industry leaders shared insights into the effects of the pandemic on travel, how the industry should respond, and the trends to expect as people begin travelling again. In his opening remarks, HKTB Chairman Dr YK Pang emphasised the importance of restoring consumer confidence. "As an industry, our central mission must be to give every traveller the confidence and reassurance that their trip is safe from start to finish," he said. "Our cooperation must cross geographical and business boundaries. We must pool our knowledge and expertise and draw on our collective ingenuity to navigate the challenges that lie ahead of us."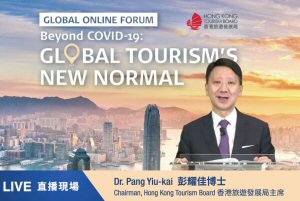 As a key initiative to kick-start the sector in readiness for open borders, Dr Pang said the HKTB would team up with the HKSAR Government and trade partners to create "Open House Hong Kong" – a unique and region-leading travel platform to tell the world Hong Kong is a COVID-safe destination ready to welcome back visitors with attractive offerings and exciting experiences. He invited trade partners from around the world to support the platform by providing enticing offers for travelling to Hong Kong as a leading destination for visitors from every continent.
Curtain raisers
Anticipating that the mainland, the Guangdong-Hong Kong-Macao Greater Bay Area, and some short-haul markets will be open for travel "relatively soon", Dr Pang said the HKTB is planning promotions and tactical offers targeting these markets, which will be launched immediately once cross-boundary travel resumes. "In the meantime, we will continue to maintain Hong Kong's presence in source markets through a variety of promotions and mega events," he said.After taking the opportunity during the pandemic to review Hong Kong's tourism positioning, Dr Pang said the city would continue to target high-yield visitors. Recently, seven major MICE (meetings, incentives, conferences and exhibitions) events have been confirmed, expected to attract about 20,000 participants and boosting confidence in Hong Kong's ability to draw high-yield MICE visitors in future, he noted.Kai Hattendorf, Managing Director and CEO of The Global Association of the Exhibition Industry (UFI), a guest speaker at the forum, agreed that exhibitions and business events, as marketplaces and meeting-places for every industry around the world, are key to economic recovery."The pandemic is accelerating trends that were already shaping up around the 'marriage' of the on-site event with online services before, during, and after the event. Business events will become more digital," he said. "But the main element that is driving success is and remains the direct exchange, the face-to-face meeting. Clicks don't discuss deals, and eyeballs don't sign orders."Steve Saxon, Partner, McKinsey & Company, highlighted "a major opportunity to capitalise on domestic travel and younger and family travellers, as most consumers are expecting to travel less – especially internationally – after COVID-19". He cited Mainland China, the United Kingdom, and Germany as among those with greatest potential in domestic travel.Meanwhile, for its part, Peter C Borer, Chief Operating Officer at Hong Kong and Shanghai Hotels Ltd, said the hospitality industry will move forward towards a "new normal" with unprecedented health and safety measures in place. "As leaders of the industry, we must collaborate, leave behind the paradigms of the past and look towards a new future," he said, noting that the hotel industry was already moving towards digitisation, artificial intelligence and robotics, and the health crisis has accelerated this trend. "In the short term, we must regain the confidence and the trust of our guests and reassure them that they are safe when they stay with us," Mr Borer said. "However, in the long term, the fundamentals of hospitality will not change, and guests will always appreciate personalised service."
Related link
Hong Kong Tourism Board