The Hong Kong Trade Development Council's (HKTDC) Entrepreneur Day (E-Day) celebrates those who come up with innovative solutions to 21st-century problems. And this year the organisers themselves had to prove their mettle – as the COVID-19 pandemic prevented travel into Hong Kong, and any large gatherings within the city.Showing the same agility that E-Day participants normally display, the HKTDC took the event online with a series of panel discussions tackling topical innovation issues.Panel discussions at the 12th E-Day were held entirely online, on Thursday 16 July and Friday 17 July. High-powered speakers offered a wide range of insights into the world of entrepreneurship, regional opportunities, technological developments, and more. One of the key discussions was "From Crisis to Chances: Unleashing Opportunities in Challenging Times", held on the first day.In the spirit of the current times, this session focused on what many have at the forefront of their minds – adapting to the uncertainty caused by Covid-19 and resulting global economic shifts. The innovations showcased in this session are a testament to not only Hong Kong's resilient adaptability, but also its technical expertise and depth.
Science, innovation come hand-in-hand
While maintaining a level of standards and safety testing remains crucial, a key advantage of entrepreneurship includes being able to test and change things quickly without company politics or bureaucratic obstacles getting in the way.Professor King Lun Yeung, from the Department of Chemical and Biological Engineering & Division of Environment and Sustainability at the Hong Kong University of Science and Technology, described how his team's Multilevel Antimicrobial Polymers (MAP-1) could be applied in different scenarios, including in hand sanitiser, in paint to prevent mould, coating pipelines, or on concrete to prevent bacterial colonisation. MAP-1 eliminated difficult-to-kill microbes in 10 minutes or less with a higher-than-99% success rate.He also introduced the development process from his university and team's position: "We do a lot of our fundamental research in the laboratory. Once we have a concept that is in the development stage, we usually partner with government organisations to field test in real application settings. Then we will engage partners in the industry to do certification and product development." While this appears to primarily be a scientific invention, it mirrors many start-up processes – a workable product is developed and tested with early adopters or real end-users. Feedback is collected, and the product is refined.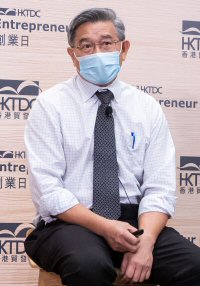 Also speaking at the panel discussion, Prof HC Man, Dean, Faculty of Engineering, The Hong Kong Polytechnic University, shared how his team developed a made-in-Hong Kong 3D printed face shield. In view of patent concerns, they underwent a rigorous research and development process to create a unique model with the university's school of design. More than 20 design iterations with major design changes were made in less than two months, complete with end-user feedback.Prof Man showed how the face shields were designed to be usable in daily professional settings so people could go about their normal lives and careers – a major concern given the economic implications of COVID-19. With photos on screen to illustrate his points, he said: "Now we try to reboot our economy, and have people working as in normal life. COVID-19 will be with us for a while and we cannot shut down the economy all the time. So how can we protect ourselves in such a situation? Take for example, on the left, you can see a beautician working with a face shield. And, for restaurants, you cannot close them all the time. So how can we maximise protection? It's me eating noodles wearing a face shield".
Understanding needs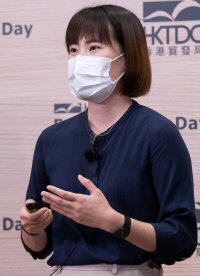 As part of the response process to Covid-19, it was clear that understanding how the pandemic changed people's daily lives was key to developing effective solutions.Katherine Cheung, Chief Marketing Officer, Snapask (Holdings) Inc presented insights into a platform-based solution that addressed behavioural changes in society and how quick adaptations rapidly expanded the business. Snapask provides a real-time platform for people to continue learning online outside school – by finding tutors to instantly answer questions all over Asia, as well as accessing educational content and quizzes.Ms Cheung recalled how COVID-19 helped Snapask re-assess what it really means to learn: "In the world of online teaching, whenever you want to listen back or pause a bit to think about what's being taught, it's possible. But within a physical school setting it's very hard to achieve. [The pandemic] is actually giving us an opportunity to think what the best ways are to empower students to learn, and what more we can do to help students learn in the most efficient way?"
Resilience in the face of Covid-19
The obvious question of the event for many people: how does COVID-19 affect businesses and how should we adapt? Prof Man responded: "There will be a lot of new chances, because the economy will be very different. A lot of shops closed. A lot of businesses disappear. This is part of the product life cycle; everything has an up and down."In some ways, crises do more than force adaptation – they can even eliminate people's hesitations to trying new things. Ms Cheung explained: "The COVID-19 situation really opened a new gateway for us to rethink about what it means to really learn. Before the pandemic, we think online learning or going full online is something very far away. Even for teachers and schools, there's kind of an invisible door for them to push open. But after this COVID-19 situation, then people start to think 'if I can do it online at home safely without any distraction, then what are the possibilities and opportunities that we can tackle'?"Prof Yeung reminded the panel: "It is very important that we be nimble during this time. And actually, we need to think outside the box to solve some of the problems that we have because we are in an extraordinary time, we cannot use ordinary measures to deal with the problem that we are seeing right now." He also noted, however, that when dealing with long-term problems like infectious diseases, "New technology has to be developed. Unfortunately, a lot of antibiotics are more than like 20 to 30 years old, and a lot of disinfectants have been here for almost 50 years. There's not a lot of innovation or investment in this area, which is something that we really need."
Perhaps there lies a further opportunity for entrepreneurs and investors alike to not only find success, but benefit Hong Kong as a whole.
Related link
E-Day