The COVID-19 pandemic has kept fashionistas from Milan to Monaco (the long way round) at their homes, offices and studios digitally flipping through collections and keeping physical interaction to a minimum.The fashion industry has not sunk into suspended animation, however – designers, manufacturers and marketers are hard at work in the physical world, churning out creations that define each season's trends. As with any constantly evolving industry governed by trends, fashion thrives on communication and the exchange of designs and ideas about designs. To keep this communication open, the fashion runway needs to turn into a launch pad into cyberspace – which the Hong Kong Trade Development Council (HKTDC) provided when it transformed the runway shows in the fifth edition of Asia's annual fashion spotlight, CENTRESTAGE, into "A World of PHYGITAL" – its central theme in 2020.
Virtual runways
Organised by the HKTDC and sponsored by Create Hong Kong (CreateHK) of the Government of the Hong Kong Special Administrative Region, the CENTRESTAGE fashion extravaganza featured six virtual runway shows which ran online from 17 to 19 September. Combining traditional fashion shows with computer-generated imagery, these unique showcases drew the attention of fashion lovers and media from around the world, allowing Hong Kong and Asian designers to gain exposure and expand their networks amid the COVID-19 pandemic.The six virtual runway shows included the opening "Fashion Hong Kong", "Next in Cheongsam" (main picture), "FASHIONALLY #15", "Taipei in Style", "Hong Kong en Vogue" and the final of the Hong Kong Young Fashion Designers' Contest (YDC) 2020, all of which can now be viewed on the CENTRESTAGE website. The site also features fashion images highlighting the new collections of local designers.
Curtain-raiser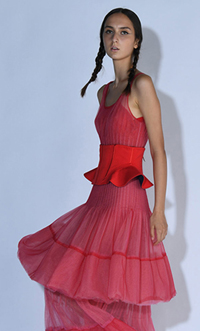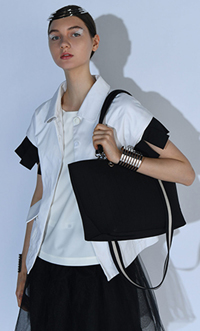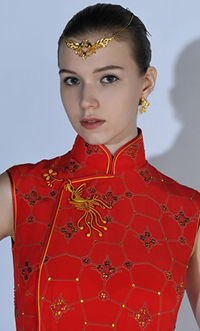 The opening Fashion Hong Kong show ran with a "Space Odyssey" theme, featuring eight homegrown design units, all of whom have taken part in New York and London Fashion Week events organised by the HKTDC under the Fashion Hong Kong initiative, presenting their latest collections in a brand-new format to put the focus on Hong Kong's creative prowess. The designers were Mountain Yam (brand: 112 mountainyam), Angus Tsui (brand: ANGUS TSUI), Bettie Jiang (brand: Bettie Haute Couture), design duo Jessica Lau and Walter Kong (brand: BLIND by JW), Doris Kath Chan (brand: DorisKath), Glori Tsui (brand: METHODOLOGY), Sun Lam (brand: SUN=SEN) and Yeung Chin (brand: YEUNG CHIN).
The Designers' Collection Show: Next in Cheongsam ran on 17 September and featured SPARKLE by Karen Chan – Modern Cheongsam and THE SPARKLE COLLECTION – Modern Couture. The Fashionally Collection #15, themed "Impossible Stage", ran on 18 September and showcased brand new collections from nine previous YDC contestants - YMDH, Charlotte Ng Studio, ARTO, SFZ&SON, TAK L., Kevin Ho, Lapeewee, FromClothingOf and REDEMPTIVE.Taipei in Style ran on 18 September and featured CHEONG PAI CHENG, Ysanne, CHERNG, Marquess & Homa.The Hong Kong en Vogue show ran on 19 September and carried ALPS Annie Ling, JUNW Natural, Ejj Jewellery, 嫿 Mary Yu, Oplus2 and Syra J.As a digital show, this year's CENTRESTAGE overcomes the limits of time as well as geographical borders. As part of the event, a citywide campaign "CENTRESTAGE in Town" features fashion-related promotions run in collaboration with fashion malls, restaurants, hotels and fashion-focused cultural landmarks in the city. Fashion showcases and workshops are being held under the campaign, which also features shopping and dining offers. Members of the public are encouraged to join in to celebrate this iconic citywide event, which runs until 30 September.
Related links
CENTRESTAGE
CENTRESTAGE in Town
Fashion Hong Kong
Hong Kong Young Fashion Designer's Contest (YDC)