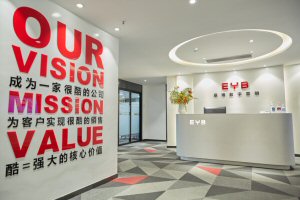 EYB Digital Marketing specialises in helping brands to open up the market in Mainland China and boost sales through digital marketing. Founded in Guangdong in 2002, it now has branches in Guangzhou and Shanghai. EYB Vice-President Frankie Lee's views on how the methods of marketing communications in the mainland have changed. The differences between social media and content platforms, and how best to use those platforms' different characteristics, should provide a valuable reference for Hong Kong industry players.
Looking for goods to buy
Mr Lee describes marketing communications a decade ago as a case of "goods reaching out to people". Brand owners would advertise themselves to consumers via mass media, such as mass transit, outdoor media, TV and other channels. They would tell consumers how special their offerings were and seek exposure. In recent years, however, marketing communications has changed to "people looking for goods to buy". Nowadays consumers learn about a particular brand and "get the grass seed planted" (Internet slang meaning that a consumer develops a strong desire to buy when he or she sees something useful and nice posted by friends and other netizens) through their trusted friends, experts or social groups via social platforms (such as Weibo and WeChat) and content platforms (such as Douyin or Chinese TikTok, Kuaishou, and Xiaohongshu or Little Red Book). They then look for the product, buy it and share the information. Mr Lee said the whole decision‑making process has undergone a great change thanks to the emergence of new social media.He believes that changes in the decision‑making paths of consumption do not necessarily mean that social media can take the place of traditional advertising, saying: "The two can complement each other. What EYB does is omni‑channel marketing. We have our offline channels of communications ‑ that is, outdoor media such as train or bus station waiting halls, public buses, mass transit ads, TV commercials, radio and newspapers. We also plan offline events, such as handing out samples and hosting free tasting activities."However, because of the growing popularity of social media and the increasing numbers of people using instant messaging apps, EYB now embraces more social networking elements in its marketing communications in a bid to cover more social platforms and content platforms."
Faster decision making
Social media has shortened the decision‑making process for consumers. It has reduced the time between consumers hearing about a product and buying it, and has even reduced the time they take to make up their minds about a product. Explaining how this has happened, Mr Lee said: "The process from hearing about a product to actually buying the product, that is, from 'planting grass seed' to 'plucking grass' (Internet slang meaning that the consumer has bought the item of interest), is completed in no time. For example, a consumer might be watching a KOL's (key opinion leader) live‑streaming for a breath freshener. It may be an unheard‑of brand, but it just happens to suit the consumer's needs. They might think 'It's suitable for business occasions and easy to carry. The product seems nice and is not expensive. Don't mind giving it a try.' The whole process from hearing about the product to making a purchase can take as little as 15 minutes."Mr Lee pointed out that social media marketing is best suited for fast‑moving consumer goods, saying: "Makeup products, for example, are suitable for live‑streaming marketing. When the KOL shows how the makeup is used, the before/after effect is obvious and it's easy to convince consumers to place orders. In the case of food and beverages, live‑streaming can create a mouth‑watering effect and tickle consumers' taste buds, making them want to buy the product."In contrast, Mr Lee added, consumers take a longer time to decide on the purchase of large durable goods. It is not so easy to stimulate desire to buy such items, unless the price is irresistible.
"Social platform" v "content platform"
Mr Lee divides social media platforms into different categories, such as social platforms and content platforms. WeChat, Weibo and QQ are social platforms, while Douyin, Kuaishou, B-Site (Bilibili) and Xiaohongshu are content platforms. Brand owners "plant grass seed" on both social and content platforms and reap the sales via e‑commerce, short‑video, live‑streaming and other platforms. This is the most common form of publicity and marketing today.Explaining how to use these platforms to their best advantage, Mr Lee said: "Taobao and Tmall are content and e‑commerce platforms at the same time. To some people, they are not simply e‑commerce platforms but places they go shopping. A brand owner might use data mining to highlight products that consumers may be interested in at places like Aiguangjie 3 and Taobao's 'Must Buy List', in order to attract casual shoppers to place orders. Their marketing means are more diversified and include graphics, short videos and live‑streaming." Mr Lee also pointed out that Taobao and Tmall now offer "closed loop" marketing on their platforms.Social platforms each have their own characteristics. Mr Lee advised that brand owners must be aware of the differences between different platforms, saying: "If we have to use a few words to describe different social platforms, we would say that Weibo, for instance, is a marketing media and an advertising platform. Everyone has heard about it, not just its followers. It may start topic events and make the most searched hashtags list. WeChat, on the other hand, is more like a spokesperson/brand ambassador and can push the latest brand information to followers and interact with them."Content platforms try to appeal to different users with their unique characteristics. Xiaohongshu is a community for "planting grass seed", catering specifically to women and emphasising lifestyle factors. Douyin uses dramatic, interesting and interactive short videos to produce effects unlikely to be achieved by ordinary TV commercials. Zhihu is more like a Wanka (Wanka "Players" are experts in particular fields, such as experts in coffee and skincare) that relies on its great understanding and professionalism.
Targeted marketing strategy
Mr Lee argues that brand owners and marketing agents must thoroughly understand the attributes of their products and the target consumers they want to communicate with, so that they can direct their limited resources to key channels.Illustrating his point with some examples, Mr Lee said: "There is a fairly famous makeup brand on the mainland. Its strategy is to channel all its resources to Xiaohongshu and show the before/after effects of its products through photos and short videos. Another domestic brand specialises in skincare products. Its strategy is to concentrate all its resources on WeChat's professional skincare account and skincare specialist account."Both brands, Mr Lee pointed out, place their resources on different channels and both are doing very well. Since makeup products focus on the contrast of before and after effects, photos and short videos can demonstrate those effects well. Xiaohongshu is an important content platform for "planting grass seed" among female consumers. Meanwhile, for professional skincare brands that rely on recommendations from experts and close friends on WeChat, professionalism and trust are the keywords.When helping clients make social media placements, EYB recommends that they begin by understanding the characteristics of different platforms and choose platforms according to the characteristics of their brand and products. They should look for KOLs that suit the distinctive qualities of their products after choosing the platforms. Mr Lee reminded industry players that it's best to strengthen the correlation between the brand and the KOL and avoid frequent changing of KOLs.
Channel building
The mainland market is very complicated and consumer demand and consumption environments differ from province to province. Mr Lee stressed that the most important factor for companies to consider is that the paths of marketing communications, from consumers' contact with product information to their actual purchase, are vastly different on the mainland from those in Hong Kong. Pointing to a further difficulty faced by businesses based in Hong Kong looking to open up the mainland market, Mr Lee added: "Hong Kong companies are not familiar with the social media on the mainland."Mr Lee suggested that Hong Kong brands or Hong Kong agents of overseas brands should try publicising their products in an appropriately proportionate way before venturing fully into the mainland market. They could begin by testing the water through haitao, or overseas online shopping, rather than by trying to build marketing channels too quickly. Mr Lee described how many Japanese brands adopt this strategy, saying: "First they unfold brand publicity by finding travel or skincare experts who specialise in introducing things that are fun and of interest in Japan to publicise a must‑buy list of Japanese products. This way they can build up their name while engaging in small‑scale marketing through overseas online shopping. After a period of publicity and gaining an online reputation, they announce their formal entry into the mainland market on social media, using original packaging and pricing their product at the same level as in the place of origin. Brand publicity and marketing thus become a closed loop."Lee reminded industry players that brand publicity must be done in advance and that it takes time for social content, word‑of‑mouth publicity and the accumulation of brand recognition to take effect. Patience is needed. He said that once the effect of word‑of‑mouth publicity can be seen to be taking place, companies can then begin their online and/or offline marketing. However, he warned they should refrain from investing heavily in marketing channels before they are well‑prepared.
Creativity, execution equally important
In Mr Lee's view, the biggest value that advertising companies can provide is the insights they obtain from a deep understanding of consumers. Explaining how this can work, Mr Lee said: "Creativity can be cleverly conveyed to consumers through a remark, a picture or a short video showing how different one's product is from others. Creative ideas are ideas that are 'reasonable but beyond expectations'. You seem to know it but just cannot put it in words. You see the advertisement and suddenly feel the light dawning on you."However, Mr Lee added, creativity by itself is not enough. Without the necessary resources or the capability to execute them, marketing strategies do not work, especially for brands just entering the mainland market. Mr Lee reminded Hong Kong industry players planning to venture into the mainland market that when they look to team up with mainland advertising companies, they should avoid companies that only offer ideas and should try as far as possible to find partners that have both innovative ideas and the capability to put them into practice. This is because publicising a brand involves film shoots, design materials, social media placement, KOL selection, sample handouts, and so on. If a brand owner teams up with a company that only offers ideas, it will also need to find many other companies to get the job done. This will increase the cost of communications and reduce efficiency, and this is a problem that will be even more keenly felt if the brand owner is short‑staffed.
Related links
HKTDC Research