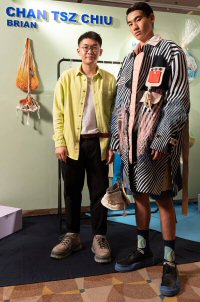 Those born since the early 1990s are often referred to as "digital natives" since they grew up in an internet-powered world. In their view the fashion scene in Milan or New York has always been as close as their nearest screen (which is usually in their hands or at least pockets). This built-in aptitude has let young fashion designers put their best feet forward in the time of COVID-19, when they launched their creations in cyberspace as movement restrictions prevented them from displaying their creations to physical audiences.This year's CENTRESTAGE fashion extravaganza, organised by the Hong Kong Trade Development Council (HKTDC), became virtual in 2020, with both the exhibition and fashion shows migrating to an online platform. Runway shows at the event concluded on 19 September with the 2020 Hong Kong Young Fashion Designers' Contest (YDC) broadcast live through the internet. At the contest, 14 promising local designers overcame the challenges of the COVID-19 pandemic to showcase their creations at a special fashion show, competing for the five YDC awards being given out this year. Champion Brian Chan received a monetary reward together with a one-month overseas internship sponsored by Fang Brothers Knitting Ltd.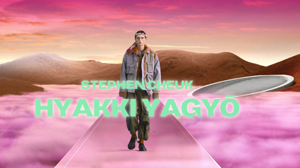 Mr Chan's design "Floating Mindset" (main picture) won him the championship title.The Excellence Award & New Talent Award went to Jacqueline Leung with her design "The Blessed Kids".The Best Visual Presentation Award went to Stephen Cheuk for his design "Hyakki Yagyō".The My Favourite Collection Award went to York Yip for his design "Coexistence". The My Favourite Collection Award debuted this year, with members of the public voting online between 12 August and 18 September for their favourite new design star in Hong Kong.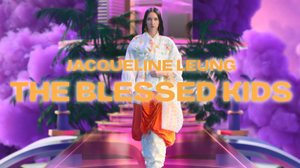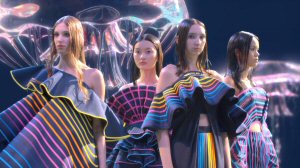 Learning experience
The judging panel for this year's YDC comprised an impressive roster of fashion experts and media pundits. Chief Judge was Katherine Fang, Chairman of the HKTDC Garment Advisory Committee. The other judges on the panel were fashion designer Anais Mak; Michael Mok, General Merchandising Manager/Head of Merchandising at JOYCE; Jonathan Lee, Senior Area Manager (Asia) of Tomorrow Ltd; Kieran Ho, Senior Vice President-Hong Kong, Purple PR; stylist and art director Declan Chan; and Jason Lam, Head of Brand, Asia Pacific at MATCHESFASHION.The judges assessed the young designers' works based on creativity, originality, market potential, craftsmanship, use of fabrics and overall aesthetics, offering expert feedback to each of the participants. "The pandemic has undoubtedly caused disruption to business operations and people's lives in general, but the HKTDC was determined to show its continued commitment to providing a flagship platform for young Hong Kong fashion talents to showcase their collections and share their stories," said Ms Fang. "To succeed in the fashion industry requires resilience as much as it does creativity and I would like to congratulate all of this year's contestants for exhibiting both qualities so well."
Physical showcase
Until 5 October, the public can appreciate the skills shown in the winning YDC 2020 collections through a display at Hysan Place in Causeway Bay. On Saturday, 26 September, all the winning designers will be at Hysan Place to share their design experience and competition insights, while various fashion items designed by YDC alumni are available for sale at the YDC Collective Popup Store, also at Hysan Place, until 5 October. The YDC 2020 Winning Collection Display will be open every day until 5 October between noon and 8pm at Urban Sky on the ninth floor of Hysan Place in Causeway Bay. Display items include collections of the Champion and winners of the Excellence Award, New Talent Award, Best Visual Presentation Award and My Favourite Collection Award.

The YDC Collective Popup will be at the same venue and time, featuring 15 brands including ARTO., CAR|2IE, Charlotte Ng Studio, Coney & Co., FromClothingOf, Invisibilis Moveré, KEVIN HO, Lapeewee,Midnight Factory, MODEMENT, MOODLABBYLORRAINE, PHENOTYPSETTER, REDEMPTIVE, WHY and YMDH.The same venue in Hysan Place will host the YDC 2020 Winners' Sharing session on 26 September 2020 (Saturday) between 3.30pm and 4.30pm. Winners of YDC 2020 – Champion, Excellence Award, New Talent Award, Best Visual Presentation Award and My Favourite Collection Award – will discuss their careers and creations.
Related link
CENTRESTAGE