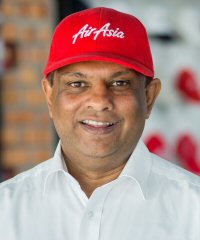 As aircraft sit empty on runways around the world, budget carrier AirAsia – the continent's biggest low-cost airline – has been broadening its horizons. Group CEO Tony Fernandes, who bought out the then struggling airline in 2001 with current chairman Kamarudin Meranun, said the carrier has extended its business interests and reskilled for a digital era. Before the COVID-19 pandemic grounded almost all passenger air travel out of the city, Malaysia-headquartered AirAsia had 69 flights a week between Hong Kong and a range of Southeast Asian destinations.During this unprecedented time in aviation, the airline has even managed to launch two new air routes in Thailand, Chiang Mai-Hua Hin and Udon Thani-Hua Hin, which reflect the demand for domestic tourism, the CEO added. The past six months have been extremely challenging for airlines, how have you dealt with the collapse in travel demand?
It's just been about survival, really. We went from 275 flights a day to zero, but now we're back to flying in all our countries domestically up to about 70% capacity, and welcomed our first international medical charter flight from Medan into Penang this month. We've also been building up our logistics business, Teleport, and have started doing food delivery while airasia.com has evolved to do much more than just selling our flights. We're even selling flights from our competitors on the website. We're also building up hotel supply on the site and want it to be as strong as Expedia or Agoda. We've additionally launched an official store selling inflight merchandise on [Southeast Asia's leading e-commerce site] Shopee and launched a health app to help customers deal with stress and monitor their food intake and exercise levels. What has been the biggest challenge for you over the past six months?
To try and keep everyone's jobs. We have 24,000 staff and I'd never had to do a redundancy in 18 years. It was incredibly painful to let 1,000 staff go, as we did six months ago. I don't want to make any more redundancies and would like to rehire whoever left us. You recently said AirAsia could return to profitability in 2021. Do you still feel that way?
Yes, I do. I'm hoping next year that more borders will open and further international routes can resume. Last week was a big step as we resumed our first international flight from Kuala Lumpur to Singapore. Southeast Asia is much more conservative than Europe and there are pluses and minuses to that. In Europe, they are anxious to get things moving and you are seeing a lot of stopping and starting. I think the cautious approach we have in Asia might give us more of a longer-lasting solution, rather than having to deal with second, third or even fourth waves. As an entrepreneur, you've survived many crises before. How does COVID-19 compare to previous crises?
This is on another level. I've been through a lot – volcanoes, tsunamis, earthquakes, SARS [Severe Acute Respiratory Syndrome], bird flu – but they are all generally isolated incidents or limited to a certain area. COVID is of course global. Creating demand when you can't fly is tough but it gives us the chance to rationalise and rebuild. While it's lasting longer than I thought, the virus won't be around forever and we'll come out of this stronger.You are one of Asia's most recognisable entrepreneurs. What are your proudest achievements?
I'm a pretty simple person. When I go into the airport, I love seeing people who never thought they could [afford to] fly headed off to visit their parents, or grandparents they've never met. But the biggest thing for me is creating jobs – we've democratised pilot roles and got kids who started out carrying bags for us flying planes. Many people remain apprehensive about flying. How would you reassure them that it's safe?
Perhaps the best way is to say that I'm flying, and even though I'm high risk, being over 55 and with previous heart issues, I feel safe. The air is filtered out every two to three minutes on a plane with HEPA [high-efficiency particulate air] filters and no-one has caught COVID on an aircraft up to this point. Not a single member of my crew of over 4,000 has caught it. At the beginning of the pandemic, they were flying to high-risk areas to pick up people in Iran and Italy, so it gives me a lot of confidence about flying. Can the aviation industry ever to return to the state it was in pre-pandemic?
I think so – the world has been through two world wars, mega recessions and events like 9-11, after all. It will rebound, but it will take much longer than anything else. Business travel may change forever but while you can have as many Zoom calls as you want, nothing beats travelling to meet people face to face.
Related link
Air Asia