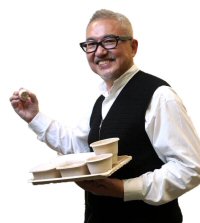 From scratch, Vivian Chang and George Chen had built a successful, vertically integrated garment company but after they sold the business 15 years ago, the Hong Kong entrepreneurs began thinking of eliminating plastic pollution.
It was instant cup noodles – specifically, their packaging - which caught their attention."Cup noodles are the best thing ever invented," enthused Mr Chen. "You pour water into it, and you have a hot meal – you cannot find anything to replace this amazing product."
Health issues
However, they worried about the cost to consumer health and the environment of this ubiquitous, inexpensive convenience food. Heavy metals used to make the polystyrene cups, and chemicals in their plastic lining, can leach into the food when boiling water is added, and beyond that, as a single-use disposable item, they contribute to the world's plastic pollution.Intent on finding a solution, the couple teamed up with Professor Alexander Bismarck, a natural-materials scientist at Imperial College London, to establish Ecoinno (HK) Limited, a Hong Kong-based green material company. Since its 2014 foundation, Ecoinno has developed a patented, highly functional Green Composite Material™ (GCM ™) – made from natural plant fibres, an abundant, renewable polymer - and related processes. The product is said to be 100% biodegradable in the natural environment within 75 days; has extreme temperature tolerance (allowing freezing and oven reheating); is three times stronger than plastic and bioplastic; has high barrier properties; is water and oil resistant; and is toxin-free. The technology utilises agricultural waste– sugar cane, rice or wheat husks for example – and after use, GCM ™ can be treated in an industrial-scale food waste-composting plant to generate biofuel and biomass, contributing to a circular economy. Ecoinno's innovation also enables diverting used GCM ™ disposable tableware from landfill to food-waste composting facilities, helping to tackle the waste-plastic problem.

The first GCM ™ products developed by Ecoinno include food and beverage containers with a wide range of applications. The company is already in discussions with airlines as potential customers - replacing an existing inflight meal set with GCMTM products (main picture) could cut costs by 30% and make it 50% lighter.
Coffee capsules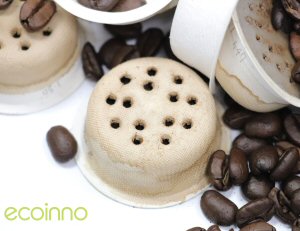 Concerned about the harmful effects of traditional aluminium and plastic coffee capsules, Ecoinno says it has also successfully developed the world's first 100% plant fibre (GCM ™) coffee capsule. The founders are collaborating with some of the world's biggest coffee suppliers interested in this innovation.Ecoinno sees further potential applications meeting specialised needs such as industrial packaging and single-use hospital disposables.The company has grown to a team of over 32 scientists and engineers. It has established a production facility at Tai Po Industrial Park and, with a view to scale up the business, is currently building a fully automated artificial intelligence robotic facility in Hong Kong.Self-funded to date, Ecoinno recently closed US$6 million Series A1 funding from the Alibaba Entrepreneurs Funds of Hong Kong and Taiwan.
Having developed the vertical setup in Hong Kong, Mr Chen envisages expanding Ecoinno's advanced production processing facilities worldwide through franchising. "We want the product to be made wherever it will be consumed, producing according to local market needs," he said.
Natural home
He cannot think of a better place for Ecoinno's home base than Hong Kong, saying the local government has taken the lead to reindustrialise technological-driven industries. Hong Kong Science Park partner company Ecoinno aspires to build a sustainability technology hub to supply solutions to replace single-use products, and build a solid platform for nurturing local and global talents.

To find out more about high-technology developments in Hong Kong, see the Hong Kong Trade Development Council's (HKTDC) Hong Kong: Technology in Action page. Many suppliers of green products and services display their goods and services at Eco Expo Asia which this year forms part of Autumn Sourcing Week | ONLINE [https://form.hktdc.com/ui_registrationsite/Registration/RegistrationForm.aspx?FORMID=844ab870-24d8-4270-9ba6-133d255547b1&BYPASS=YES&LANGID=1&URLEVENTNAME=Eco+Expo+Asia+2020&URLFORMNAME=eBadge+Registration+Form&URLDATESCODE=00].
Related link
Ecoinno