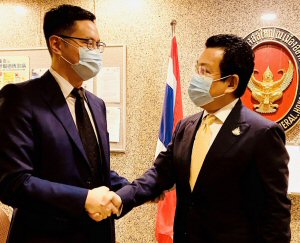 As traditional earnings models are under pressure from a basket of challenges - including the COVID-19 outbreak and Sino-United States trade conflict - many Hong Kong small and medium-sized enterprises (SMEs) are looking to diversify into emerging markets such as Southeast Asian countries. Among these is Thailand, which has considerable potential as a market and production base, according to the country's top envoy in Hong Kong."Thailand is in the heart of the ASEAN [Association of Southeast Asian Nations] region. It's strategically located in the market of 650 million people. Connecting Hong Kong to Thailand means opening up opportunities to ASEAN," Tull Traisorat, Royal Thai Consul-General in Hong Kong, told a group of local SME owners.He said creating synergy between Thailand and Hong Kong could help both economies and their businesses recover and prosper after COVID-19. He made the remarks in July when meeting several Hong Kong SMEs participating in the Hong Kong Trade Development Council's (HKTDC) T-box ("Transformation Sandbox") programme, which aims to help Hong Kong SMEs transform and upgrade. The T-box meeting was arranged to help SMEs explore diversifying into Thailand, creating business cooperation opportunities between the country and Hong Kong."Thailand and Hong Kong have long been close trading partners, and our ties have further strengthened in recent years with growth in two-way investment and new cooperation agreements such as our free trade agreement (FTA) and investment agreement," said HKTDC Deputy Executive Director Patrick Lau. The FTA and investment agreement have been effective since June 2019."Thailand is a hot spot for Hong Kong SMEs seeking business expansion," he added.
Hong Kong-Thailand cooperation
Hong Kong and Thailand are close trading partners. Among ASEAN countries, Thailand is the fourth-largest source of imports for Hong Kong, according to the city's Census and Statistics Department. Hong Kong imported US$4.3 billion worth of products from Thailand in the first five months of 2020, with the most-imported products being semi-conductors, electronic valves and tubes; computers; and fruits and nuts.Thailand is Hong Kong's third-largest export market in the ASEAN region, with the city exporting US$2.7 billion worth of products to the country in the first five months of 2020.Among ASEAN countries, Thailand is Hong Kong's second-largest foreign direct investment (FDI) source. The country had an FDI stock of US$24.4 billion in the city at the end of 2018. On the other hand, Hong Kong is Thailand's third-largest FDI source, with an FDI stock of US$22.5 billion in the country at the end of 2019, according to Bank of Thailand data."Thailand and Hong Kong have enjoyed very close and long-standing ties," said Mr Traisorat. He noted that Thailand and Hong Kong engage in frequent diplomatic contacts, including mutual visits by top officials as well as exchanges between high-level delegations from both sides to boost networking between the two economies.The latest visit of this kind took place in November 2019, when Hong Kong Special Administrative Region Chief Executive Carrie Lam led a delegation to Thailand and signed a memorandum of understanding with the Thai government on strengthening bilateral economic relations. "I believe that for our economies to regain strength and for our businesses to flourish in a sustainable way, the key is to synergise Hong Kong's outstanding expertise -- particularly in financial services, innovation and technology, professional services and creative industries -- with Thailand's targeted industries in Eastern Economic Corridor (EEC), a prime investment destination in ASEAN, which include digital industry, automation and robotics, smart electronics, next-generation automobile, medical and comprehensive healthcare, and food for the future," said Mr Traisorat.He noted both Thailand and Hong Kong had a strategic location, quality infrastructure and resources, and they each give access to key development initiatives in their respective regions. Thailand's central position makes it a gateway to ASEAN, as well as the Ayeyawady Chao Phraya Mekong Economic Cooperation Strategy (ACMECS) bloc comprising Cambodia, Laos, Myanmar, Thailand and Vietnam. Complementing Thailand's gateway role, Hong Kong is pivotal in China's Belt and Road Initiative as well as the Guangdong-Hong Kong-Macao Greater Bay Area development plan, Mr Traisorat remarked.The Consul-General added Hong Kong could play a role in Thailand's Eastern Economic Corridor (EEC) project in the rapidly developing industrial area southeast of Bangkok."Enhancing connectivity between Thailand and Hong Kong will not only bring our two economies even closer and stronger, but will, beyond that, make the two regions even more prosperous," he said.Mr Traisorat also gave an introduction of "Team Thailand" in Hong Kong, which support local companies, including SMEs and start-ups, in exploring business opportunities in the country. Comprising Directors of Trade, Customs, and Tourism Authority Offices, as well as Offices of Board of Investment, Labour and Agricultural Affairs, Team Thailand possesses expertise in these sectors and can provide useful insights for Hong Kong companies."The Consulate-General in Hong Kong will help not only connect business to business, but also to the right agencies in Thailand," said Mr Traisorat. "We offer one-stop services to SMEs in Hong Kong, from recommending investment incentive programmes to finding the right partners in Thailand."
Box of tricks
The consulate-general is a partner of the HKTDC's T-Box programme, which Mr Traisorat described as "a truly creative initiative which will empower Hong Kong's SMEs and start-ups in doing business".Supporting SMEs is also a key priority for the HKTDC. "Empowering SMEs to seize global business opportunities has always been a core task for the HKTDC," Dr Lau said, citing T-box as an example. Inspired by the sandbox concept and launched earlier this year, the initiative supports local SMEs in their efforts to upgrade and transform."It seeks to enhance their competitiveness in the areas of branding, e-commerce, manufacturing and supply chain solutions, and new markets," said Dr Lau. "Enrolment is free and during the three-month participation period, each T-box member can benefit from a range of offerings, including advisory services, workshops, information on government funding schemes, market intelligence and networking opportunities."Since its launch, T-box has served over 700 SMEs. "Participants tell us the initiative has been particularly helpful in enhancing their ability to meet the business challenges of the COVID-19 pandemic," Dr Lau shared.
A fruitful experience
One happy T-box member is Simon Liu, General Manager of Yee Fung Robotics Limited, a specialist in automatic vehicle-parking technology which is expected to be in demand in Southeast Asia. He said the meeting connected him with Team Thailand representatives in Hong Kong, who gave him the right contact to check details about opening a regional office in Thailand, as well as tax incentives for foreign investors.Another T-box participant, Gloria Chan, Executive Assistant of smart home-products manufacturer Lockly, is looking to establish an additional production facility to augment the firm's existing factory in Mainland China. "We're planning to set up a new production facility, with Thailand being our top location choice because Thai people are friendly and cooperative," she explained. T-Box helps SMEs such as her company expand their network and the service is comprehensive, she said. "And it's free!" Related links
Royal Thai Consulate-General Hong Kong
T-box