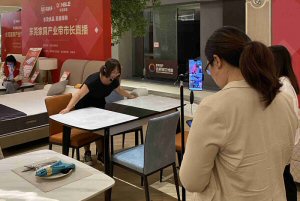 Houjie, a town in Dongguan city in Guangdong province of Mainland China, is well known in the country and overseas as a key furniture exhibition and trading hub, with shows typically held all yearround at the Guangdong Modern International Exhibition Center. The town's most popular furniture display centre, the Guangdong Famous Furnishings Expo Park (Furnishings Park), meanwhile, focuses on showcasing, sourcing, direct sales and information exchange, as well as related logistics services, for furniture products. Given the breadth of its offer, it is perhaps not surprising that more than 500 domestic and overseas brands use its services.Inevitably, the furniture industry has not been immune to the fallout from the COVID19 outbreak, with most such shops having few customers and business operators consequently doing their best to stay afloat by offering discounts, embracing live streaming, cooperating with real estate companies and producing bespoke furniture for certain customer segments.
Less is more
In a significant development, the coronavirus has inspired many companies within the Furnishings Park to focus on one key trend that is selling particularly well in the domestic market – minimalism. Assessing the viability of adopting such an approach, Zeng Hao, a Sales Consultant with Dongguan Window of City Furniture, maintained products that embody a minimalist and light luxury motif are proving hugely popular with mainland consumers.Expanding upon this, he said: "For many of today's young people, buying a home is an absolute priority. With property prices high in the economically developed first and secondtier cities, apartment sizes inevitably tend to be small, obliging occupants to fully utilise any available space. As a consequence, streamlined styles and spacesaving items are proving perennially popular."At present, our proprietary EGO range furniture is our bestselling line and has proved very much in demand in Europe, the United States, the Middle East and Southeast Asia. Last year, our monthly export sales exceeded Rmb30 million (US$4.2 million). This year, though, such sales have been hit hard by the COVID19 outbreak, which has left us only able to target overseas buyers through digital channels."As with Window of City Furniture, the Guangdong Tianyi Meijia Group (TYMJ) primarily focuses on minimalist products. Outlining the company's current strategy, Sales Consultant Gu Zhongsan said: "We are now wholly committed to expanding our market share domestically. This is partly because the emerging generation of buyers are very keen to secure their own homes, which is a huge driver of growth for the furniture market."
Integrating decor and furniture
In a bid to mitigate the worst consequences of the COVID-19 outbreak, a number of specialist furniture companies have started to integrate the range of products they have on offer with a home furnishing service. This has seen them beginning to provide interior design and decoration services, including the provision of bespoke furniture for individual customers' requirements.Explaining how this works in practice, Mr Zeng said: "Several ranges within the Window of City Furniture portfolio deploy a modular design, allowing purchasers to freely combine several different elements. We also now make customised furniture tailored to the available space in individual homes, while also offering an interior decor consultancy service".To further develop the bespoke side of its business, the company has also established strategic partnerships with several local real estate groups. This allows it to offer onestop home furnishing services, so that, when moving into a new home, all the purchaser has to do is bring their personal belongings.In addition to bespoke services, promotional campaigns, special packages and discounts have become noticeably widespread in the wake of the coronavirus outbreak. According to staff at the Furnishings Park, since the end of April, the venue has organised a considerable number of product launches, including six special events designed to promote a broad portfolio of items – branded home products, soft decoration and design items, contemporary furniture, stylish holistic home embellishments, classic furniture and European/US furnishings.
Live-streaming
Despite the success of the venue's postCOVID19 live events, the most popular product promotion channel has proven to be live-streaming. In order to capitalise on this, the Furnishings Park has set up dedicated rooms for companies to manage all such activities.One business that has keenly embraced this digital promotion option is Dongguan City DeRucci Bedding. Explaining its appeal, company President Yao Jiqing said: "Since we first started using online streaming early this year, it has secured us more than 150,000 orders. It has proved something of a boon when it comes to offsetting the impact of COVID19".Mr Yao's evangelism aside, some business operators have adopted a more cautious approach to this particular sales channel. Highlighting his concerns, Deng Feifei, a Sales Consultant with Dongguan Homehouse Furniture – the company behind the TALMD furnishings range – said: "While streaming remains an intriguing proposition and clearly has considerable potential, we believe it is still better for customers to see and feel our products in person."It's also worth pointing out that most of the local companies that currently use live streaming sell small, inexpensive home products, the kind of things that wouldn't involve substantial costs if they were returned. With the kind of large items we sell – such as sofas, beds, wardrobes and kitchen cabinets – that would be quite a different matter."One company setting its sights on having the best of both worlds, meanwhile, is Baojule Home Furnishing. Detailing how it has approached this, Sales Consultant Huang Yinmei said: "We've put a great deal of effort into integrating our online and offline resources through our 'home + platform' offer. This now showcases a number of our product lines in particular, including furniture, customised woodwork, soft decorations, lighting, our bespoke services and our aftercare options."Overall, given the severe consequences of the COVID19 outbreak across the industry, we believe that integrating our online and offline offering, while burnishing our brand equity and improving our overall service levels, offers our best hope of remaining viable."
Related link
HKTDC Research