Changes brought by Industry 4.0, fresh economic priorities in Mainland China, the Sino-United States trade dispute and the COVID-19 outbreak have brought rapid and profound changes to supply chains, trade and investment environments worldwide.This transformation has impacted plugged-in and outward-facing Hong Kong, posing challenges and bringing opportunities to businesses there, especially small and medium-sized enterprises (SMEs) which tend to have the advantage of being nimble, adapting rapidly to change. However, having thin resources may limit their capacity to transform themselves. To guide SMEs through this process, the Hong Kong Trade Development Council (HKTDC) is offering various services.
Transformation Sandbox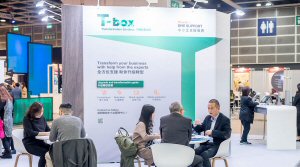 The HKTDC's Transformation Sandbox (T-Box) offers support for local SMEs in four key areas – branding, e-commerce, manufacturing relocation and new markets. To help SMEs explore new markets, the HKTDC is also running a series of webinars over the coming months, many of which will help enterprises find their way in this new world.
Down under
Australia is an important and growing market for Hong Kong enterprises. Businesses wanting to explore opportunities to enter the market need to be aware of the very different operating environment. At a T-box webinar, running on 29 June 2020 at 2:30pm to 3:30pm, an expert will provide an overview of the market, regulatory issues, tax system and corporate law. In addition, an Australian SME that has a strong linkage with Hong Kong will offer some practical tips and share its experience in business transformation under COVID-19.Speakers include Charles Liu, Founder and CEO of Ava Safe, Cubic Promote Australia, Cubic Promote New Zealand. For more than 15 years, Mr Liu has been overseeing marketing, sales, supplier relationships, key client relationships at Cubic Promote, a major supplier of uniforms and promotional items in Australia and New Zealand. He has won various industry awards, including Business Review Weekly (Financial Review) Fast 100 Business starters in 2011, Hong Kong Australia Business Association (HKABA) winner for Exporter award 2018, and 2019 HKABA Award Winner for Importer of Goods and Services.Another speaker is David Chu, Head of International Business, ShineWing Australia. He established ShineWing's Australian business in 2008, bringing with him 30 years of professional experience gained across Asia Pacific, including in Australia, Hong Kong and Mainland China.Mr Chu works across a range of industries including food and beverage, especially in the agribusiness sector, energy and resources, and property. His clients include Australian subsidiaries of large Asian corporates, mid-market sized businesses in Australia, as well as high net worth individuals from Asia.
Venturing into Europe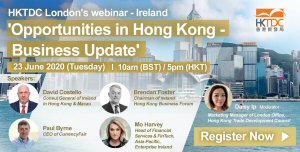 The HKTDC will also organise webinars and workshops on Europe, dealing especially with smaller economies that might normally not feature on investors' and traders' radars.On 23 June at 5pm Hong Kong time (UTC +8), David Costello, Consul General of Ireland in Hong Kong and Macao, will speak at an HKTDC webinar on opportunities in Hong Kong. Speakers will also include Brendan Foster, Chairman of Ireland Hong Kong Business Forum; Paul Byrne, CEO of CurrencyFair and Mo Harvey, Head of Financial Services & FinTech, Asia-Pacific, Enterprise Ireland.On the same day and time, Hans Poulis, Chairman of the Netherlands Hong Kong Business Association will discuss the economic outlook in the Netherlands and Hong Kong at a webinar organised by the HKTDC London Office,. Nicholas Kwan, Director of Research, Hong Kong Trade Development Council and Johnny Wan, Director of Publications & E-Commerce, Hong Kong Trade Development Council will also address the webinar.
Golden Prague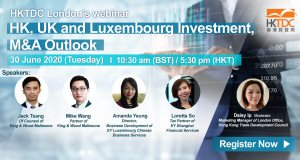 Also on 23 June, Milan Vagner, Trade and Economy Consul, Consulate General of the Czech Republic in Hong Kong, will address an HKTDC webinar on the "Current Situation in Hong Kong and Business Opportunities in the Local Market". Meanwhile, Liana Hrabalkova - Vice-president, Czech Grape and Wine Producers Association, will share her experience with Asian trade fairs and possible ways of participation. Wilson Tsang - Manager, Sales, HKTDC and Jojo Lai - Exhibitions Project Manager, HKTDC, will speak on the HKTDC Hong Kong International Wine & Spirits Fair 2020 and the Hong Kong Special Administrative Region Government's subsidy for exhibitors.
New frontiers
Turning to Eastern Europe, Leonid Orlov, Director, Moscow office, HKTDC will host a Russian-language outreach webinar on Ukraine, Belarus and Georgia.

Oleg Sytnyk, Vice President, Digitalisation and Information Technology at the Ukrainian International Chamber of Commerce will address the webinar.
Familiar territory
One of Hong Kong's deepest and longest-lasting historical links overseas is with London, capital of the United Kingdom. The HKTDC will host a webinar on the investment and mergers & acquisition outlook for Hong Kong, the UK and Luxembourg on 30 June at 5:30pm Hong Kong time. The webinar will be addressed by Jack Tsang - Of Counsel, King & Wood Mallesons; Mike Wang - Partner, King & Wood Mallesons; Amanda Yeung - Director, Business Development of EY Luxembourg Chinese Business Services; Loretta So - Tax Partner, EY Shanghai Financial Services.
Related link
Events