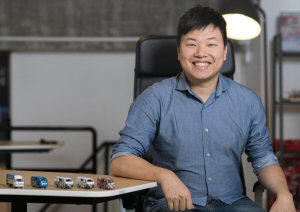 In the early stages of the COVID-19 outbreak in Hong Kong, many residents spent almost all their time at home, sheltering from possible infection. The resultant partial lockdown affected all industries and online logistics platform GOGOVAN was no exception. Nevertheless, the company, which works with a network of independent drivers and couriers, is turning the challenge into an opportunity.Established in 2013, GOGOVAN uses a variety of digital platforms to connect individuals and businesses directly and on-demand to millions of drivers. GOGOVAN has expanded its business from Hong Kong to Singapore, Korea, Mainland China, Taiwan and India and is continuing to grow globally."The period after the Lunar New Year [25 January to 28 January in 2020] has always been a low season for the logistics industry, and with the outbreak of the epidemic, the whole industry was even quieter than usual," GOGOVAN Co-founder Reeve Kwan said. This led the company to launch the Buy For You Service in early March, with couriers shopping on customers' behalf and delivering the purchases to their doorsteps within the same day. The purchase value is capped at HK$1,500 (US$193) and the service fee is no more than HK$25.
Specialty purchases
GOGOVAN has always been providing various consumer-to-consumer (C2C) e-commerce services, including same-day door-to-door delivery for retail shops and online merchants. During the height of the outbreak, residents were encouraged to stay at home to minimise social contact but often found it difficult to fulfil their daily and immediate shopping needs, even online. The company then considered altering the operational flow of their GOGODelivery business, and the Buy For You Service came into being, helping local merchants and residents to overcome what were unprecedented challenges. Mr Kwan said with a smile that many people had doubted the viability of the service but the encouraging responses proved them wrong. Some of the requests surprised him, including an order to go to a bakery in Yuen Long, in the extreme northwest New Territories, to purchase specialty chicken pies. To improve the customer experience, Mr Kwan encouraged couriers to engage in detailed communication with their clients to avoid misunderstandings and disputes over orders.
Going the last mile
At the request of government-linked Cyberport – GOGOVAN's mentor organisation – and the Department of Health, GOGOVAN has introduced another new service – the Door-to-Door Saliva Specimen Pick-up Service – to collect deep throat saliva samples from people's homes and send them to government laboratories for COVID-19 testing. With this service, people who are home-quarantining need not depend on relatives and friends to carry the samples to hospitals or clinics, which would lead to bottlenecks.The service was officially launched just three days after the authorities made the request. "GOGOVAN aims to contribute to the community through the service," Mr Kwan said. "Health and safety issues take precedence with this service, leading us to set up a dedicated team to hire couriers and provide training on a paid basis. "Sample-carrying team members do not take any other orders to avoid possible cross-infection. The collection process does not involve face-to-face interaction with customers. Couriers use a sterile spray to clean the sealed bag they pick up, then put it into a sample container for transport," he added. In addition to the sample container and two sealed bags, GOGOVAN also provides personal protective equipment (PPE) such as masks, gloves, hand sanitisers and disinfectant sprays to minimise infection risk.The specimen carrying service, while not a profit centre, has brought GOGOVAN unexpected business opportunities. In mid-April, the company began collaborating with start-up FindDoc, an online platform for medical information, to provide video clinics and door-to-door saliva specimen delivery services for private clinics and patients.
Everyday service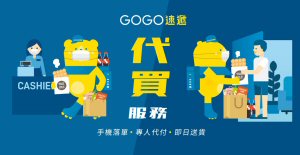 The COVID-19 outbreak brought GOGOVAN fresh business opportunities and increased its market exposure. Mr Kwan said logistics services played a key role in supporting small and medium-sized enterprises (SMEs) and maintaining the normal lives of citizens during the outbreak. These functions will not ebb away as the epidemic recedes. For example, many people had begun to use the service to buy traditional Chinese medicine. This would continue after the epidemic as there will always be patients who need to take medication regularly, the convenient and time-saving characteristics of the Buy For You Service has created continuous demand.Mr Kwan said GOGOVAN has been looking into solving logistics problems for SMEs, and the epidemic has provided the company with valuable experience and inspiration. "In the past, people might simply perceive delivery as a point-to-point transportation model," he said. "But when offering buying services and cooperation with other companies, the express logistics operations open up more possibilities. Logistics will become part of everyday life, and couriers can act as people's personal shopping agents anytime, anywhere."While the COVID-19 outbreak had impacted many start-ups, Mr Kwan shared a word of advice: "Just as GOGOVAN is trying to launch new services during the epidemic, start-ups may venture boldly and dare to creatively adapt their services," Mr Kwan said.A volatile business environment favours the flexible and agile Hong Kong start-ups are well-placed to capture business opportunities. Hong Kong Means Business is launching a "Voice of Start-ups" series, showing how their creativity and versatility helps them thrive.Related link
GOGOVAN