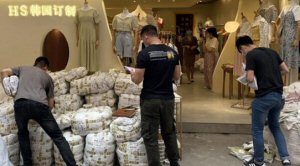 With many traders and manufacturers in Guangdong's key apparel hub finding themselves with huge amounts of surplus stock and nowhere to export it to amid the COVID-19 lockdown, targeting the domestic market via live video-streaming services has proved a lifeline for many.The garment wholesale sector in Guangzhou has shown robust growth for many years. In the wake of the COVID-19 pandemic, however, industry players in the city, the capital of Guangdong province, have had to rethink their business strategies to minimise the overall impact. Accordingly, many clothing traders who had previously focused on the export sector have turned to the domestic market, while live-streaming has emerged as an important sales promotion tool in these unprecedented times.The garment wholesale business in Guangzhou has long enjoyed a strong reputation both at home and abroad, with buyers from all over the world coming to the city to make purchases at Shahe, Baima and Shisanhang, its three primary garment wholesale markets. Since the COVID-19 outbreak began, however, Guangzhou's garment industry has reeled from the pandemic's economic aftermath, despite production now having resumed.Shahe, home to 23 garment wholesale establishments, including Wanjia, Jinma, Fu Li, Changyun and Shadong Youli, accommodates more industry players than any rival centre. Indeed, it is one of the country's leading garment wholesale centres, according to He Chuangfa, Secretary‑General of the city's Tianhe district trade association.One clear consequence of the outbreak is that live-streaming has emerged as a vital sales tool for the industry. Both Shahe and Baima, for instance, now have live-stream services that promote "cloud sales". Furthermore, many businesses that had previously focused on exports are now looking to stay afloat by targeting the domestic market more aggressively. Many industry players within Shahe have also adopted more of a smart‑management approach, offering one‑stop electronic services that cover everything from order placement to packaging and delivery.
Domestic sales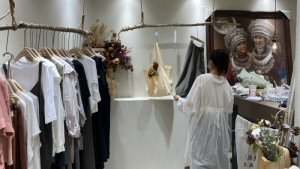 According to Mr He, about 90% of Shahe's tenants have now resumed business, with the opening hours of conventional wholesalers running from 8am to 4pm, while their online counterparts operate from 10am to 5pm.As of the end of 2019, He noted that Shahe had about 20,000 stalls, comprising more than 200,000 personnel. About 200,000 to 300,000 buyers visited the wholesale city every day, with the average daily volume of goods shipped exceeding 3,000 tons. At the height of the COVID-19 crisis in the mainland, however, the daily average dropped to about 2,000 tons, with the workforce contracting to about 80,000.The more export‑focused wholesalers have been worst hit, according to Mr He. Expanding upon this, he said: "The biggest problem was that goods couldn't get out and overseas traders couldn't get in."While the proportion of overseas buyers at Shahe – about 250 stalls – is relatively low, the related sales account for a disproportionate share of the total transactions in value terms. Prior to the virus outbreak, a single transaction via such a buyer could easily be worth more than Rmb1 million (US$140,000)."Outlining a number of factors that had deepened the crisis for local traders, Mr He said: "Some of our wholesalers had stocked up on inventory before the Spring Festival in expectation of substantial shipment orders after the long holiday. The pandemic, of course, meant such orders never materialised, leaving many with huge amounts of surplus stock."Inevitably, this was a substantial source of stress for many traders. The worst-hit of all, though, were those targeting the United States, European and African markets as, due to the larger product sizes involved, it's proven difficult for them to repurpose stock for domestic sales."One company exempt from the latter problem, at least, was Guangzhou‑based Bense, a Shahe tenant that sells a wide range of ladies' garments. According to Chen Junxiu, a Sales Manager with the company, prior to the outbreak it had mainly exported to Korea and a number of Southeast Asian countries.Explaining how the company had weathered the outbreak, Ms Chen said: "After the extent of the pandemic became apparent, our spring collection – which we had stocked up on prior to the Spring Festival – couldn't be shipped to our overseas buyers. Straightaway, the management decided to refocus on the domestic market, allowing us to considerably reduce our losses."We have now launched our summer collection and are putting out at least five new styles on a daily basis. Additionally, as spring and autumn collections tend to be similar in style, we are now hoping to repurpose some of our unsold spring items and then relaunch them after the summer. We have also set up a live-stream sales team."
Live-streaming commonplace
Looking more to the promotional side of the business, selling products via live-streaming is now commonplace across much of Guangzhou's garment wholesale sector. Essentially, this sees an online presenter recommend particular products and then interactively handle enquiries before talking buyers through the purchase process.Typical of this style of presentation is the stream of one local stallholder: "Hi, young ladies, come and have a look. This is our latest style of jeans. Take a look at the design. It features a longer leg length and then flares around the ankle. This is currently the most stylish look around…"Due to such intriguing spiel, some businesses report that they have managed to sell all of their spring collection stockpile and have more than broken even. Outlining its success, Ying Meilong, a Sales Manager with Genuoyi, a clothing factory in Guangzhou's Panyu district, said: "We sold garments worth more than Rmb1 million in just three days via live-streaming. In fact, we sold our surplus inventory – worth tens of millions of yuan – in a 20‑day period."One incidental consequence of the apparent effectiveness of live-streaming as a sales channel is that many traders have had to reinvent themselves as presenters, with the most popular said to be capable of delivering more than Rmb1 million in sales in a day. According to Yin Jing, Wanjia's Head of Live-streaming, while a typical presenter can notch up daily sales in the region of Rmb100,000 to Rmb200,000, some have even managed to exceed Rmb2 million.The success of these streams has also prompted a number of businesses to continue to introduce new styles. According to Ms Chen, about a quarter of Bense's 100‑plus staff are designers, allowing the company to launch new styles online on a daily basis, primarily via WeChat or TikTok.
Rent concessions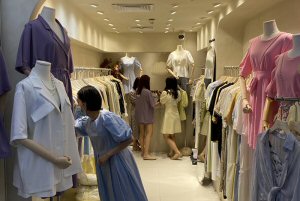 In light of the pressure put on operators by the outbreak, a number have struggled to meet their monthly rent requirements. Acknowledging this, a member of the sales team at the Weiyijia clothing store said that while the company used to have its own stall within Shahe, it now shares one with other businesses as its revenue has shrunk by almost two‑thirds.According to Mr He, the landlords of Shahe's 23 wholesale markets have, as a consequence, now suspended their tenants' rents, management fees and water/electricity charges for two months. In addition, for export‑oriented tenants, the district's business association has sought interest‑rate concessions and loan support from local banks on their behalf.In response to the crisis, Shahe – which used to have a total monthly turnover of some Rmb120 million – has also implemented a range of smart‑management solutions. Expanding on this, Mr He said: "Among the innovations, we now offer a virtual, one‑stop service system that allows buyers to easily view products, place orders, make payments and arrange for packaging and transportation, all via a tenant's online platform."Meanwhile, in line with our commitment to protect both vendors and buyers, body‑temperature monitoring equipment has been installed at all the main access points. The whole site is also completely sanitised on a daily basis."
Related link
HKTDC Research