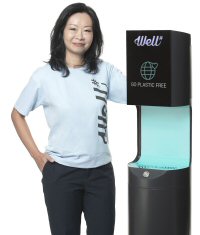 Growing concern over pollution caused by single-use plastic containers is driving an innovative Hong Kong firm to set up water-dispenser networks allowing thirsty consumers to fill cups or reusable containers.Urban Spring is trying to encourage residents to embrace refill culture rather than create plastic waste, according to CEO Ada Yip. "I love Hong Kong, and love country parks, but don't like seeing a lot of plastic waste everywhere," said Ms Yip, who had worked in finance and joined the company after discovering she shared very similar values with the founders.While green groups advocate bringing your own bottle, many still do not, partly because there is no reliable network of water stations, Ms Yip noted. "There needs to be a very reliable, extensive network of stations for [refill culture] to work."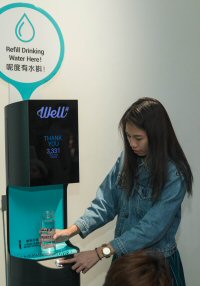 Urban Spring's product – the Well# smart water station – won the Consumer Product Design section at the Hong Kong Awards for Industries (HKAI) in 2018. Its patented ultra slim design hides the nozzles, preventing users from leaning over the basin and drinking directly from the fountain, which reduces the risk of contamination and differentiates the product from a regular water fountain. The fountain's design, with a downward-facing tap, lets users fill bottles and cups, but not drink directly. With smart sensors to track filter efficiency, the station filters chlorine, bacteria, micro-plastic and heavy metals such as lead but keeps the minerals needed. The business model is "to lease, not sell", and Urban Spring ensures the stations are maintained properly, avowed Ms Yip. Operating conditions are remotely monitored by a service team, while an interactive LCD panel displays the water flow data and the number of bottles saved. With stations in shopping malls, hotels, country parks and educational settings, Urban Spring currently manages more than 200 Well# smart water points throughout the city. The dispensers have kept 4 million 500ml plastic bottles out of the landfill over the past 20 months but the firm hopes to save many more, the CEO said. The busiest stations are the Hysan Place mall in Causeway Bay on the north side of Hong Kong Island and educational establishments, including the University of Hong Kong.
Refill culture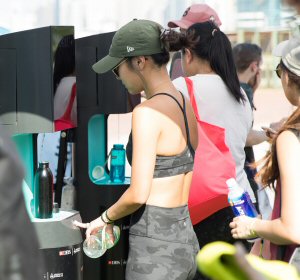 Reassuring users about the product's safety is also key, Ms Yip said: "We just collected data on the water station's operating condition, and found people are worried about the hygiene of water stations. Smart cities need to build trust around technology." She acknowledged some Hongkongers still feel uneasy about drinking tap water and question whether it is safe to drink. But she is keen to stress that the Water Supplies Department provides water that complies with World Health Organisation standards. On the other hand, she added, drinking water from single-use plastic bottles is not completely safe as the user may be exposed to harmful toxins from the plastic.
Expansion plans
Urban Spring has been self-funded so far but is now looking for strategic business partners so it can grow further. "It's not just about money, but making more connections, and [accelerating] growth," said Ms Yip. The company has already started to expand overseas, with its water stations poised to launch in Singapore before being rolled out across Southeast Asia. The firm also has ambitious plans for Hong Kong, planning to double its footprint of 200 Well# water stations in the city by the end of this year. Ms Yip stressed that thousands, rather than hundreds, of stations are needed to quench Hong Kong's thirst for good-quality drinking water. Urban Spring is keen to install water stations in club houses and retail settings, ideally convenience stores. The limited space in Hong Kong underlined the importance of having a value proposition, Ms Yip said.
Sustainable priorities
Educational institutions have been quick to embrace the Well# concept – about 25% of all Well# stations are in schools and universities – but businesses had been slower to adopt the sustainable facilities Ms Yip noted. "Senior leaders meet us and like our product, and that trickles down. But the message can end up diluted, and there are excuses, like it's expensive, or difficult to install the water stations. We have to change peoples' behaviour and get them more switched-on to refill culture," she said.The advantages of setting up a business in Hong Kong were its proximity to Mainland China, where the water stations are produced, and efficiency of legal and financial procedures, Ms Yip said. Building the team posed a challenge but Hong Kong had many quality people with great communication skills who were used to working with international partners, the CEO added.Ms Yip hopes the water stations will not only encourage people to buy less single-use plastic but also help them cut down on sugary drinks and embrace a healthier lifestyle. Long term, there are plans to grow Urban Spring into a wellness brand, offering wellness-related products and services alongside its smart water station. "We've started to do some collaborations with gyms and urban farming companies, and firms who are recycling bottles. Anything that reduces [the consumption of] single-use plastic, we are keen to support," she said. What made Ms Yip most proud was the quality of its product. "Our water tastes really good," she said.Many companies offering and sourcing sustainable solutions will come to Hong Kong in October to exhibit at and visit Eco Expo Asia (main picture shows the Urban Spring stand at last year's expo).
Related link
Urban Spring