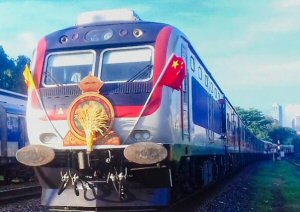 Amid the global disruption to essential supply chains and key infrastructure projects triggered by the ongoing COVID-19 outbreak, a rare item of good news comes courtesy of Sri Lanka, where one major development programme has managed to come in ahead of schedule. Indeed, it has now been confirmed that Qingdao‑based CRRC Sifang – one of Mainland China's leading manufacturers of rolling stock – has shipped the last four class‑S14 diesel‑electric multiple unit (DEMU) trains (a total of 40 carriages) to Sri Lanka two months earlier than initially envisaged.
Order completed
The last instalment in an order for nine such units placed in 2017, the final shipment arrived in Sri Lanka on 12 April. This early completion is said to be down to CRRC's decision to advance its material purchasing, transportation, warehousing and production programme in a bid to mitigate the worst effects of the COVID-19 outbreak.CRRC is one of Sri Lanka's largest suppliers of passenger‑railway equipment and has provided the country with 52 DEMU trains (in four batches) in recent years. The units in the most recent batch are said to offer upgraded carriage facilities, including information display screens, liquid crystal display televisions, power sockets, adjustable seats and multi‑functional lavatories. According to the manufacturer, similar units have already been deployed on Sri Lanka's new Denuwara Menike luxury express train service, which has been running from Colombo Fort to Badulla on the upcountry line since November 2019.For its part, the mainland's involvement in Sri Lankan railway projects extends beyond being one of the South Asian country's biggest providers of rolling stock. Indeed, in April 2019, Sri Lanka opened its first new railway line since 1948 due to the backing it received via the Belt and Road Initiative, the mainland's ambitious international infrastructure development and trade facilitation programme.The new line – the 26.75km Matara‑Beliatta railway – connects the country's most southerly coastal city, Matara, with the inland town of Beliatta in Hambantota province. The travel time between two is now about 20 minutes, with trains travelling at 120 kilometres per hour, making it the country's fastest rail line.
Railway revival
The line was financed by the Export-Import Bank of China through a US$278.2 million loan facility, with US$200 million provided under the terms of a preferential buyer's credit facility and the rest covered by a concessional loan facility agreed directly with the Chinese government. The loan has an annual interest rate of 2% repayable over 20 years, including a grace period of five years. In terms of construction, China National Machinery Import & Export Corp is the lead contractor on the project, with design work subcontracted to the China Railway Fifth Survey & Design Institute.Comprising the initial section of a larger three‑phase Belt and Road Initiative-backed project, the next stage will see the line extended 48km to Hambantota, where it will connect with another mainland‑financed project – the Hambantota port – opening up new freight transport options. The final phase will see the line extended a further 39.5km to Kataragama, an area of great religious significance to many Sri Lankans.Upgrading and extending the country's railway system has been a major development target of Sri Lanka's government for some time. With the existing rail network mainly built between the 1850s and 1930s, a significant overhaul has long been seen as overdue. Accordingly, in 2017, the Asian Development Bank (ADB) partnered with the Sri Lankan authorities on the development of a railway renewal blueprint. According to research subsequently undertaken by the ADB, at that time there was only 1,508km of broad‑gauge railway track in the whole country, with 90% consisting of single‑track routes. It was agreed that the railway network was only meeting a fraction of the country's transport needs.In August 2019, the ADB approved a US$160 million contribution to the US$192 million cost of the agreed Railway Efficiency Improvement Project, which is currently scheduled to be completed by the end of 2024. Within the remit of the scheme are major improvements to operations, maintenance and safety; information technology and telecoms modernisation; and overall skills development. It is also envisaged that a technical training centre, a new operations headquarters and a control centre will be established, while the existing paper, mobile and smart‑card ticketing systems will be significantly upgraded.
Related link
HKTDC Research