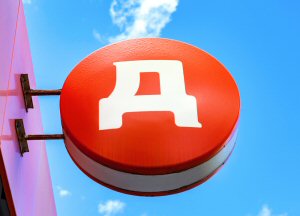 Russia's already crowded and highly competitive online market has had to make room for a new player. This follows last month's announcement that the Moscow‑headquartered Dixy Group – one of the country's largest operators of general and convenience stores – was partnering with Ozon.ru (Russia's home‑grown Amazon) to establish a new marketplace operation.For its part, Dixy stores are relatively ubiquitous throughout Russia, with their distinct orange livery emblazoning everything from small corner shops to supermarkets, all offering a wide range of food and household products, as well as on‑site bakeries in some of the larger premises. Following its recent acquisition of the Bristol chain of liquor stores and the Red & White chain of wine stores, the company is now the country's third‑largest food and drink retailer.
Diverse outlet portfolio
As of 1 January, it operated from 2,659 sites – 2,508 convenience stores, 111 supermarkets (trading under the Victoria branding) and 40 Megamart/Minimart hypermarkets, with total revenue of US$13 billion last year.Ozon.ru, its partner in this new venture, is Russia's longest established e‑commerce player. In terms of revenue, the company is ranked third in the country, after Utkonos (the online food/household goods giant) and Perekriostok-on-line (the X5 Retail Group's online supermarket offering). As part of the deal, Dixy has now expanded its reach from the 739 towns and cities across Russia serviced by its own outlets to the more than 6,500 that have existing Ozon.ru pick‑up points.Initially, the joint operation will offer some 200 items, predominantly preserved food products with a relatively long expiry period and cooking utensils. Over the near term, plans are already in place to add a range of goods for children and pets, as well as cosmetics and personal‑care items, with the ultimate aim of providing a portfolio of items that combines the inventory of a supermarket and a pharmacy.Under the terms of the arrangement, Ozon.ru's warehousing resources will be deployed to facilitate the delivery of Dixy's product range, with fulfilment via either the online vendor's existing courier operation or through its national network of collection points. New collection points will also be integrated into Dixy's existing retail sites.
Win-win deal
Essentially, this new alliance is seen as representing a win‑win scenario. It allows Dixy to expand into the e‑commerce sector with virtually no upfront investment, while extending its reach to a whole new customer base via a tried and trusted logistical/transactional framework. Ozon.ru, meanwhile, gets the opportunity to ward off increasing competition from incomers from Mainland China such as AliExpress and JD.com, while simultaneously getting access to a consumer demographic quite different from its established geeks/hipster user base, many of which primarily shop for books, gadgets or digital‑media content.For Hong Kong‑based manufacturers and distributors, it may well be worth paying close attention to how the partnership develops. In many ways, it is the clearest manifestation yet of the new joint‑venture approach that is refreshing the whole of Russia's e‑commerce sector. Indeed, it follows on from the deal last September that saw Auchan, the French high‑street retailer, come to a similar arrangement with Tmall. This was co‑ordinated within the wider framework of the Russian-Mainland Chinese Joint-Venture initiative, which is backed by the Alibaba Group, Mail.ru, Megafon and Russia's Direct Investments Fund.Indeed, it is believed that a number of Russia's other core retailers – notably the X5 Retail Group, Lenta, Magnit, Vkusville and Azbuka Vkusa – will soon announce their own strategic partnerships. Inevitably, such high‑profile initiatives will see demand soar for many of the products traditionally associated with conventional retailers. In particular, this is expected to prove something of a windfall for Hong Kong‑based suppliers of products for children or pets, stationery and interior décor items, gardening and picnicking equipment, ceramics, kitchen textiles and cooking utensils.
Related link
HKTDC Research