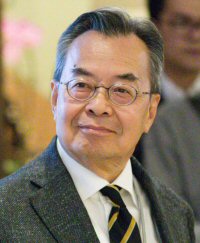 Whether it's finding weather forecasts, stock prices, travel tickets or even just where you are, "there's an app for that". And now Hong Kong has one more – home maintenance and renovation, whether fixing the kitchen sink or painting a room.The start-up is the brainchild of local entrepreneur Philip Leung. When he returned to his home city after years of working overseas, he thought it would be good to request repair or renovations with a few clicks. His idea led to a new venture — app-based home-improvement business HelloJack!
Interest becomes business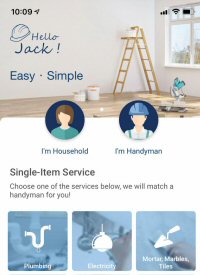 Mr Leung had harboured an interest in interior decorating for decades but it wasn't until more recently that he acted on the opportunity he had envisaged. HelloJack! was incorporated in April 2019, and the app launched in March 2020."(The idea) came out of interest," Mr Leung said. "I started building furniture as a hobby while still at university, and I've liked art, classical music, murals, and frescos all my life." Having also dabbled in home remodelling for himself and friends in Canada, Mainland China and Hong Kong, Mr Leung knew that even having simple tasks done by contractors could be frustrating. He particularly saw a gap in Hong Kong where he could find it difficult to locate a reliable tradesperson.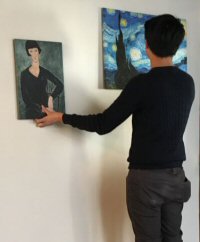 Many contractors are engaged in large construction projects and are not so interested in small jobs like fixing a leaky tap or peeling wallpaper, Mr Leung said.
The HelloJack! app uses the Global Positioning System (GPS) to connect users with a contractor in their own area, and depending on the job requirement, "we can have someone at your door if not within hours, then within a week", Mr Leung said. Users send a photo of the problem via the app, which often lets a contractor give a quoted price promptly. "If we cannot identify a problem, we will give the client a call," he said. In the case of larger projects, an assessor will come on site to quote.Users "always know how much they will be paying", he continued. "We dictate the pricing. [The contractor] cannot charge a full day for one or two hours' work."
Mutual benefit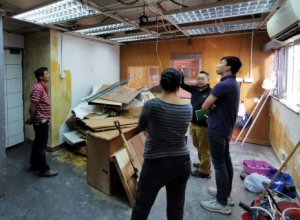 Mr Leung describes the business model as "a win-win" for both parties. Contractors source extra work they wouldn't otherwise have access to, and householders have prompt, reliable service.The company vouches for contractors, who are vetted before being included in the directory."We check out our people thoroughly, and get testimonial letters from previous work," Mr Leung said. "If they are not good, we don't hire them. (An applicant) must show they can do the job, and we don't want grumpy or scruffy types."We also have quality assurance," Mr Leung continued. "A person I call our 'roving umpire' goes around to check on jobs, and if the client is not happy, we will go back and rework it at no additional charge."The company also has comprehensive third-party, all-risk insurance covering the workers and householders, Mr Leung added. In addition to the contractors, HelloJack! has a board of 14 advisers, comprising architects, builders, building managers, interior designers and accountants.In a soft-launch phase before the app was available, the company had already completed HK$1.6 million worth of projects. "In 2020, we expect to do between HK$3 million and HK$5 million worth of projects, from minor jobs to complete remodelling and interior styling," Mr Leung said. The original forecast of HK$5 million to HK$10 million had to be revised down because of the COVID-19 outbreak. "We plan to do everything in home improvement, but we are patient, and are starting with the low-hanging fruit," Mr Leung said."If you need good handymen, HelloJack! is here to help."
Related link
Hello Jack