High-end fashion has fielded criticism from social and green commentators, who say it is exclusively for the super-rich, and that these buyers often wear items a handful of times before discarding them in a landfill.Hong Kong start-up Style Carousel is putting the industry on a more green and egalitarian path by applying a share-economy model, and leasing high-fashion items. What is more, it is seeking to cheer up fashionistas in home quarantine amid the current COVID-19 outbreak.
Digital couture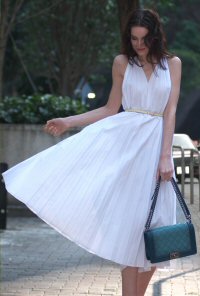 Offering one-time rentals and subscription accounts, customers can sign in and rent their favourite brands from Chanel to Zimmermann for a fraction of the sticker price they would pay to purchase the item - and perhaps only wear it once or twice. "Our service gives women access to their favourite designer brands while eliminating the battle between looking good and being sustainable," said Founder and CEO Evelyn Cahill, who worked as a lawyer in finance before setting up the fashion-rental platform. Style Carousel offers nothing for sale but users may purchase most items at a discount if they choose not to return them, she added.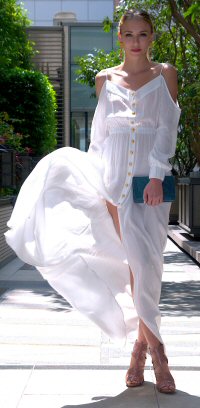 As a long-time fashion enthusiast, Ms Cahill knew there was a gap in the market when it came to finding highly fashionable, yet sustainable items that complemented her lifestyle and budget. She noticed this was a problem for the women around her, too. "Not only were my friends constantly asking to borrow my things, but there were also times where I couldn't quickly find what I was looking for, and purchasing a new dress or bag for that particular occasion just didn't make sense."The platform is now live and available for beta participants who can enjoy promotional rates and grow with the start-up as it enhances and expands its offerings. "By getting early feedback from our beta participants, we are building a product that will change the way women dress, and we aim to officially launch by the end of this year," Ms Cahill said.
Borrowers and partners
Style Carousel has two core client groups: borrowers who rent the designer pieces and brand partners that list those pieces on the platform. This model lets borrowers rent their favourite fashion brands at an accessible price point. "We know our borrowers don't like to wear the same outfit twice and that they care about sustainability, which is why our rental model is appealing to them."By working directly with the designers and owners of designer products, bridal shops and global multi-brand boutiques, the start-up can control quality and build trust with borrowers so they can be sure products listed on its site are authentic. "This is a big driver of business to our platform and gives us an edge in Asian markets," Ms Cahill said. "Brand partners can tap into new buyers and build brand loyalty with this market. The platform also offers them a way to leverage their underutilised inventory while earning an incremental revenue stream."
Feel-good content
The start-up is currently focusing on feel-good content designed to engage and uplift clients quarantined at home during the current COVID-19 outbreak, Ms Cahill said. On its Facebook page, it even suggests hosting a virtual cocktail party with friends. One of its campaigns included offering free Christian Louboutin, Hermès and Jacquemus bags and accessories donated by partner lenders. "We are hoping these prize giveaways on our Instagram page @StyleCarousel can lift the spirits of our users stuck at home and engage them to support the brands and boutiques listing on our platform," the CEO said.Style Carousel hoped these promotions will support brand partners, many of which are small businesses with physical stores that have been forced to close and hit the hardest. "We are working with them in any way we can to help, including free listing access through our platform and pre-selling to those clients who wish to support them during these difficult times. Discounted pre-sale packages are now available at website," Ms Cahill said. With more and more fashion designers choosing to set up their business in Hong Kong, the CEO is confident that her start-up is located in the best of places. "Hong Kong is one of the most dynamic and vibrant cities in the world. It's strategically located between Mainland China and Southeast Asia and offers us access to fashion-forward consumers that are both price- and quality-conscious. Its trustworthy and business-friendly environment also makes Hong Kong a great place to set up," she added.
Exclusive pieces
Currently offering 147 designer brands, from Louis Vuitton and Gucci to emerging local designers such as Emma Wallace and Yi-Ming, Style Carousel is focusing on the rapid expansion of its wardrobe.It is also working on collections made exclusively for its platform by world-class designers, including a collaboration with high-fashion couturier Lee Paton of the United Kingdom. "He will be creating exclusive rental pieces for the platform this autumn in a new category he describes as 'ready-to-wear' yet distinctly haute couture," Ms Cahill said.Moving forward, the brand's main focus will be perfecting its tech and logistics platform so borrowers can access luxury fashion from even more brand partners and boutiques. It has recently begun offering free and discounted shipping and returns through negotiated contracts with trusted shipping partners. These savings will be passed on to clients and make luxury fashion rental an even more attractive proposition, Ms Cahill said.
Related link
Style Carousel