Digital start-ups are moving into the eyewear industry. Underlining the trend, market research agency Coresight Research discussed overseas start-ups' experiences at a seminar during the 27th edition of the HKTDC Hong Kong International Optical Fair in November 2019, organised by the Hong Kong Trade Development Council. The seminar was designed to help the city's small and medium-sized enterprises develop business strategies.
Direct marketing cuts costs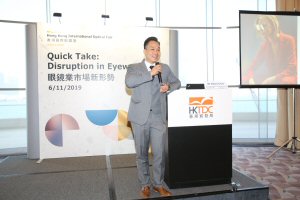 Coresight Research, which provides data-based market analysis for various industries worldwide. The agency estimated the total global eyewear market reached US$127 billion in 2018 and is expected to rise to US$141 billion in 2023. Physical stores account for 87% of global eyewear retail sales, the rest are online market sales, and it is expected that online sales will increase steadily in the future.Albert Chan, Head of the Hong Kong Office for Coresight, said four giant companies dominate the global eyewear market - Essilor Luxottica, GrandVision, Johnson & Johnson and Alcon - but innovative start-ups are making their mark on online and offline glasses markets.One novel method is the Direct to Consumer (D2C) model, which could reduce the retail price 90%, attracting price-sensitive customers to find new products at affordable prices and speed up the product-replacement cycle, Mr Chan said.As product customisation and personalisation become a trend, 3D printing technology enables eyewear manufacturers significantly reduce production time and bring diversified eyewear products to consumers, he said.Giving Lithuanian start-up Dear Deer Eyewear as an example, Mr Chan said the company uses 3D printing technology to field orders. A New York start-up King Children uses 3D projection software to map customers' faces and make unique glasses for their unique characteristics.
New reality
Mr Chan said new digital technologies led start-ups to enter the eyewear market. As smart glasses become more popular, technology suppliers and lens manufacturers had been encouraged to study smart optical solutions and develop augmented reality (AR) glasses.Lenses developed by Korean start-up LetinAR were a good example of this, he said. The company's lenses can reflect light from a miniature display and direct it into the pupil, enabling users to simultaneously view virtual images and see real-world images through the miniature display.
Green glasses
A survey by Coresight Research showed that the four major products in the global eyewear market are lenses, eyewear frames, sunglasses and contact lenses. As customers pay more and more attention to environmental protection, the potential for sustainable eyewear products is huge, Mr Chan said."This is creating space for start-ups to develop new products and set them apart from their mass market competitors," he said.One promising area is alternative materials. A start-up from Ukraine, Ochis, has developed what it describes as the world's first eyeglasses made with coffee grounds.Australian eyewear company Dresden Vision uses a closed-loop injection system to turn empty shampoo plastic bottles into frame material, saying the entire process does not have any negative impact on the environment.
Related link
Coresight Research