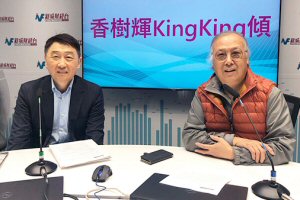 The COVID-19 outbreak is affecting businesses globally, having caused the cancellation or postponement of over 800 trade fairs and exhibitions worldwide, according to some industry estimates. These include more than 10 of the Hong Kong Trade Development Council's (HKTDC) exhibitions, which were originally to be held from February to May but have now been rescheduled to between the latter part of May and August. (The updated exhibition schedule is available here.) Meanwhile, the HKTDC is planning a post-epidemic programme to help companies make up for lost time. In a recent radio interview, Benjamin Chau, Deputy Executive Director of the HKTDC, said local and overseas small and medium-sized enterprises (SMEs) could use the Convention and Exhibition Industry Subsidy Scheme under the Hong Kong Special Administrative Region (HKSAR) Government's HK$30 billion Anti-epidemic Fund [https://hkmb.hktdc.com/en/1X0AJZFO/market-spotlight/Lifeline-for-SMEs-start-ups] to reduce participation costs and ease financial pressure. Additionally, local SMEs can apply for subsidies under the SME Export Marketing Fund and the Dedicated Fund on Branding, Upgrading and Domestic Sales (BUD Fund)
[https://hkmb.hktdc.com/en/1X0AJNAT/venture-hong-kong/Fresh-boosts-for-Hong-Kong-SMEs]
All-go for exhibitions
Mr Chau said there had been no HKTDC exhibition cancellations but some fairs have been relocated or scaled down owing to the lack of exhibition venues in the city. For example, the HKTDC Hong Kong International Jewellery Show will be moved from the Hong Kong Convention and Exhibition Centre to AsiaWorld Expo, cutting two-thirds of the original exhibition area. The exhibition period has also been reduced from five days to four. Mr Chau said the arrangements may benefit exhibitors as minimising booth size can lower costs while they can still meet clients for business deals. "We will invite buyers to the renowned Hong Kong International Jewellery Show through our 50 global offices as well as other online and offline platforms. They can source enough products at the event for sale in the second half of this year."The exhibitions will feature epidemic prevention measures to protect the health of exhibitors and buyers, including temperature checks for participants. Face masks and hand sanitiser will be provided while venue staff will step up cleaning and disinfection.Mr Chau said. SME exhibitors would face considerable losses if overseas buyers were unable to source in the major international sourcing hub of Hong Kong during March and April, a peak sourcing season for many industries. To help SMEs rise to this challenge, the HKTDC will continue to strengthen its e-commerce service promotion and actively match buyers and suppliers. Currently, the databases of HKTDC.com Sourcing platform, HKTDC Exhibition Online and the HKTDC Marketplace App have more than two million registered buyers and 130,000 suppliers, mainly from Hong Kong, Mainland China and the rest of Asia, generating 24 million automatic online matchings every year."The HKTDC has also launched the Work @ Home online promotion plan," Mr Chau said. "Even if working at home, suppliers can still establish business contacts with more than two million reputable international buyers through the HKTDC's sourcing platforms."He recalled that during the SARS (Severe Acute Respiratory Syndrome) outbreak in 2003, the HKTDC Hong Kong Gifts and Premium Fair with more than 5,000 registered exhibitors, and the HKTDC Hong Kong Houseware Fair did not take place in April as scheduled. This would have had a heavy impact on participating SMEs because 30% to 40% of their annual orders were from exhibitions. "After the HKTDC merged and relaunched the two exhibitions, the number of exhibitors was reduced to 460 but there were still 13,000 buyers. The exhibitors successfully received many orders. Even if the sourcing cycle is delayed, buyers will still have a certain amount of purchasing power," said Mr Chau.
SMEs should boost online promotion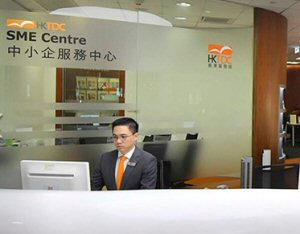 Mr Chau said the government's Anti-epidemic Fund included allocations for the Convention and Exhibition Industry Subsidy Scheme, which provided half the funding for each Hong Kong and overseas exhibitor participating in the HKTDC events. Participation fees (up to HK$10,000) effectively reduce the cost of participation for companies. If local SMEs meet the BUD Fund or SME Export Marketing Fund criteria then they can still draw on these funds for the remaining participation expenses.SMEs should strengthen online promotion, Mr Chau said. Buyers and suppliers can also negotiate first to study how to adjust supply in the event of epidemic-driven delays, such as stalling or speeding up production."We will invite companies from all over the world to participate in exhibitions through our global network of 50 offices, and organise inbound buying missions to visit and source at our exhibitions. By so doing, we will create business opportunities for Hong Kong businesspeople and help global buyers replenish their inventory," he said.
Imports, exports plunge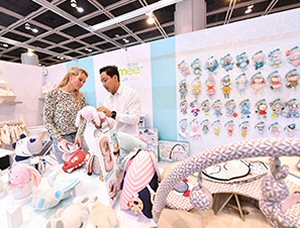 In the past year, Hong Kong had been impacted by the Sino-US trade conflict, the general economic decline and the COVID-19 outbreak, Mr Chau noted.Hong Kong's exports were worth HK$269.4 billion in January, a 22.7% year-on-year fall, against an expected decline of just 3.7%. Imports were worth HK$300 billion, down 16.4%. Mr Chau said the decline was attributable in part to the Lunar New Year being at the end of January this year, distorting the data. He believed that after the February trade data was released and combined with January figures, the epidemic's impact on trade would be more clearly reflected."Looking ahead, although the Sino-United States trade conflict has cooled, the global economic recovery is still fragile and full of uncertainty," said Mr Chau. "We must pay particular attention to the threat of the COVID-19 outbreak, which will cause major disruptions to production and trade activities in the region. Hong Kong's merchandise exports will face a very severe external trade environment in the next few months, and the HKTDC will continue to closely monitor the situation." "We very much welcome the timely launch of the HK$30 billion Anti-epidemic Fund, as well as the various funding schemes that benefit a number of industries and relieve the urgent needs of Hong Kong businesses, especially SMEs. This eases the turnover pressure on SMEs, reduces the chances of layoffs and job losses, and stabilises the economy of Hong Kong," he said.
Transformation drive
Mr Chau said the epidemic made many SMEs realise the importance of adaptability and transformation, and take on new business models. "In terms of helping SMEs upgrade and transform, we hope that through a new advisory and training support programme to be launched, we will help SMEs increase their competitiveness and develop new client base."Since authorities discouraged gatherings in order to reduce the risk of COVID-19 spreading, the HKTDC switched some of its planned seminars into live webcasts. These specifically targeted business needs, teaching about digital and social media promotion, content marketing, search-engine marketing, promoting web-page traffic and other skills. The webcast seminars helped SMEs enhance their competitiveness, master e-commerce and promotion technologies, and continue to diversify their businesses and explore international business opportunities during the epidemic.
Related link
HKTDC