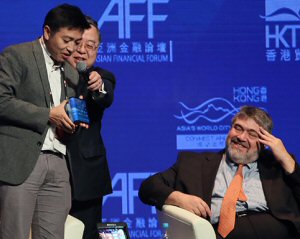 Two galaxies shine brighter than most in the innovation and technology universe – Israel and China. Israel has a large, mature entrepreneurial ecosystem and a talent pool that belies its size, while Mainland China, the factory of the world, is a perfect test-bed for technological innovation and has an innovation-friendly regulatory regime and government support to match. Plugged-in Hong Kong serves as a source of finance and bridge between the two, and to the world.The COVID-19 outbreak has done little to dim these star clusters, however. In fact, in some ways, the disease and its attendant problems, such as travel restrictions, may spur rather than retard innovation.
Steady performance
Arie Schreier, General Manager of Israeli operational services provider PTL Group, said the outbreak had had little impact on the business."In fact, we are working as usual and if you look at my e-mail inbox you wouldn't know that there is any change in the working condition," he said.
"We were also surprised to see that new companies are still trying to enter the market even during this period and we even signed few new clients in the past few weeks for companies starting their business in [Mainland] China. This proves that many companies realise that this is only a temporary situation and there is confidence in the [mainland] market and companies are getting ready to come back to the market with full energy once the epidemic is over."
Tslil Kleiman, General Manager at ViaMeshi, the Israeli Chamber of Commerce in China representative in Israel, said many chamber members reported that they already worked through video conferencing, shared databases and had online workflow processes in place. This meant the COVID-19 outbreak and its attendant travel restrictions had little impact on tasks.Mainland investment banking firm Asia Direct Partners said the company was operating through video conferences. "Even [Mainland] Chinese investors who traditionally prefer face to face meeting are welcoming video conferences," a representative said.Venture capital naturally follows start-ups and entrepreneurial activity. Ms Kleiman said long-term projects had not been disrupted, and the long-term growth assumption remained the same.According to Asia Direct, some companies are considering bridge finance, and estimated market demand for debt financing will increase.Ms Kleiman said that when the outbreak abates, the chamber plans to resume its work just where it left off. "Currently we are already planning an Israeli delegation road show to the mainland in two main industries - agriculture and food tech, and healthcare."They had made a strategic shift, however. "The first step of these road shows – a competition which was supposed to take place with our [mainland] partners as judges in Israel – is now shifted to an online competition, with our partners acting as judges on an online platform," said Ms Kleinman.For Hong Kong-based business services firm Ekpac, travel restrictions have led a number of their business partners to seek assistance in keeping communication lines with their mainland partners open, and there has been an increase in the use of video conferencing.
Growth opportunity
Many Israeli ventures are in the biotechnology sector and technology from firms from the country played a part in the mainland's response to the COVID-19 outbreak, Ms Kleiman said. "Clearly, new opportunities will generate new enquiries for the companies that are already working with [the mainland]."Mr Schreier said some Israeli companies had already announced breakthroughs in the COVID-19 field, including developments in treatments, vaccines and barrier protection such as masks."I am sure that there will be numerous more inventions that were driven by this virus and that many Israeli companies together with [mainland] support will develop new intellectual property in this field that will benefit the entire world and may prevent the next epidemic," he said.
Logistical challenge
Ms Kleiman said there had been concerns over the virus outbreak's impact on supply chains around the mainland and Asia. "But recent steps by top brands are actually showing that the mainland has some strength compared to other places in addressing crises."Mr Schreier said: "Every effort is done now to overcome [logistical] obstacles and any method that will improve the supply chain will be tried out in the coming weeks."Ekpac's clients had buffers which reduced the impact of a production hiatus. "Our clients operate on advanced planning systems, so the slight delays in shipping outstanding orders does not have significant impact on our clients. A lot of our suppliers are back to production now. It is expected that these factories are picking up momentum now to speed up the deliveries," the company said in a statement.High-quality production led Ekpac clients to retain their presence in the mainland. "It is correct that some companies are looking to other countries for production," the company observed. "[But] people still have sentimental attachment to [the mainland], and their confidence in higher-quality products made in [the mainland]."For Israeli travel and tour operator Vered Hasharon, the number of visitors to Israel had dropped sharply and the company was working on long-term plans for group tours. Business travel to conferences and exhibitions had brought Hasharon Vered a lot of business from the mainland but this business had stalled as many aspects of such visits could not be replicated online, a company representative said. The firm would run a revival campaign as soon as the outbreak receded.
Everything on Internet
The virus outbreak has led staff to work from home in their millions. Many Israeli firms are leaders in such fields as Internet of Things and remote education. Mr Schreier said interest in remote work and education could be a breakthrough for many firms which had been trying to enter the mainland market, especially when it comes to moving from traditional education to new methodologies."This crisis will push many online learning platforms and every other [software as a service provider] that assists companies to operate online from a distance, and there many such services."
Related links
Asia Direct Partners
Ekpac
Israeli Chamber of Commerce China
PTL Group
Vered Hasharon