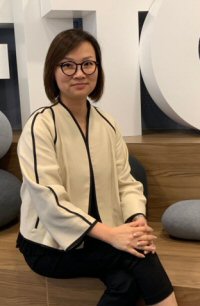 The age of cramped cubicles and lavish corner offices may well be numbered, as collaborative spaces and brainstorming pods becoming more commonplace in workplaces. As more people work from home, offices are increasingly being viewed as spaces for chats and brainstorming sessions rather than an assembly of desks where staff are permanently installed. Janice Siu, Business Director for retail and brand consultancy Fitch Hong Kong, believes 2020s workplaces could also become tools to reinforce a brand's story and values. Fitch recently merged with brand and design specialists Landor. Work-at-home is becoming common in Hong Kong; how has this affected practices?
Actually, I think home-working has been a short-term thing, and is not so much the norm in Hong Kong, with corporations simply following government policy [encouraging employers to let staff work from home during the COVID-19 outbreak]. With more people working from home of late, they have been using [digital platforms] such as Zoom to do conference calls and stay in touch with colleagues. That's beneficial, as they've started to become more familiar with this technology. How do working practices in Hong Kong compare with the rest of the world?
Employees here generally seem open to a more agile way of working – but some like it, some hate it! People can sometimes work more efficiently when they're not in the office, subject to the usual distractions. I definitely do. When I'm travelling, I usually spend half a day in a coffee shop to catch up on work. Some may ask: "How do we know if employees are working the full eight hours?" But it's not the activity but the productivity that counts, and management has to accept that. Having said that, some firms have some platforms in place to monitor workflow and measure productivity. What is your own workplace like?
We recently moved into Foundry 852, a WPP campus, in Quarry Bay. The office design encourages us to collaborate – there is a rooftop where people have brainstorming meetings, for example. This more agile workspace has encouraged us to work closely alongside other agencies, and people are becoming more accepting of this style of working. We have a great communal space on every floor, and there are creative ideas on the walls, like sketches. It's a lot livelier than before. There's a sense of renewed purpose, and we're utilising our space much better. What kind of agile workspaces do you help create in Hong Kong?
One of our clients was the largest real-estate office in Asia. It used to be all cubicle desks, a bit like a government office, but they had a vision to bring people together. They moved to a new office and it was completely different – open plan, with a sharing culture, green walls, and the promotion of healthy habits at work. They also encouraged people to work from home. I was quite surprised, as this firm is known to be old-school. How can an agile workspace keep staff and clients happy?
There's no doubt that it can. The architecture and design of spaces at some of the top creative agencies, for example, is very inspiring. When I was younger and went for job interviews, I'd be really impressed by them. These kind of modern workplaces used to be more associated with the creative industries, but now we're seeing them across the board. They create a good impression for clients and can act as a real showcase for your brand. How does your agency create a sense of belonging for employees that also resonates with the brand?
Yes, this is very important, but it doesn't happen overnight. You have to work out what your brand stands for, put an internal brand engagement programme in place and brand engagement activities like town-hall meetings. You can also reinforce the brand message with a brand image wall, or a brand video. Getting the brand message across can be done with a simple touch. When I went to visit [petrochemical multinational] BP's HQ in London, for example, they had an aloe vera plant in the reception area to reinforce its core brand value of being green. Ultimately, it's all about reinforcing the brand promise. If you do it consistently, you create sense of belonging – but it's a journey, and you have to really make sure that the employee understands your brand.How does Fitch lead employees to play a key role in brand experiences?
I think people are your brand. If people enjoy working for you, they naturally become your brand ambassadors. Your staff are your working brand. If the brand experience is positive, they will embrace, walk and talk the brand. What single piece of advice would you give to managers looking to transform their workplace?
Remember that workplace design isn't just about making the space more agile, and looking more modern. It's the flashpoint of your brand, something that demonstrates your brand promise and culture.