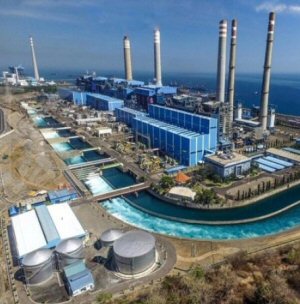 Late last year, the first phase of Indonesia's Belt and Road Initiative-backed Jawa 7 thermal electricity plant came online. A US$1.8 billion coal-fired facility, it is being developed by the PT Shenhua Guohua Pembangkitan Jawa Bali consortium – which is 30% owned by PT Pembangkitan Jawa-Bali, a subsidiary of Indonesia's state-owned electricity company Perusahaan Listrik Negara (PLN), and 70% by China Shenhua Energy, the Beijing-headquartered, state-owned coal-mining giant.Located in Banten, the westernmost province of the island of Java, the 172-hectare Jawa 7 plant is considered to be one of the most vital electricity-generation projects for Indonesia's fourth-largest landmass and the home of more than half the nation's 264 million population. Once work on the whole project is completed – with the second phase scheduled to come online later this year – Jawa 7 will comprise two 1,000 megawatt generators and provide power throughout the densely populated Java-Bali region.
Streamlined output
Jawa 7 is not only Indonesia's largest coal-fired thermal-electricity plant but is also the first such installation in the country to make use of Ultra Super Critical (USC) turbine technology. Essentially, this is an innovative new system that improves power supply efficiency by up to 15% compared with facilities utilising more conventional technology, thus significantly cutting ongoing electricity-generation costs.Equally importantly, the technology utilised at the Jawa 7 site is seen as representing an environmentally focused template that future coal power projects could adopt as a means of restricting their own level of greenhouse-gas emissions. By incorporating Seawater Desulphurisation – a proprietary process developed by China Shenhua Energy – coal usage is optimised, while emissions of particulate matter, sulphur dioxide and nitrogen oxide are reduced. It is believed this will help cut the nation's carbon footprint, while also improving overall air quality. Its adoption has been seen as particularly timely given that Indonesia currently ranks among the world's 10 largest emitters of greenhouse gases.The Jawa 7 project was first mooted in 2014, when the Indonesian government invited bids for an ambitious programme intended to increase the country's power capacity by 35,000MW in the run-up to 2020. Some 12 months later, in December 2015, China Shenhua Energy – a specialist in coal mining, production and electricity power projects listed on the Hong Kong and Shanghai stock exchanges – was awarded the build-own-operate contract. Construction work on the plant then began in April 2016, with a financing agreement between the PT Shenhua Guohua Pembangkitan Jawa Bali consortium and the China Development Bank signed the following October.
Universal electrification
Ultimately, the Jawa 7 plant represents a key element in Indonesia's drive to step up its domestic energy-generating capacity as demand for electricity continues to soar from businesses and consumers across the world's largest archipelago. In line with this, the country's government is committed to delivering nationwide electrification by the end of the current year. With this programme set to connect many rural areas to the national grid for the first time, it is anticipated that demand for electricity will again soar.With a view to meeting any future demand growth, the government published its 2019-2028 Electricity Procurement Plan in February last year. A blueprint for expanding the country's energy supply resources, it proposes developing 33,666MW of new electricity projects via independent power producers (IPPs) over the next eight years. In order to facilitate this, PLN, the state-owned electricity company, will permit subsidiaries to take shares in selected IPP projects in accordance with the build-operate-transfer model. Ownership of the plants built and owned by IPPs will then be transferred to PLN once each power-purchase agreement matures.
Related link
HKTDC Research