Artificial intelligence (AI), 5G connectivity and flying taxis were all prominent among the next-generation innovations accorded centre-stage status at the recent CES 2020, one of the world's largest technology trade shows. Kicking off the event, Gary Shapiro, President and Chief Executive of the Consumer Technology Association (CTA), the show's organiser, said: "We're beginning another decade of profound transformation: The Roaring 2020s. We started the last decade excited to experience the Internet of Things. I feel an even stronger vibrancy here at CES 2020 – the Art of the Possible."It was a sentiment that seemed to resonate across the show floor, while also inspiring many of the keynote speakers. In the case of the latter, this saw global brands, non-traditional tech companies and start-ups all sharing the same platform as they unveiled their latest projects, with many seeing this as a sign that innovative tech is now the key driver in many market sectors, as well as being a force that is transforming the everyday lives of countless millions.
City of the future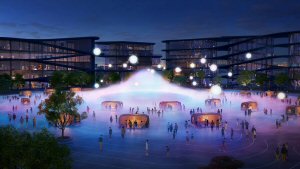 Arguably the most ambitious project unveiled at the show was Toyota's Woven City, a prototype community of the future set to be built in the shadow of Mount Fuji, Japan's highest peak. Billed as "an experimental laboratory for future technologies", it will act as a testbed for a variety of emerging technologies, including hydrogen fuel cell-powered self-driving vehicles, robots, smart homes and new forms of personal mobility. With work on this immense project scheduled to begin next year, the company has so far released no details of the inevitably similarly immense cost.
Smart cities
Stressing the growing importance of the Smart City concept, Elaine Chao, the United States Secretary of Transportation, delivered her own presentation on the challenge of integrating autonomous vehicles into the country's transport system, while also appraising a number of other advances likely to impact on public transport. Her belief in the sector's potential was borne out by the profile of the event, with the number of Smart City-related exhibitors having increased 25% from 2019. Overall, though, while many attendees stopped by to check out the "see-through" cars (models showcasing software and sensors rather than actual auto design), it was Bell's newly unveiled "flying taxi" that truly wowed show-goers.
Cars reimagined
Beyond the Smart City Zone, there were plenty of other futuristic vehicles to be had, including the Mercedes Vision AVTR. Taking much of its design inspiration from Avatar, the 2009 sci-fi blockbuster, this sustainable show-car comes complete with a control system that rises from the console at a touch, a virtual instrument panel and a fully recyclable organic cell battery. According to the company, the model takes it a step closer to delivering on its vision of carbon-neutral vehicle production, a carbon-neutral fleet by 2023, and zero emissions.For its part, Audi was showcasing the AI:ME, a completely autonomous vehicle. While there's still a steering wheel and pedals in the car should you decide you want to drive, these controls are all concealed when not in use, creating something of a lounge-like experience for those being conveyed.Its onboard intelligence system is also said to interact proactively with passengers, learning their preferences with regard to climate control, interior lighting and even favoured routes. It also boasts an augmented reality (AR) enhanced windshield heads-up display capable of flagging points of interest – electric charging stations and the like – as you approach them. At one point, during a demonstration, it even recommended a breathing exercise for one particular passenger, seemingly based on acquired health data.
Airline tech
Reaffirming its commitment to taking the stress out of international travel, Delta Air Lines was the first airline to present a CES keynote address, during which it took the opportunity to effectively rebrand itself as a tech company. Justifying this, Delta outlined its plans for AI-enhanced adverse weather management, as well as a major upgrade to its app, which would introduce such features as virtual seat queuing and a home/hotel delivery option for luggage. In a shrewd crowd-pleaser, it also emphasised that it's now working non-stop on the implementation of free in-flight Wi-Fi.Over on its ever-busy stand, meanwhile, visitors were given the opportunity to lift unbelievably heavy luggage with the assistance of an experimental exoskeleton. They were also permitted a glimpse of another innovation currently under development – a screen capable of displaying personalised information to a number of different people at the same time.
Useful, and cuddly, robots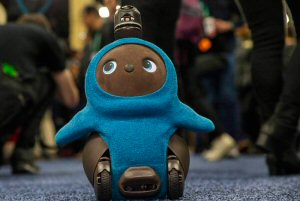 Proving that robotics is not just all about automated riveting or remote battlefield engagement, Tokyo-based Groove-X was winning the hearts of attendees with the Lovot, an artfully engaging mini-mechanoid. Responsive to touch and eternally smiling and giggling, it's just as much fun as a real kid, according to the company, with none of the associated expenses.A slightly more serious take on the technology came courtesy of California-based Tombot, which had on offer Jennie, a "Robotic Emotion Support Animal" designed to be the ideal companion for dementia sufferers and those with autism or post-traumatic stress disorder. Less laudatory, perhaps, was the RollBot, the brainchild of Charmin, an Atlanta-headquartered toilet-paper manufacturer. Suffice to say, should you find yourself marooned and paperless in the bathroom, this is the self-balancing two-wheeled roll-retrieving robot you'd want to have on your side.
VR and AR for everyone
This year, it's fair to say that virtual reality (VR) and AR headsets and devices were on show virtually everywhere you looked, with their ubiquity down to the rise of gaming/e-sports and their increasing commercial utilisation. Even in such a crowded sector, though, some systems still managed to stand out – notably Panasonic's High Dynamic Range (HDR) VR eyeglasses.Their appeal is down to the fact they can display ultra-high definition visuals without the interference of any irritating "'screen-door"' effect – the lines between pixels that are often visible when viewing a screen just millimetres from the retina. According to the company, this is down to its use of a micro OLED panel and the incorporation of a new optical driver that creates "natural and distortion-free images in super-single focus". With high-speed 5G mobile networks due to come online later this year on a global basis, the company is hoping this will see the potential market for the glasses expand beyond high-end gamers due to real-time sports streams and the growing appetite for virtual travel experiences.
Adult tech
Following last year's controversy over Lora DiCarlo – a US adult toy company that was kicked out of CES despite winning one of its annual awards – the show organiser has revised its guidelines and given the go-ahead for such products to be displayed. For the several featured in the Robotics Zone, the only stipulation was that any display had to be suitable for a general trade-show audience and couldn't feature human body parts or any "anatomically correct devices".This relaxation in the rules prompted a distinct surge of interest in the sector, with a number of notably louche promotions the talk of the lobbies. One exhibitor that was certainly benefitting from the intrigue aroused was Crave, the San Francisco-based company behind the Airstream range of necklace-and-ring resembling stainless-steel adult toys.Outlining the company's proposition, Co-founder Ti Chang said: "With pleasure having been stigmatised for a very long time, we wanted to remove any sense of shame and the only way to do that was to start a conversation about it. So, our aim is to elevate the look of such products and make them something you don't want to hide. In fact, they're something you'd want to wear to brunch with your girlfriends. They're great icebreakers."
CES 2020 took place from 7-10 January at the Las Vegas Convention Center, Sands Expo and several other venues around Las Vegas.
Related link
HKTDC Research