In search of smart city-related network technology solutions, Japanese technology giant NEC joined a Hong Kong business mission to Tel Aviv and Jerusalem in September 2018 and found Israel the promised land for start-ups that deliver.The group's local subsidiary NEC Hong Kong took part in the Hong Kong economic and trade delegation, organised by the Hong Kong Trade Development Council (HKTDC) and led by the Financial Secretary of the Hong Kong Special Administrative Region Paul Chan. The company met with local fintech and biotechnology start-ups during the trip and reached an agreement with two Israeli companies during business matching sessions, kicking off cooperation on the commercial application of technology.Elsa Wong, Managing Director of NEC Hong Kong, said the company had a fruitful visit that enabled it to understand Israel's start-up scene and innovation development. She added, however, that the biggest achievement was to be successfully matched with two start-ups and integrate their core technologies of identification security and predictive modelling.Apart from the mission's business matching programme comprising over 90 meetings, Ms Wong also appreciated other mission arrangements, including a briefing on the local business environment and a keynote luncheon showcasing Israeli business opportunities.She noted Israeli and Hong Kong companies had much in common. Hong Kong's close relationship with Mainland China means that Israeli start-ups, which are actively developing the mainland market, attach great importance to partnerships with Hong Kong firms. "Our pace and ideas match, and it is easy to generate synergy," Ms Wong said.
Mission accomplished
Describing herself as "target-oriented", Ms Wong said she went to Israel specifically to find network security and predictive analysis technologies, which are relatively niche. NEC had also developed such technologies in the past but the development called for talents such as data scientists, which are relatively rare in Hong Kong. "This time, we are authorised to use the technology of these two companies and integrate with existing systems. Programmers can handle this," she said.Ms Wong welcomed cooperation with Israeli companies. "The complementary roles are very clear. Their strength lies in providing technology and they are part of the entire ecosystem. The Hong Kong company has an advantage in commercialising technological research results. We know how to package and promote the technology, and can give Israeli technology start-ups a platform to enter the mainland market."She said the visit offered a chance to broaden the company's horizons, which would help its business development.
Drawing in young players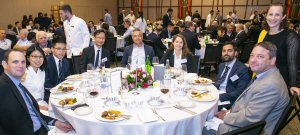 Considering how rewarding the trip last year was, Ms Wong hoped she could participate in future business delegations organised by the HKTDC. "NEC is a multinational corporation with more than 320 offices worldwide so it is not difficult to find a partner," she said. "But during the mission meetings were arranged for us to meet with different start-ups, helping us think out of the box. We also shared what we had learnt with the head office, which would help develop new technology solutions."She said NEC focused on developing smart-city related technology solutions, such as smart transport and public-safety identification; medical technology is a new direction. "The market [for medical technology] has great potential but the threshold is high because the industry is relatively traditional so technology must start at the infrastructure level. Medical systems outside hospitals are dispersed and hard to integrate because of incompatible technologies. There is no coherent framework to operate on."Ms Wong added that the company hopes to find partners in data security technology later. "I hope we can buy services, plug and pay, which will be a faster and more convenient process."Hong Kong has advantages in fintech development in that there is no shortage of talents and new technologies are welcome in the city, according to Ms Wong."Compared to other people in other markets, Hongkongers also have high standards when it comes to product requirements. They can help test all the functions of a product, which will in turn help our head office in research and developments ."
Related link
NEC Hong Kong