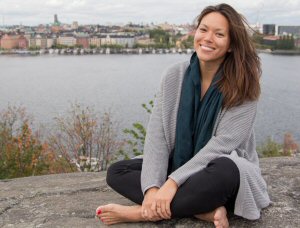 Designed in Sweden and crafted in fair-trade co-operatives in Nepal, scarves produced by social enterprise Bahini have seen sales take off thanks to the solid networking and exhibition opportunities in Hong Kong. The scarves are made by survivors of sex trafficking, women who often have difficulty finding employment because of the social stigma. Company founder and CEO Miyabi Holm was keen to harness Nepal's tradition for handicrafts to empower this marginalised community. She now manages to provide scholarships to girls and employment to women on a steady rolling basis.Ms Holm, who is originally from Sweden, quit her desk job two and half years ago to launch the enterprise in November 2018. She takes care of everything from logo design, which was learnt via YouTube tutorials, to the design and packaging of the products. Now the company is up and running, Ms Holm wishes to reach more markets, with a long-term vision to work with fair-trade companies in other countries. The entrepreneur said being based in Hong Kong had been key to the success of the business. Her products are packaged at a warehouse in the city, and shipped from Hong Kong.

Prior to setting up Bahini, Ms Holm worked full-time as an engineer developing products such as smart phones and IoT speakers. "I thought I knew production already, as I was familiar with manufacturing in Mainland China," she said. "But it's completely different to making a product in Nepal … what I'm doing now is slow fashion." Nevertheless, it helped that she was aware of the whole process of creating a product from scratch, from the design to how legal requirements may differ from market to market.
Seeking suppliers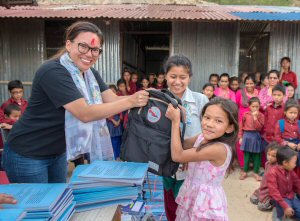 Ms Holm initially contacted every single fair-trade supplier listed on the registry in Nepal, then visited all of them. Only three were willing to hire women who had survived sex trafficking. She works with this trio of suppliers to create Bahini scarves, using bamboo linen. As well as being fair-trade certified, Bahini suppliers must follow sustainable production practices, with a closed-loop water system for the dyes. Toxic compounds such as chlorine bleach and carcinogens are banned. Ms Holm has had to work hard with the suppliers to ensure the products meet the high standards she demands. "I don't want to criticise their work, but I need quality."She has enjoyed the process of working with teams of fair-trade certified suppliers to see what is possible in terms of shades and colours, and the different techniques and weaving that can be employed. "It's been interesting to learn about traditional handicrafts … I've learned a lot about natural dyes and different plants, and what colours can be achieved when you boil [the plants]."
Networking city
A major advantage of Hong Kong for social enterprises is the networking opportunities, Ms Holm said. The city is her largest market at present. "I find that surprising, as I was only here to set things up, but there's so many different markets and events to exhibit at in the city, so Hong Kong automatically became my biggest market." She initially thought the Hong Kong climate would be too hot for scarves, but many customers have told her they appreciate a scarf to keep off the chill from air conditioning. Ms Holm has attended events alongside other socially aware start-ups, including eco-friendly and sustainable fashion markets. "Hong Kong is a melting pot of cultures, and I've managed to meet a lot of like-minded people from the start-up and sustainable fashion community. There are so many events and you can rent a table for not much money and showcase your product and meet other people – it's an amazing market to start off in." Moving forward, Ms Holm said she will put more effort into marketing the brand so she can attract a broader range of clients. In addition to Hong Kong, Sweden, Germany and Japan are doing well and she is in the process of contacting buyers in those countries to stock her scarves in stores, so customers can experience the product quality before buying.

With Bahini being a social enterprise, Ms Holm doesn't want to pay herself a salary but will continue to plough all the money back into the business so it can pay wages and fund scholarships. "The plan was always to take some time off to get Bahini up and running, then go back to work again," said Ms Holm, who is currently working part-time as an engineer in project management. In addition to encouraging people to volunteer in Nepal to work with the survivors, the entrepreneur is also keen to enlist volunteers to help her out at markets and update the Bahini social media accounts. Targeted social media campaigns raise brand awareness and draw attention to the women Bahini helps with the proceeds of the scarf sales, Ms Holm said.
Related link
Bahini