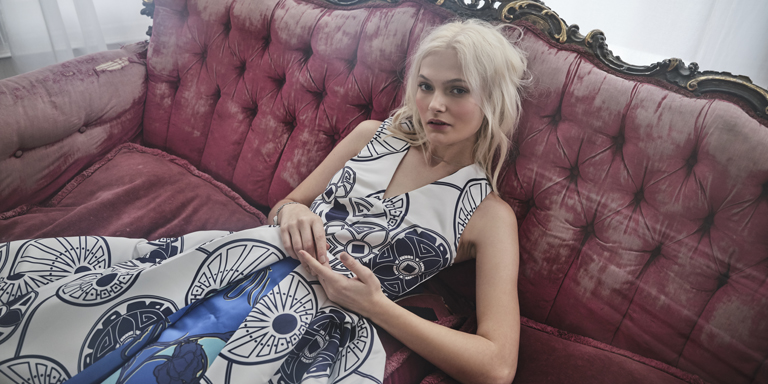 https://hkmb.hktdc.com/en/1X0AINMH
Independent fashion brands thrive in Hong Kong
More and more fashion start-ups are opening their own boutiques in the city.
Creating modern, formal, ready-to wear pieces, Hong Kong-based fashion label Emma Wallace has garnered a solid customer base and support from models and influencers for her seamless blend of Western heritage and Eastern culture, with pieces incorporating Art Nouveau, African and Japanese-inspired prints.

After launching the brand four years ago, Ms Wallace opened her first boutique in April last year in Po Hing Fong, Sheung Wan, where many other independent shops are based. To attract customers to the store, which is not on a major street, she has hosted collaborative events with shoe and jewellery brands where customers can create complete looks in-store.

After opening her retail space, Ms Wallace is now focused on taking the brand global; the online store offers free shipping worldwide. She is working with a public relations company in the United Kingdom and showrooms in Paris and the United States to further raise the profile of her label.

Ms Wallace fell in love with Hong Kong after travelling to the city on business while working for UK-based high-street brands. She subsequently worked as a stylist and designer in Hong Kong before setting up on her own label.
A physical presence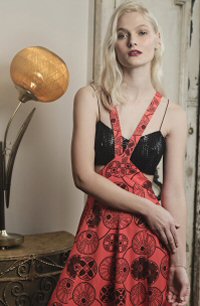 Opening her first boutique has been a steep learning curve, as she had to expand inventory and recruit more staff. Ultimately, however, it has been worth it, the designer said. "It's the best thing I could have possibly done as it gives us a chance to meet customers and deliver an extra level of service, as we can tailor things or tailor-make things for them." It also means customers can see, feel, touch and try the garments on, an important consideration for a new brand, she added. As her garments are quite formal, customers are particularly keen to try the clothes on before buying. "Whether you need a boutique depends on the type of brand you are – if you're looking for something for a nice dinner date, you want to try it on first to ensure it fits just right. If we were just a tee-shirt brand, maybe it wouldn't matter so much if we had a physical store or not."

Prior to starting her own business, Ms Wallace worked as a stylist to Chinese celebrities, including the singer G.E.M. This experience affected her approach to design. "I was creating a lot of red-carpet looks, making custom-made pieces as well as styling. It showed me where the gaps in the market were." Red-carpet options tend to be sexy, and in black or white, and the shapes and sizes proved limited, too, she said. "This encouraged me to create customised pieces, and utilise sequins, which I hadn't really worked with before, and much bolder colours." Ultimately, the experience encouraged her to start her own brand, as she began creating more and more custom pieces, and friends began to ask if she could create custom pieces for them.
Brand collaborations
Following successful collaborative events with other brands in-store, the designer is keen to continue working with jewellery and shoe labels to offer a one-stop shop for customers to style a whole look for themselves. "We did an event with [UK jewellery brand] Monica Vinader earlier this year, which went down very well, and we're in discussion with some other brands so we can host styling sessions so customers experience a fun dress-up day."

Receiving the support of models such as Coco Rocha has additionally been a big boost for the brand. "I think in the day and age of social media it's hugely important for models like Coco to reach out, saying she wanted to wear some pieces [of ours]. It made me feel very fortunate and helped me feel like I'm doing the right thing." Local media has also been supportive of the brand, with TV host Eunice Chan showcasing different outfits in a show filmed in Ms Wallace's boutique.
Hong Kong inspiration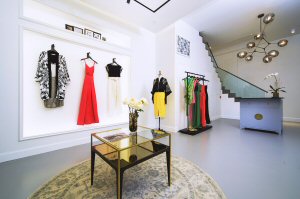 A major advantage of setting up a business in Hong Kong is that she is close to every aspect of the business, Ms Wallace said. "When I was in the UK, I always had to travel to visit sample rooms, or talk about product development. Now I can do all that here, whether it's sourcing trims in Sham Shui Po, or meeting suppliers and finding out what's new resource-wise." Hong Kong is a very supportive community for entrepreneurs, she added. "Where we are based in Po Hing Fong, there are lots of individual business owners, and they are happy to share their experiences." From a design perspective, being based in a city with such a diverse cultural make-up is also advantageous, she adds. "You have people from all over the world [living here] and there's inspiration everywhere. We've got a diverse customer base of different ages and cultures."

In addition to hosting more in-store events in Hong Kong, Ms Wallace will focus her attention on driving online business. "We want to launch some made-to-order products online, like made-to-order dresses, where customers can choose different colours, lengths and so on, then in six to eight weeks, a custom-made dress will be sent to them. It's about creating that in-store customer experience online."

The designer believes there could be room for another Emma Wallace store in Hong Kong. She is also keen to open a boutique in the UK, or the US, since she has had a good reaction from sales showrooms there.
Related link
Emma Wallace
Garments, Textiles & Accessories