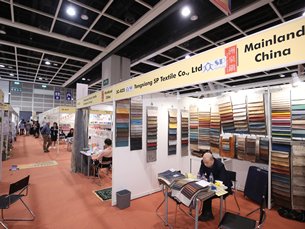 Exhibitors from numerous countries and regions filled the aisles at this year's HKTDC Hong Kong International Home Textiles and Furnishings Fair with an incredible variety of colourful linens, yarns and fabrics. While big-name brands and designer collections graced the Hall of Glamour, major textile associations from India and Mainland China talked up their countries' textiles offerings within their respective pavilions.From the number of exhibitors lining the expo aisles, it was clear that the mainland and India continue to dominate the industry. The global market share of the textile and apparel exports emanating from the world's two most populous nations totals 45% and is still on an upward curve, according to the United Nations International Trade Statistics Database.Despite many ruminations of change, the mainland still has the lion's share, accounting for 40% of the global total. Regardless of rising labour costs, recent tariff increases and other factors, its textile sector is not only the biggest producer, consumer and trader in textiles and clothing, but it is still growing at a fair rate of knots.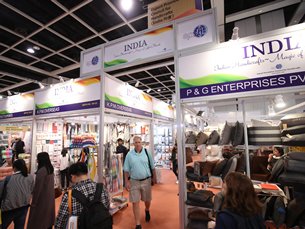 Despite cotton's commanding role within the clothing and furnishing industries, India – by far and away the world's leading producer of the material – has yet to truly capitalise on this particular resource. This is despite the fact that, according to Hamburg-based database service provider Statista, India produced 6.21 million tonnes of cotton in 2017/2018, compared with the mainland's 5.99 million tonnes and the United States' 4.6 million tonnes.India is also the largest supplier of cotton fibre and yarn to China. It loses out, however, as when one kilogram of yarn is processed and sold in the form of finished items, it has an added value of 800%. Effectively, because of the mainland's greater efficiencies, India indirectly boosts the profitability of the mainland textile industry. These facts were not lost on many of the Indian buyers and exhibitors – the situation is particularly acute given the increased reliance on synthetic fibres.Addressing the issue, Manu Gulati, a buyer for Jumbo International, a wholesale fashion business in the northern Indian state of Haryana, said: "It's difficult to challenge the might of China, especially now it's becoming more innovative. However, there's fresh hope for Indian cotton producers as new government policies are starting to have a positive impact on production and marketing. There's also still plenty of business to take advantage of, especially in the craft and luxury cotton segments."Essentially, Mr Gulati saw his mainland competitors as becoming increasingly innovative, leading Indian producers to focus on heritage and craftsmanship. Expanding upon this, he said: "In the past, the Chinese were just followers, but now they're developing technology and coming up with new fibres and new applications. While we're not quite so innovative, there's still a lot of joy to be had in something like a really nice, hand-finished pillow. India is still the world's top cotton producer and is rightly proud of its creativity.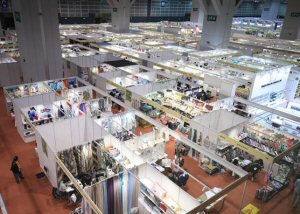 "Overall, when the markets are good, there's a degree of confidence, but it's been flat this year and people are getting worried. Of course, it's cyclical, just like fashion, it revolves and you follow the latest trends and respond to the market. As it's wholly consumer-driven, it's always going to be a bit of a rollercoaster."Among the other trends clearly evident at the event was a greater emphasis on organic fabrics and eco-friendly products, the prevalence of iconic – often highly traditional – designs and a greater premium being placed on fine craftsmanship. Demand in these particular areas was notably strong from US, European, Japanese and Korean buyers.This was largely because handcrafted Indian items have become fashionable in these countries and are frequently seen as stylish additions to modern home décor. In a world of plastic and disposable mass-produced products, those who can afford, it seems, want something more personal and individual.Such trends have prompted a number of US retailers, including Bloomingdale's and Neiman Marcus, to spotlight the work of Indian artisans. It is also why such companies as Delhi-based Good Earth have taken to reviving traditional techniques as a means of producing clothing, home décor and accessories. Instead of trying to compete in the mass-market segment, they are looking more to leverage the idea of craftsmanship and the human touch as marks of true luxury.At the same time, fashion designers from several major fashion houses – including Italy's Versace and New York's Oscar de la Renta – have committed to extensive investments in India in terms of both time and resources. This has seen hand-loom silk weavers in areas such as Varanasi, India's spiritual capital, taught how to make their designs more contemporary, allowing the results to be showcased on European runways.Looking to capitalise on these very trends was Pradyumna Sharma, Sales Director of Dreams of India, a second-generation textile trading company based in Jaipur making its debut at the event. On a mission to sell its range of indigo, hand block-print design blankets, throws and duvet covers, he said the company had made a considerable investment in attending the show after it had been recommended by a number of business associates.Outlining his company's strategy, he said: "Our contacts in Delhi told us we should come here. So far, the travel experience, stay and stand have all been great and we're hoping to meet more buying teams, especially those from the big buying houses."Many prestigious chain stores in the US, Europe and Asia are selling our kind of products right now. Five years ago, you wouldn't go to a big store for these kinds of items, but now they're seen as luxury products. What we're selling is a premium product, one that's unique and one that's made from the best available materials."The 2019 HKTDC Hong Kong International Home Textiles and Furnishings Fair took place from 20-23 April at the Hong Kong Convention and Exhibition Centre.
Related link
HKTDC Hong Kong International Home Textiles and Furnishings Fair