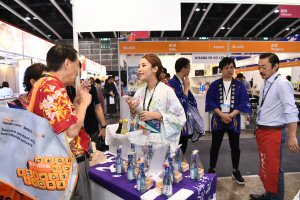 An eagerness to try new food experiences, confidence in the safety of certified packaged foods, and a willingness to pay more for quality, healthy items make Mainland China an enticing market for food exporters worldwide.Hong Kong Trade Development Council (HKTDC) Economist Poon Cheuk-hong – in his Overview of Mainland China's Food Market presentation delivered at the recent HKTDC Food Expo – said an HKTDC Research survey of mainland consumers found that 78% of consumers liked to try different packaged foods to experience various global flavours. The same survey also found that 78% of consumers did not stockpile packaged food for the sake of saving money; freshness and trying different brands were their priorities.
Seafood bonanza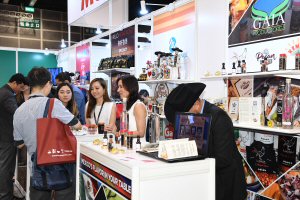 As an example of the rising power of mainland consumers in the global food market, Mr Poon said a seafood craze had gripped the country, with imports playing a leading role.The quantity of seafood imports to the mainland rose 6.6% in 2018 but the value climbed 31% to US$14.9 billion. The main exporting countries were Seafood imports from Russia, ASEAN members, Australia and Ecuador increased significantly.Mr Poon said the mainland government actively encouraged food imports as this would increase competition and boost the quality of domestic products. The massive China International Import Expo was a good example of this, he said. The next expo takes place in Shanghai from 5 to 10 November at which the HKTDC will organise a food and beverage exhibition space [https://hkmb.hktdc.com/en/1X04WRUX/event/China-International-Import-Expo-Shanghai] for Hong Kong exporters.The Food Expo halls showed many exporters have already received the message that mainland consumers regard the world as their oyster when it comes to food. Exhibitors from across the globe flocked to the expo, recognising that a plugged-in, cosmopolitan Hong Kong is still an effective gateway to the mainland market. And they offered an extraordinary range of consumables: aged beef from Poland, powdered guacamole (avocado sauce) from Mexico, sake and milk from Japan – the list is endless.
Confidence boost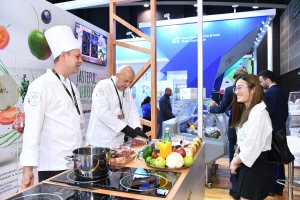 Mr Poon said rising consumer confidence, a desire for healthy foods, a consumption upgrade and a rise in e-commerce have all boosted the food market in the mainland.An HKTDC Research survey of mainland consumers found 70% of respondents agreed that consumer confidence in domestic food brands had returned over the past two years. Just 8% disagreed.Food-safety certification had improved confidence, Mr Poon said, with 87% of respondents saying they would be more at ease trying new brands with certification. Confidence was also returning to the key baby-formula market, as a recent Nielsen study showed that domestic formula accounted for 43.7% of the market in 2018, up from 40.7% in 2017. Sales growth had increased to 21.1% in 2018 from 14.5% in 2017. Mr Poon also pointed out that improvements in technology, better machines, more efficient cold chains, stable quality and stronger domestic brands are all leading to mainland consumers having a wider choice of quality food.
Healthy living
Mr Poon said the mainland government has implemented a national nutrition plan, running from 2017 to 2030, in an effort to promote healthy eating, aiming to limit obesity, cut intake of excess salt, oil and sugar and expand the healthy foods industries.Mainland consumers are willing to pay more for packaged food if the items are nutritious and healthy, organic and natural, have quality ingredients, a strong brand reputation and they can be sure of the place of origin, the survey found.The vast bulk of survey respondents also said they were paying more attention to detailed information on food packaging, such as the ingredients listed.The market for functional drinks – including sports, energy and probiotic drinks – was also growing strongly, he said.
Digital nutrition
Online sales are beginning to dominate food retailing. Supermarkets remain in favour – 91% of respondents in the HKTDC survey use them to shop for meal ingredients and instant meals, 87% for snacks and 88% for dairy – but online channels are catching up quickly, with 59% of respondents now using them for meal shopping, 63% for snacks and 39% for dairy products. Convenience stores and high-end supermarkets trail online food shopping in all categories except dairy (41% in each case).Cherry-picking an example, Mr Poon said the value of total fruit imports jumped 34.5% in 2018 to US$8.42 billion, with cherries being a hot fruit item in many households, driven by a social media trend which turned them into popular Lunar New Year snacks. At the same time, improving logistics allowed for fresh-fruit deliveries even to second-tier cities.
Related links
China's health food market
HKTDC Food Expo