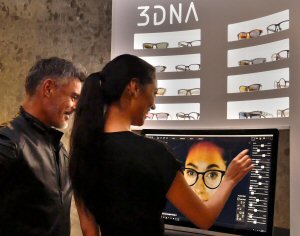 3DNA is a retail technology company that simplified the eyewear-creation process, from concept to design to production, letting practitioners deliver one-of-a-kind custom glasses to each and every customer. Established in 2013, the start-up packages its technology into a kiosk that sits inside a retail store, or as a pop-up, enabling opticians to offer a much more personalised service.Co-founder Dennis Zelazowski (main picture, left) is a third-generation optician who decided he wanted to do something truly innovative. Since 70% of the world's spectacle frames are made in Shenzhen, in 2012 he moved to Hong Kong in order to learn. Proximity to factories in Mainland China made his fact-finding mission easy, while the city itself offered international exposure to the budding entrepreneur.
Productive meet-up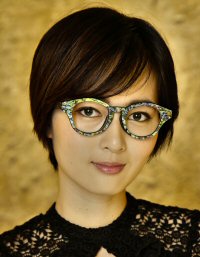 It was in Hong Kong that Mr Zelazowski crossed paths with Xiliu Yang, who would become 3DNA's co-founder. "Ms Yang, from Shanghai, was studying architecture in Hong Kong, and it was her idea to develop a parametric software to design eyeglasses," he explained.The system takes a biometric scan of a person's face, and with the guidance of an optician, enables them to choose the style, shape, colour and material, and then stretch and morph the frame so each product is unique. The accuracy of the scanner delivers a perfect fit.The technology incorporates the use of luxurious materials, such as carbon fibre, seashells, wood and buffalo horn, in a way that was not possible before."Opticians know what style looks good on you, but in the past they had been limited by existing frames," Mr Zelazowski. "We've put the craftsmanship back into the profession by allowing them to be more creative, while the customer gains an emotional connection to their glasses, because they're involved in the design."One-of-a-kind production also reduces waste and shipping costs, Mr Zelazowski pointed out. "All of our materials are sustainable and renewable, including the buffalo horn, which drops naturally from the animal."
Worldwide rollout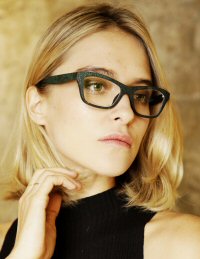 3DNA operates as a business-to-business (B2B) enterprise, selling its kiosks (priced at US$10,000 each) to retail stores and optical laboratories. Since rolling out the first kiosk in January 2018, the company has "about 15 out in the field", in Mainland China, Hong Kong, India, Denmark, the United Kingdom and United States, with "a few more pending for Canada".The desktop frame edger, which can be set up adjacent to the kiosk, enables the frames to be made anywhere. "It's a totally vertically integrated solution," Mr Zelazowski said.3DNA's tech team is also developing an app whereby people can use the facial scanning on the latest iPhone to design their glasses remotely, in consultation with the in-store optician.The co-founders have started at the luxury end of the eyewear market, but plan to also introduce mid- and budget-end products as the business progresses. When eventually 3DNA's B2B customers replace their kiosk for a newer model, the founders plan that the older versions will go to less-developed countries, to help improve vision for the people there.
Partners sought
Mr Zelazowski moved from the United States to establish his business in Hong Kong, and doesn't believe this would have been possible "back home in Pittsburgh"."We are a proudly Hong Kong start-up empowering people to be creative, and breathing new life back into a profession that has been shrinking," he said.Major trade events such as the Hong Kong Trade Development Council's Hong Kong International Optical Fair (6-8 November 2019) provide the start-up with valuable leads, while local job fairs have been a source for hiring designers and technical talents.Meanwhile, 3DNA's co-founders are currently looking for investors who "believe in our mission and want to help us improve the world and enhance the lives of those working in the optical business".
Related link
3DNA