The continuing growth in the market for environmental technologies and solutions was more than evident at the recent ASEAN Sustainable Energy Week expo. The Bangkok-hosted event saw a wide range of companies from 45 different countries showcase the latest innovations and technologies across the renewable energy, energy efficiency and environmental protection fields. This year's show was held in conjunction with Thai Water, so it also welcomed a wide range of water and waste-water technology exhibitors.Solar power is still the dominant green energy source in the region and was strongly represented at the show, with companies from Mainland China very much to the fore. Among the many to have made the trip to Bangkok was Jiangxi-based Solar Energy Risun, an early mover in the mainland's photovoltaic (PV) industry. Established in January 2008, it was one of the first PV enterprises to be authorised by authorities and now specialises in solar cells, solar modules and PV systems. At present, its biggest market is India, where its clients include many of the country's biggest companies, including the Tata Group, the Mumbai-based multinational conglomerate.
Maintaining that the biggest challenge facing the company was the fierce competition within the sector, a spokesman said: "Keeping ahead of our rivals requires continued innovation. Accordingly, we are now producing a range of double-glass modules that have a higher power output than our traditional modules. They also have a longer life cycle and are easier to install."
Lack of investment
Citing the lack of support solar power receives from many Asian governments as another issue, the Solar Energy Risun spokesman said: "Other than competition, the major challenge for us is that most Asian countries don't have government policies that encourage new energy. Currently, only China and India have such policies in place. Four to five years ago Thailand was keen to encourage its adoption, making it a good market for us. Over the last three years, though, things have not been so good and there's been a lack of investment when it comes to developing the sector."It's not just in the field of energy provision that mainland companies have been making their mark, however. Many of the players in the sustainable economy sector, such as Taiwanese recycling specialists Jetpro, are increasingly having to contend with competition from their mainland rivals. For its part, Jetpro operates in conjunction with Spaleck, a family-owned company based in Germany, and specialises in a range of separation technology products for a wide array of sectors, including electronics, municipal and industrial waste, as well as slag and ash treatment and soil-sediment washing.While maintaining he was broadly optimistic about the company's prospects, Hermann Kahle, JetPro's representative at the show, also outlined a number of reservations, saying: "More and more companies are coming in and our biggest challenge is coming from Chinese companies offering cheaper products. As they have short delivery times, lower labour costs and lower material costs, they are proving quite competitive."
Cheaper competition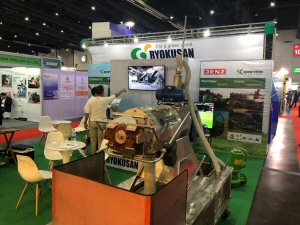 Another company becoming increasingly aware of its mainland competitors is Ritmo, an Italian specialist in the manufacture of plastic welding technology for the water, utilities, industrial, gas, mining and construction sectors. Outlining his company's approach to maintaining its unique selling point, Export Area Manager Alessio Costanzo said: "We primarily promote our products according to their certification and specific quality levels. We sell mainly to operations working in infrastructure, utilities or water, many of which are publicly funded and require very high standards."In our market, then, it's important that we keep the quality high and stick to guaranteed standards, while the life cycle of our products tends to be longer than that of our cheaper competitors. While we only employ about 100 people, we sell to 130 countries and export about 90% of our output."Ryokusan Asia, a Japanese-Thai joint venture, also saw itself as now having to contend with increased pressure from mainland rivals. Headquartered in Bangkok, the company has built its reputation as a leading producer of agricultural and environmental machinery, but at this expo had opted to showcase its range of biomass products.Outlining the company's portfolio, a spokesperson said: "As part of our operation, we produce systems for converting wood stock into biofuel. Wood stock is a very cheap resource and we see it as becoming increasingly popular in the future, allowing us to grow the market."At present, we're one of only two companies offering this," he said, adding that a few potential competitors were trying to replicate the technology and sell cheaper machines.
New technologies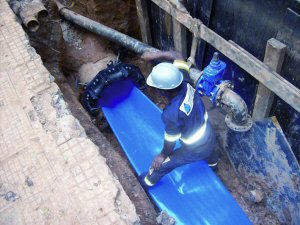 Not everyone at the show, though, was quite so worried about mainland competition, including Primus Line, a German producer of specialist relining technology for damaged pipelines. According to the company, its systems can operate without the need for trenches and are designed to be used on pipelines that run under rivers or main roads, where digging trenches could cause disruption.According to Simon Richtmann, the company's Head of International Business Development, its products are so innovative that it doesn't need to worry about cheaper rivals. Expanding upon this, he said: "Competition really isn't our problem. My company and its products are quite unique, so there aren't any real competitors out there, although there are, of course, other relining companies. The challenge for us, really, is to make people aware of our technology and then they can plan with it in mind."Bringing new environmental technologies to a wider audience was, of course, why many companies were exhibiting at the show, although some – including Germany's Cerafiltec – felt that was just half the battle. The company specialises in the provision of ultra-filtration systems that can be used for treating ground and surface water to produce drinking water and that can also be used to filter industrial or domestic waste water. According to the company's Chief Executive, Dr Martin Kaschek, its biggest challenge is persuading the market that its filtration systems are better value than the many less expensive rivals.Defining the company's particular offer, Dr Kaschek said: "We use a ceramic filtration membrane, while many others use a polymeric membrane, which does the same work, but doesn't last nearly as long. Our product has a much longer lifespan and, although it is a little more expensive, it is more robust and will thus end up being cheaper in the long run. Our challenge is to convince the customer of that. We started here in Thailand and we now have an agent in Malaysia and are talking to a number of companies in China."
Wide-open market
Perhaps rejoicing in their designation as serious and growing competition, many of the mainland companies in attendance were very positive about their prospects for growth both locally and in the wider Asian market. Typical of these was the Fujian-based Fuan Ocean Motor Co, a veteran of this particular event. The company specialises in the manufacture of pumps and generators for agricultural and industrial use, although they are also suitable for use in gardens or with swimming pools.Clearly pleased with the response to the company's presence, Sales Manager Mike Chen said: "This is undoubtedly a good show for us. We've been coming here for the last five years and we will no doubt come back again next year. For us, Asia is a wide-open market and we are finding it very easy to do good business."One of the reasons for the growth in demand for environmental technologies and services in Asia, of course, is the rise in pollution occasioned by rapid economic development and increasing urbanisation. Targeting these particular problems was Sunset Laboratory, an Oregon-headquartered pollution analysis company, with its presence at the event jointly sponsored by the Thai government and its home state.Drilling down into its exact offering, company Vice-President Joshua Dixon said: "We look specifically at PM2.5 [atmospheric particulate matter (PM) with a diameter of less than 2.5 micrometres] in air pollution and we characterise how much carbon is in that PM2.5. While governments typically look to regulate and monitor PM2.5, we take a more research-based approach, including analysing the chemical composition of the PM2.5 particles that are being measured."I see a growing need to have a greater understanding of the PM2.5 pollution problem that's occurring here, as well as in Hong Kong and in other parts of Asia. We have a lot of users and scientists that deploy our equipment in Hong Kong, while demand is also on the up here and in China. Needless to say, it's one very big market."ASEAN Sustainable Energy Week 2019 took place from 5-8 June at the Bangkok International Trade and Exhibition Centre (BITEC).A wide range of environmental technologies and services will be on display at the Eco-Expo Asia from 30 October to 2 November. It is jointly organised by the Hong Kong Trade Development Council and Messe Frankfurt (HK) Ltd, and co-organised by the Environment Bureau of the Hong Kong Special Administrative Region.Related link
Eco-Expo Asia