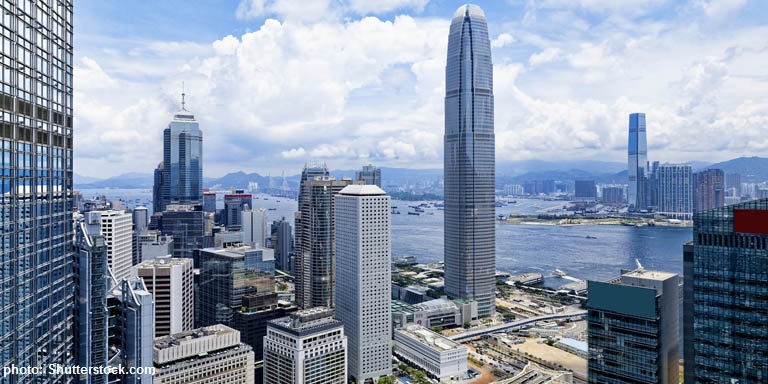 https://hkmb.hktdc.com/en/1X0AHMOI
US fintech firm keeps clients close
A high concentration of asset managers was the deciding factor in this firm's decision to set up its Asia-Pacific base in Hong Kong.
On a Friday afternoon in mid-May in the Enfusion Hong Kong office, Bob Feng, Director of APAC Business at the firm, enthusiastically rings a brass bell to announce that another client has been successfully brought onboard. "It's become a popular office tradition," Mr Feng said, adding that ringing the bell gives recognition to the team effort that goes into winning new clients.

As the fintech revolution reshapes the financial services industry, Enfusion focuses on providing fully integrated, front-to-back investment management software solutions, as well as outsourced middle and back office services and data analytics, mainly for hedge funds and asset-management companies. Established in 1997 in Chicago, originally as a financial technology consulting company, Enfusion today has more than 400 top-tier clients and offices in Chicago, Dublin, London, Mumbai, New York and São Paulo, and is at the forefront of providing a full spectrum of financial technology solutions.
Geography counts
As convergence between fintech disruptors and the disrupted increases, even in today's hyper-connected world, Mr Feng said geographic location matters, explaining the reason behind Enfusion's strategic decision to establish its Asia-Pacific headquarters in Hong Kong. For example, as the hedge-fund and asset-management industries evolve away from multiple vendors with multiple systems to all-under-one-umbrella solution providers – the type of solutions that Enfusion offers – it is important to be close to clients. "It means our clients have convenient access to our services, which gives them confidence," Mr Feng said.

Initially set up with two members of staff – including Mr Feng and Head of APAC Product Consulting, E-Trading & Fund Services Fiona Ren – today the Hong Kong office headcount has expanded to 30 employees and continues to grow. Enfusion is in the process of setting up a satellite office in Singapore. Mr Feng said Hong Kong is the ideal place for a fintech firm such as Enfusion to launch its business in Asia, after which it can grow and expand across the region.

"In Hong Kong, we have the support and facilities we need to operate our business effectively, including world-class technology infrastructure and connectivity," Mr Feng said. Since Enfusion set up its regional headquarters in Hong Kong in 2015 to facilitate its Asia-Pacific activities, the company has built up a portfolio of more than 100 clients that collectively handle more than US$50 billion in assets under management.

After conducting thorough research, during which Hong Kong and Singapore came out almost equally strong in the key selection criteria, Mr Feng said the tipping point in Hong Kong's favour was based on the city having the largest concentration of hedge funds and asset-management organisations in Asia. He also noted that Hong Kong is the regional home for international prime brokers, consultants and law firms. "All the major players have a presence in Hong Kong," Mr Feng noted. "It's easy to forget sometimes that we are doing business in Hong Kong and not New York," he added, referring to his previous posting in the United States.
Pain-free setup
Describing establishing the Hong Kong office, business registration and operating processes as "quick and straightforward", Mr Feng said that except for the high cost of renting office space, Hong Kong is a business city where everything is designed to make the process of doing business as uncomplicated as possible.

"Hong Kong makes it easy to focus on getting on with your business instead of being distracted by peripheral challenges," Mr Feng said. In addition to an open and business-friendly environment, a globally respected regulatory landscape and a simple and low tax system, another of Hong Kong's key advantages is its skilled talent pool. Enfusion can recruit high-quality talent from Hong Kong's universities. At the same time, government-led incentives and support for the fintech industry produce an expanding pipeline of skilled, future-ready talent to meet demand across the spectrum of the financial services sector.

"It may be true that good people are hard to find but in Hong Kong there is a big pool of good people to recruit from," Mr Feng noted. He also highlighted how future-ready skills and a strong work ethic are standout characteristics of the Hong Kong talent pool.
Culture of trust
Because of the strong work ethic and discipline, Mr Feng pointed out that a culture of trust and autonomy flourishes in the Enfusion Hong Kong office. "Everyone is respected and acknowledged for the contribution they make and the professionalism they bring to the business," Mr Feng said.

In addition to recruiting locally, when necessary Enfusion also brings in talent from overseas and operates a robust global employee rotation programme, which necessitates organising Hong Kong work visas. "Processing visa applications is quick and straightforward," Mr Feng said, pointing out how global talent wants to live and work in Hong Kong. "When friends in the finance industry from the US ask me what it is like to live and do business in Hong Kong, I always give them the same answer − I tell them it's easy," said Mr Feng, who expects to keep ringing the office bell.
Related links
Enfusion Hong Kong
Hong Kong Science and Technology Parks Corporation
Think Asia, Think Hong Kong - Los Angeles
Hong Kong
North America
USA