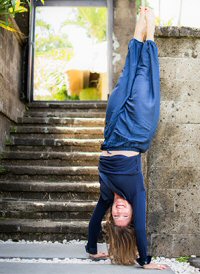 Helping to build and maintain the immune system and the body's general defence against the negative elements of city life – such as bad food, pollution and a stressful lifestyle – whey protein might just be the answer to many a Hongkonger's ills. After seeing the benefits of consuming grass-fed, cold-processed whey protein on her family – including better sleep and greater resistance to colds and flu – Protelicious Managing Director and Co-founder Sheila Partrat felt many others would be keen to reap the same health benefits. The entrepreneur discovered the advantages of incorporating whey protein into her diet after bumping into an old friend who had imported quality whey from Australia into Hong Kong, and then sold it in gyms. When he could not keep the business on, she took over. "The taste is what initially blew me away, but then the quality of sleep, my skin, hair and nails … everything just worked better," recalled Ms Partrat, who said the subtle benefits of incorporating good-quality whey protein into your diet can be felt in as little as two weeks.

The company's Chief Science Officer, Jean Francois Lesgards – who has worked at the Diabetes and Obesity Center in Kentucky and the Heart Institute of Montreal – stressed that the whey must be cold-processed in order to deliver the full health benefits, as this lets the beneficial amino acids remain in good shape.
Ethical and sustainable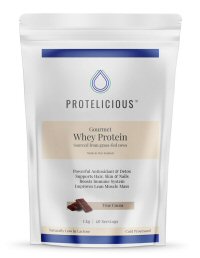 Protelicious' cold-pressed whey comes from grass-fed cows in New Zealand, and can claim sustainability credentials as it is a by-product of cheese manufacturing. Offered in various flavours – True Cocoa, Freeze-Dried Strawberry and Sencha Green – the powder can be used as a base for shakes, chilled soups, and as the "cream" in a curry or less-guilty piña colada, said Ms Partrat, who has been based in Hong Kong since 2006. One scoop a day is enough to help users reap the health benefits, she said.Protelicious is ploughing new territory within the protein-powder industry by being marketed as a lifestyle product to be enjoyed in the home rather than aimed at gym-goers keen to bulk up on muscle. It's a move that paid off, as the company doubled its turnover last year, with a 40% to 50% return rate, the entrepreneur said. It also supplies Pure Yoga for its unflavoured whey line, All the Whey, she added.
Looking for US success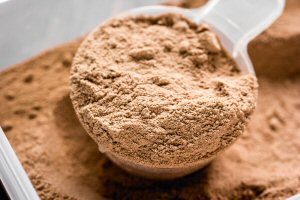 Ms Partrat said the company's current focus is on the United States market, where it will launch in the fourth quarter of this year. Protelicious will be available through Amazon US, while American consumers can also purchase the product through its own website and a global delivery platform from the US.On the regional front, Ms Partrat is partnering with health and wellness services provider Total Loyalty Company (TLC), which specialises in designing and implementing customised staff engagement and well-being programmes for its portfolio of blue-chip clients. "We support TLC in their mission to bring better health and a greater sense of well-being to the workplace by partnering with them at various events they run, giving educational talks, or even providing a '30-day health challenge' framework that we're running in collaboration with a medical clinic and lab for quantitative testing," said the entrepreneur.
Living better and longer
Since setting up the business last year, Ms Partrat's long-term vision for the brand remains unchanged, with a firm focus on providing a nutritious product to customers and helping them compensate for some of the less healthy choices they may make. "The busy urbanite is exposed to an imbalance in their diet and lifestyle, and an often stressful and polluted environment, which at the physiological level creates cellular inflammation, oxidation, premature ageing and gut issues. Although most are not aware, they will feel the consequences and will be concerned about how clean the food they are eating is, looking for something [that will help them] live better and longer, keep up with demands of life, and appreciate the enjoyment and pleasure that come from great taste," she said.Emboldened by the benefits she and her family have enjoyed since introducing grass-fed, cold-pressed whey protein into their diet, the entrepreneur said she is keen to provide a solution to improve health and vitality within the urban context simply, efficiently and deliciously. "It's about bringing peace of mind by taking the guesswork out of what's necessary to support health," she added.
Related link
Protelicious