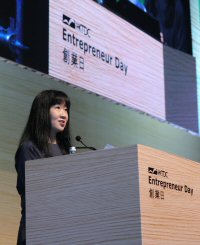 Diversity is a key to success for enterprises ranging from small and medium-sized enterprises (SMEs) to giant corporations and entire economies; and Hong Kong's start-up scene shows the city has diversity in spades.
This year's Hong Kong Trade Development Council's (HKTDC) Entrepreneur Day (E-Day) featured start-ups offering everything from a delivery service using autonomous vehicles to an augmented reality (AR) / virtual reality (VR) interior-decorating design tool which creates virtual showrooms that clients can walk through, choosing their fittings and decorations.
Speaking at the opening ceremony, Margaret Fong, HKTDC Executive Director, said: "Start-ups are a powerful growth engine for Hong Kong's economy and supporting them is a priority for the HKTDC. The vibrancy of the local start-up ecosystem can clearly be seen at E-Day, which has kept pace with market developments by introducing new elements every year and doubling the number of exhibitors over the past decade." Ms Fong added that she was pleased to see that E-Day has thrived alongside local start-ups, with angel funds, mentoring programmes, shared workspaces and accelerators emerging to provide Hong Kong entrepreneurs with a broad range of support.
The HKTDC ran three initiatives in May as part of its annual event, "International Start-up Week", with the aim of cultivating a vibrant start-up ecosystem in Hong Kong. The HKTDC initiatives included the launch of the HK Startup Society's online platform and its offline start-up community; the start-up development programme Start-up Express; and a series of exhibitions, symposiums and seminars under the Entrepreneur Day banner.
Focus on responsibility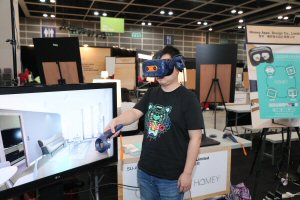 Under the theme of "The Start-up Living Lab", the 2019 E-Day encouraged start-ups and prospective entrepreneurs to create solutions for challenges in four different areas of everyday life − clothing, food, housing and transportation − using innovative ideas and research to develop new products and services. The 2019 E-Day exhibition featured more than 280 exhibitors and their advanced products and technologies, many of which address current social problems and showcase corporate social responsibility initiatives. The Imaginarium zone highlighted local start-ups that are developing real-life applications in the areas of healthtech, biotech, fintech, greentech, AR, VR and artificial intelligence (AI).
Innovative thinking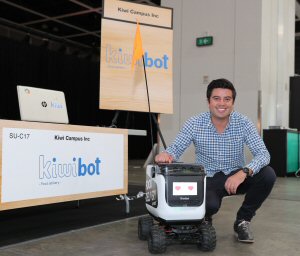 The "Start-up Runway" forum, one of the highlights of E-Day, hosted a wide range of speakers including Sergio Pachón, Co-founder and COO of Kiwi Campus Inc, a campus robot delivery service company from the United States, and Jack Zhang, CEO and Co-founder of Airwallexas. Participants also heard from two local start-up entrepreneurs, Andy Chan, Founder and Executive Director of Qupital Limited, a fintech company focusing on supply chain management that raised US$15 million in Series A funding, and Jordan Fung, 16-year-old Founder & CEO of Pedosa Group, who discussed the best business practices and ideas, including operations management on the ground, to help audience members plan their own business strategy.Other entrepreneurs such as Jason Zheng, Co-founder & CEO of HelloToby, Joe Mak, Founder and CEO of ANIWEAR Company Ltd, and Fred Ngan, Co-founder & Co-CEO of Bowtie Life Insurance Company Limited, took to the stage to share their secrets behind transforming from start-ups into larger-scale enterprises and discuss start-up trends, including developments in fintech, AI, smart city development, medical technology and education technology.Another successful element of E-Day was today's E-Living Hackathon, a first-time collaboration with Young Founders School which invited young and prospective entrepreneurs to design solutions to address some of life's daily annoyances. The activity collected more than 220 examples of real life challenges contributed by the public, selecting three key challenges for the young participants to work together to come up with innovative solutions and practices.
Platform helps start-ups build networks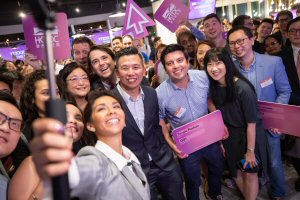 The HK Startup Society's launch event, hosted by HKTDC Executive Director Margaret Fong on 16 May at the R One Space co-working facility in Causeway Bay, kickstarted the HKTDC's first start-up platform. Several local and international start-up entrepreneurs, including Alvin Lam, Founder of T12M Ventures Limited, Raymond Wyand, Co-founder and CEO of Gini, and Kiwi Campus' Sergio Pachón, joined the event.The HK Startup Society is an online platform giving local start-ups access to exclusively curated content provided by elite start-up entrepreneurs, including the most up-to-date market information on angel funds, incubation programmes and start-up events. The platform also hosts "peer-to-expert" and "peer-to-peer" forums that provide quick access to quality feedback and advice. The platform is now open for registration, free of charge.
To further promote the local start-up ecosystem, the HK Startup Society will organise offline meet-ups and networking events, enabling start-ups to connect with investors, potential partners and international outlets. "Hong Kong is an attractive market in terms of its business advantages and robust start-up ecosystem. The HK Startup Society offers the right knowledge and opportunities to build networks, which is crucial as start-ups get off the ground," said Sergio Pachón.
Living Lab
The 11th E-Day drew more than 18,600 visitors. Under the theme "The Start-up Living Lab", the 2019 event encouraged start-ups and prospective entrepreneurs to create solutions for challenges in four different areas of everyday life − clothing, food, housing and transport − through innovation, research and development, and product creation.Various special activities were held in parallel with the exhibition. They included seminars held at the Start-up Runway, where renowned speakers shared insights into technology trends and business opportunities, and the GBA Compass seminar that focused on the development of start-ups in the Guangdong-Hong Kong-Macao Greater Bay Area. The event's first collaboration with Young Founders School, the E-Living Hackathon, allowed prospective entrepreneurs to design solutions to address daily annoyances, while the Fund & Mentor Business Matching Session engaged entrepreneurs and investors in one-on-one pairings.
Winners enjoy access to top-quality events
The second Start-up Express Pitching Final, held during Entrepreneur Day, yielded 10 winners: Affluent Growth & Innovation Technology Limited, ARTRO Digital Limited, Contact Beverage Limited, CYC Motor Limited, Doki Technologies Limited, Incus Company Limited, MedEXO Robotics (Hong Kong) Company Limited, Miscato Limited, Quikec International Limited, and RaSpect Intelligence Inspection Limited. The winning start-ups covered four fields – biotech, AI, smart city and fintech.The 10 finalists of Start-up Express 2019 were selected by a panel of judges led by Duncan Chiu, Co-founder and Managing Director of Radiant Venture Capital. Joining Mr Chiu on the panel were Calvin Choi, Chairman and CEO of AMTD Group; Prof Guanhua Chen, Co-founder of Hong Kong X-Tech Startup Platform; Jason Chiu, CEO of Cherrypicks; Jimmy Tao Managing Director and CEO of Vitargent (International) Biotechnology Limited. Stephen Liang, HKTDC Assistant Executive Director, and Louisa Lui, Assistant Executive Director of Our Hong Kong Foundation, joined the award presentation ceremony.Our Hong Kong Foundation and AMTD Group and are the official partner and strategic partner of Start-up Express, respectively. "Start-up Express nurtures a new generation of start-ups. Through continuous collaboration, we look to foster local talents and promote innovative and sustainable development in Hong Kong," said Our Hong Kong Foundation's Louisa Lui. AMTD Group's Calvin Choi added: "We witnessed high-quality applicants this year, many of their applications making use of advanced technology such as artificial intelligence, big data, environmental technology, financial technology, Internet of Things, medical technology and tourism technology. Through Start-up Express, AMTD Group will support the growth journey of the 10 start-ups and help Hong Kong develop into a smart city through our international capital market experience and extensive network."Koofy Development Limited, one of the 10 winning start-ups from the Pitching Final in 2018, received angel funding from one of the programme's panel judges. The company also connected with business partners and tapped into new markets, including Europe and Japan, through the marketing activities, numerous exhibitions and business events arranged by the HKTDC."Through Start-up Express, we got the opportunity to join high-impact exhibitions with relatively high entry requirements, such as MWC [Mobile World Congress, held in Barcelona], which is something very precious for a start-up like us. Having gained recognition in the market through our affiliation with the HKTDC, our new business partners have greater confidence in us. This is particularly important for uninitiated start-ups," said Ondy Ma, Co-founder and CEO of Koofy.The 10 winning start-ups are entitled to join local and international activities and events including exhibitions organised by the HKTDC in Hong Kong that have a dedicated start-up zone, such as the Asian Financial Forum, Hong Kong Electronics Fair (Spring & Autumn Editions) and the Hong Kong International Medical and Healthcare Fair. They can also join HKTDC overseas flagship events including the "Think Asia, Think Hong Kong" mega event that will take place in Los Angeles in the United States later in 2019. Furthermore, the winners will have the opportunity to join the Hong Kong Pavilion at international exhibitions such as MWC and the Consumer Electronics Show (CES) in Las Vegas, USA, to gain first-hand experience and expand their business network.
Navigating Greater Bay Area development
This year's E-Day featured a seminar titled "GBA Compass", where speakers including Tim Lee, Founder & CEO of QFPay Group, one of the largest aggregate payment platforms in Mainland China, and Abraham Lam, Director & CEO of MEGA Automation, shared their insights on the start-up ecosystem in the Greater Bay Area (GBA), its potential for development as a production base and consumer market, and the growing demand for professional services.Various organisations supporting the start-up ecosystem in the GBA joined government bodies, including the Constitutional and Mainland Affairs Bureau, and other departments promoting the development of the GBA, to participate in an exhibition and provide up-to-date market information and advisory services to current and potential entrepreneurs.
Related links
HK Startup Society
R ONE Space