Innovative products and services launched by Hong Kong start-ups have begun to up-end traditional industries. One such disrupter is Koofy Development Ltd, which has developed a single-wheel electric skateboard, outshining its competitors by simulating surfing and skiing movements on land. The company has recently brought in Series A funding from Fanta Venture Capital and Greater Bay Capital (GBC) Founder Fund, taking aggregate funding to HK$20 million (US$2.6 million). Ondy Ma, Koofy's co-founder and CEO, attributed part of the funding success to the Hong Kong Trade Development Council's (HKTDC) Start-up Express development programme. Of the additional funding, 40% will be allocated to product research and development and the remaining 60% will be used to explore new markets and build a marketing team.
Capturing market opportunities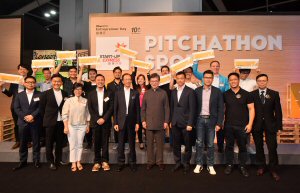 Koofy is one of the 10 winning start-ups from the pitching contest that was run as part of the 2018 Start-up Express programme. In July last year, the company received angel funding from Joe Lee, one of the programme's panel judges and a co-founder of taxi-hailing app Kuaidi Dache. The first to invest in Koofy, Mr Lee also signed a contract of HK$100 million with an overseas distributor. In April 2019, the company received the first round of HK$10 million from Fanta Venture Capital and GBC Founders Fund in the Series A round, bringing a HK$20 million total. Mr Ma said the company targeted a HK$200 million turnover by the end of the year. Mr Ma said the financing had helped the company work towards building its own marketing team. "Our team is focusing on engineering and product development now – we haven't set up a sales and marketing department yet. As the business grows, we plan to recruit more talents with the additional funding and welcome people from all backgrounds to join us," Mr Ma said. "Our employees currently come from all over the world, including Sweden, India and Malaysia. We would like to continue expanding in this direction and build a diverse and passionate marketing team." He hopes to enrich the team's understanding of global markets, which would strengthen competitiveness and open the door to bring the business a global role one day. He said Koofy had joined Hong Kong Science Park's Incu-Tech programme four years ago, which provided them with up-to-date market information, greater research and development capabilities and the chance to attract angel investors, including Samson Tam, founder of Instant-Dict, a listed company in Hong Kong. Last year, Mr Ma met Mr Lee during the final round of Start-up Express pitching contest; the encounter led to multiple rounds of financing. The programme has also let Mr Ma broaden his business network by participating in study missions, marketing activities and numerous exhibitions and business events in Hong Kong as well as overseas, such as the Mobile World Conference in Barcelona, one of the most notable international events. The company has already penetrated several overseas markets, including the United States, Australia and Japan.
Exhibitions promote and boost recognition
Last year, Koofy participated in the HKTDC's "Think Global, Think Hong Kong", a large-scale promotional event in Japan, where it successfully paired up with a game development company to showcase many of its products at the exhibition. "Taking part in large-scale overseas exhibitions has helped us win many new orders, achieving a triple and even quadruple sales value," Mr Ma said.International exhibitions enable them to network with other like-minded start-ups and business partners. He plans to participate in another exhibition in Shanghai at the end of the year to promote the application of sensory and motion technology in virtual-reality games. "Through Start-up Express, we have got to enjoy these opportunities of joining high-impact exhibitions with relatively high entry requirements, such as MWC, which is indeed very precious for a start-up like us. Having gained recognition in the market through our affiliation with the HKTDC, our new business partners have greater confidence in us. This is particularly important for uninitiated start-ups." He also mentioned that the programme had attracted much publicity for Koofy within a short period, which enhanced its brand awareness among overseas investors.
Profitable business opportunities to capture
Mr Ma said the electric skateboard industry is still in an early stage of development but has significant potential to grow into a global business with a turnover of more than HK$10 billion. The team's priority is to turn their commodity into a common product. Surfwheel R1 and Surfwheel SU, the first and second generation of electric skateboards produced by Koofy, targeted such leading skateboard fans as Edmond Pang, director of the film Love on the Cuff. Mr Ma plans to commercialise the third generation of products, with three new models ready for launch this year. The target market for electric skateboards is young adults and children; the price will be lowered from US$599 to between US$199 and US$399 and the products will be sold at major chain stores around the world, such as Walmart."What matters most at this stage is developing quality products to ensure a steady sales increase. We have made modifications on product features in order to cater to different consumer groups, such as adding training wheels to electric skateboards for children to enhance safety and simplify the starting mechanism. In the next five years, we expect to increase our turnover to HK$10 billion."
Start-ups backed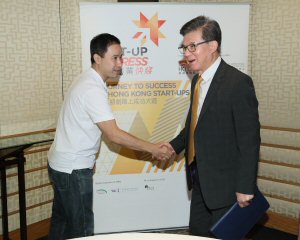 Mr Ma said Hong Kong is uniquely endowed with many advantages for start-up support, including a superior geographic location, well-developed financial system and comprehensive infrastructure facilities. The city is an innovation hub with abundant business opportunities and a cradle of new start-ups. "Therefore, coaching talent, funding and incubation programmes would be key to the success of local start-ups," Mr Ma said. He believes start-ups in the city need experienced coaches. HKTDC's Start-up Express programme provides abundant support, resources and networking opportunities which, together with the government's efforts to nurture young entrepreneurs, creates favourable conditions for those aspiring to set up a business, thus allowing them to make their entrepreneurial dreams come true and build up a Hong Kong brand. The programme is supported by a broad spectrum of business leaders – he himself has met HKTDC Chairman Vincent HS Lo, along with the Deputy Chairman of Sino Group Daryl Ng through the Programme, indicating the valuable opportunities it offers young start-ups to gain access to and seek advice from well-established business elites.To find out more about start-ups in Hong Kong and how the HKTDC supports them, come along to Entrepreneur Day, which actually runs over two days, 16-17 May at the Hong Kong Convention and Exhibition Centre. Entrepreneur Day includes the Pitchathon event, which ramped Koofy into the spotlight in 2018.
Related links
Entrepreneur Day
Koofy Innovation
Start-up Express