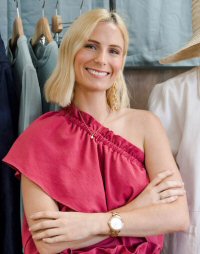 The founders of ethical start-ups producing clothes and accessories with a lighter environmental footprint may be inspired by their own beliefs – but they're also catering to consumer demand. According to a Nielsen study, sustainability sells. The market research firm has deduced from its surveys that as consumers become more mindful of their shopping, they are willing to pay more for purchases with purpose. Concludes Nielsen "sustainable shoppers buy the change they wish to see in the world".Australian designer Alexandra Foster moved to Hong Kong to establish A.C.F, a sustainable streetwear fashion label, in 2016.At the time, the eco-conscious movement in Hong Kong was not so advanced as the one in Australia, "which surprised me", she said.
Ideal location

Nevertheless, Ms Foster believed Hong Kong offered a better business platform. With its proximity to Mainland China, Hong Kong is "the perfect place" to start up a fashion label, she explained."Ethical and transparent manufacturing is such a huge part of A.C.F – we need to know every single person who sews every single garment, and every element of the supply chain. Being close to our manufacturing partners was essential to building those relationships, so (choosing Hong Kong) was a no-brainer for me."A.C.F's factory is just 40 minutes from the company's design studio in Hong Kong, so "I'm literally there every week", Ms Foster said.After relocating, the designer focused on bringing together the city's small community of eco-warriors. "We started running events circled around the conscious lifestyle," Ms Foster said, adding that, in the years since, she has been "amazed" at the progress Hong Kong has made in terms of sustainability and conscious consumerism.
Brand value
She advises other likeminded start-ups to focus on "the eco-credentials of your brand". "At A.C.F, our main concern is to eliminate textile waste, which has the biggest impact on environmental pollution in the fashion industry," the designer explained. The company sources its fabric from "dead" and surplus stock, which avoids it going to landfill. It's also a vegan brand, so uses no animal products – even felt or wool.Doesn't this make life harder for a fashion brand?"The textile industry is amazing now," Ms Foster responded. "We use a lot of cottons and linen as well as lyocell (Tencel), which is made from wood pulp, a byproduct of the paper industry. There are lots of different options if you think outside the box."A.C.F's model hit the mark. The brand sells online to more than 75 countries worldwide, the United States being the biggest market.From the first to second year, the company recorded a growth rate of 56%. By the third year this had soared to over 1,000%, "giving us an exponential growth trajectory which is continuing this year", Ms Foster said. "We have grown incredibly fast considering that we are funded by my own pocket," she says. The designer puts this down to the brand effectively communicating with a niche group of people "and being very clear and directional with our product"."Our sales strategy is to be really authentic," she said. A.C.F's success is also a sign of "how consumerism has changed", she adds.
Sustainable shades

Hong Kong entrepreneur James Chu is also finding a niche with his Paper Shades brand of fashion sunglasses, made from recycled paper. After working for a decade in design, Mr Chu became disillusioned with fast-fashion products that don't last, and the waste created during the development and production process. "I wanted to create a product which was more sustainable for both practical use and in terms of the business model," he said.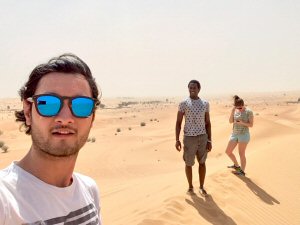 Paper Shades was established in 2016. "I had the idea in May, and launched the brand in November," he said. "(Starting up) was easier than you might think."The sunglasses, in a range of different styles, are designed in Hong Kong, and manufactured in partner factories in the mainland. "They're unisex, adjustable, and designed to match different skin colours and face shapes," Mr Chu said.Selling primarily through its own website as well as some distributor platforms, the company has customers around the world including the US, Germany, France, United Kingdom and Spain. Hong Kong has proven to be biggest market as awareness of the brand's eco-credentials spreads around the city.
Profitable business
An agile manufacturing process enables creativity of design, including customising with company logos for corporate orders, and fast time to market. Low production runs can be turned around in seven days, which "can still be very profitable", Mr Chu said.A sustainable product that is fun and functional is perfect for corporate event giveaways, he said. "Our shades are made from sturdy, durable re-used paper to leave the most minimal of carbon footprints, while the lenses provide UV400 protection."About 1,100 exhibitors will showcase their offerings at HKTDC Hong Kong Fashion Week for Spring/Summer 2019 which runs from 8-11 July. Eyewear of all shapes and sizes will be on show at the HKTDC Hong Kong International Optical Fair which runs from 6-8 November 2019.Related links
A.C.F. Clothing
Paper Shades