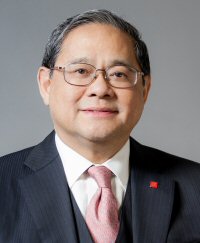 The Our Hong Kong Foundation, noting the need for the Hong Kong Special Administrative Region Government to develop a long-term strategy and take a holistic approach in driving innovation and technology, made several recommendations in its landmark report on the issue.The government has since begun applying many of these recommendations on innovation and the foundation has not been sitting back either – to encourage innovation in the city, Our Hong Kong has set up The InnoStars Award to promote innovation, creativity and entrepreneurship."The world is in an era dominated by technology and innovation. With a new round of technological revolution and industrial upgrading, Hong Kong will usher in unprecedented opportunities for development," the foundation said in a statement outlining the award.Since its inception, Our Hong Kong Fund has organised several events to promote an innovative atmosphere. The Hong Kong Innovation Leaders Award recognises Hong Kong people with outstanding achievements in technological innovation, business models, social innovation, culture and creativity, in order to stimulate creativity, encourage innovation, promote entrepreneurship and boost Hong Kong's development into a diversified economy.The winners will be selected by a jury led by Victor Fung, Group Chairman of Fung Group and also including Sunny Chai, Chairman of the Hong Kong Science and Technology Parks Corporation; Lee George Lam, Chairman of Hong Kong Cyberport Management Company Limited; Neil Shen, Chairman of Hong Kong X Foundation; Jack So, non-official member of the Chief Executive's Council of Advisers on Innovation and Strategic Development; Peter Lam, Council Chairman of the Belt and Road General Chamber of Commerce; Rosanna Wong, Senior Advisor to The Hong Kong Federation of Youth Groups; Eric Yim, Chairman of the Hong Kong Design Centre; and Anita Fung, Independent Non-executive Director of the Hong Kong Exchanges and Clearing Limited.A vetting committee will initially review the nominations and may seek more information and-or supporting documents from nominees.To be eligible for the award, a nominee must be a permanent resident of Hong Kong. The nominee must also demonstrate outstanding achievements in innovation, creativity or entrepreneurship, and have created evident impact. The nominee must have no less than three years of successful operating experiences and achievements in Hong Kong, which are related to the fields of innovation – such as science and technology, business model, social innovation, culture and creativity.The nominee must be nominated by an individual aged 21 or above or an organisation registered in Hong Kong. There is no restriction on the number of nominations made by each nominator but self-nominations are not acceptable.
Assessment criteria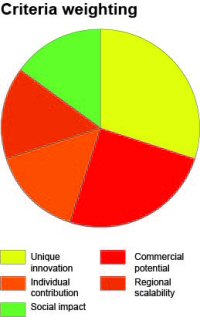 When selecting the winners, the vetting committee and judging panel will base their decisions on five criteria with different weightings.Uniqueness and impact of creative innovation will have a 30% weight; commercial performance, potential and scalability 25%; success stories and society contribution of individual 15%; cross-regional scalability and impact of innovation 15%; and social impact 15%.Nominations close on 15 April. Vetting and shortlisting run from 15 April to 16 May. Final judging takes place on 22 May, when the panel will select winners from the shortlist.The award presentation will be held on 3 July.All winners will receive mementos from heavyweight political and business leaders at the Award Presentation Ceremony. This will be the highest-level recognition of achievements for winners. Interviews with local, regional or international media will be arranged for all winners to publicise their achievements. The names, photos and biographies of all winners will be featured in a booklet presented at the award presentation ceremony and in congratulatory supplements in mainstream newspapers in Hong Kong. Winners will be invited to share their experiences and insights with participants at events or forums organised by Our Hong Kong Foundation. All winners will be entitled to display the InnoStars Award 2019's logo on their printed matters, press advertisements and other promotional materials.
Innovation push
Making its recommendations on innovation to the government earlier, the foundation suggested focusing on fostering a healthy ecosystem and strengthening linkages between upstream, midstream and downstream knowledge-creation and transfer. The foundation made six key recommendations. Hong Kong is advised to substantially increase investment in research capacity, which will kick-start a virtuous cycle of talent development and economic growth. Building up a critical mass of talents in competitive niches will enable Hong Kong to tap into research and development (R&D) outsourcing opportunities offered by multinational corporations in Asia Mainland China, and to become the springboard of start-ups entrepreneurs. The foundation also recommended the government increase public R&D spending making reference to regional and international peers.University and research funding mechanisms could be adjusted with an increased focus on project-based, competitive-driven research. The regulatory environment could also be reviewed to create space for innovation and the government could use Hong Kong's advantages and infrastructure as an international financial hub and cosmopolitan city to drive innovation and technology.
Market driven
The foundation recommended the government focus on a market-based approach to support the development of venture capital and private incubator industries through co-investment schemes and other incentives, as well as promoting entrepreneurial activities inside universities and attracting non-local talents into Hong Kong. The foundation suggested the government map out strategies to encourage researchers and start-ups to develop Hong Kong as an important node in the global supply chain covering product design, prototyping, testing, sampling, manufacturing and marketing. There could also be strategies driving collaboration between research centres in Hong Kong and companies in the Pearl River Delta.Agreeing with the government's plan to examine its smart-city initiatives, the foundation recommended introducing standards for the online release of data by government departments.

Related link
Competition details