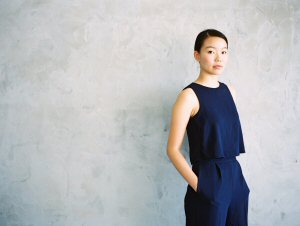 Maggie Wu was inspired to set up her silk clothing and accessories brand when she was planning her wedding and couldn't find a headpiece that she liked. She created her own, and it became a business, with luxuriant silk slips, glamorous scrunchies and soft silk eye masks now all part of the collection alongside gift sets, earrings and, of course, bridal headwear. A year in, however, Ms Wu became uncomfortable with the message she was sending out by focusing solely on the bridal market. "My best friend is 33; isn't married. I can see the constant pressure she has from her family and the toll it has taken on her. Every time I'd post a photo of a bride while promoting my business, I felt that I was going along with this unreasonable expectation of women and sending this message that women can only celebrate themselves, or be celebrated, if they are getting married." This unsettling feeling became so strong that Ms Wu could no longer bear promoting the business as it was, she recalls.Before re-launching the Maggie Wu Studio brand last August, the designer/entrepreneur took a break for a few months and decided her business would celebrate women and all of their moments, however big or small. One of her bestsellers is the Celebrate You Self Care set, a plush silk eye mask and rose quartz facial roller that encourages women to slow down and enjoy a moment to themselves.
Expanding out of e-commerce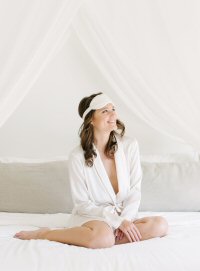 Ms Wu moved to Hong Kong from New York after her husband was transferred to the city for work. Launched as an e-commerce-only brand in New York, where it has a loyal following, the start-up's head office is based in Hong Kong, with remote teams in New York.

As a clothing brand, Wu says there are many advantages to doing business in Hong Kong. "Hong Kong is the logistics and sourcing centre of the world. It is a very efficient city and you can get things done very quickly. It is also a small city where you can connect with people very easily. As a small business, your brand name can spread very quickly through word-of-mouth." Wu found setting up a business to be a very easy and quick process, with a lot of resources available to start-ups. "There are great logistics for an online distributor to ship globally, which is a strong advantage of [doing business in] Hong Kong," she adds.
The entrepreneur's merchandising background was invaluable in bringing her own brand to market. "I'm trained to constantly look at the market for trends and opportunities. I always examine the market before I make any decisions, and conducted a market analysis before I decided to switch from a bridal brand to a lifestyle brand." Before deciding if she should produce a particular style, Ms Wu conducts a competitive analysis to see whether the product can be competitive in the market in terms of style, quality, and price. "I'm not here to design flashy clothing that looks good on a runway – I'm here to make quality items offered at reasonable price points," she said.Ms Wu appreciates that there are no borders when you focus on digital marketing and e-commerce. "If you have a strong brand story and a solid visual identity, you can reach and connect with people from anywhere. Since I've moved around a lot throughout my life, this concept aligns perfectly with how I see the world – that we are all connected, despite where you live or what country you are from."The best thing about e-commerce is being able to interact directly with the consumer, Ms Wu said. "You can see how they respond to things on your website, how much time they spend on each page, and so on. It's a direct connection with the consumer that I would not have had otherwise."Since the brand has gained traction, retailers and brand partners have reached out to Ms Wu to enquire about wholesale opportunities. From this month, a selection of her products will be available to purchase from the Four Seasons Spa in Hong Kong and the Inscape Meditation Studio in New York. She is now reaching out to select retailers globally to stock her items.
Embracing friendship and wellness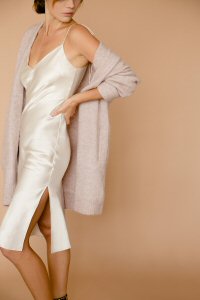 To build brand awareness, Ms Wu hosted the brand's first pop-up event just before Valentine's Day, #BFFNight, to encourage women to celebrate friendships and themselves instead of simply focusing on the romance element on Valentine's Day. "It was such a relaxing evening during which we showcased our entire collection, enjoyed organic herbal tea and held a meditation session." The event was so well-received that Ms Wu is planning on hosting monthly events called #MWWellnessSeries. "It will be exclusive, intimate, and hopefully bring a bit of self-love to us all," she said.Ms Wu said her brand also plans to open a by-appointment-only showroom in Hong Kong where customers can arrange to view and touch items such as her silk robes and midi skirts. The showroom would also provide the entrepreneur with a space to host the wellness events. The current goal for the brand is to establish a stronger following in Hong Kong. "We have noticed that in Hong Kong, people prefer to shop in person versus online, so we are planning a series of monthly events to allow consumers in the city see and purchase the items in person."
Related link
Maggie Wu Studio