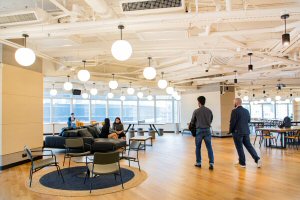 Analysts agree that the banking sector will soon look very different as new technologies overturn centuries of practice. As agile digital solutions replace traditional legacy systems, financial institutions in Hong Kong are turning to the new kids on the block – enterprising fintech start-ups – to collaboratively shape the future of banking, putting consumers at the fore."Hong Kong a great place for fintech companies that are oriented at partnering with banks to further develop their fintech solutions," said Liam Gilligan, Head of eXellerator, Standard Chartered's Hong Kong innovation lab.
Under the auspices of the bank's newly launched business unit SC Ventures, and as part of Standard Chartered's global network of innovation labs and activities, the eXellerator opened in April 2018 to promote innovation within the bank, to tap emerging financial technologies and data science in the region, and to bring better products and services to its customers in Hong Kong.
In its first year, the eXellerator has participated in two fintech accelerator programmes – the SuperCharger Accelerator and the Accenture FinLab Accelerator, their cohorts among the 500-plus start-ups SC Ventures engaged globally in 2018. These have included some 50 proof of concepts, several of which have been commercialised within the bank, and many more on the path to production.
"While some start-ups we have engaged with are Hong Kong-based, we take a global view and look to find the best solution provider across the globe to partner with," Mr Gilligan said. "We have some really exciting announcements coming up in 2019."
Impressive start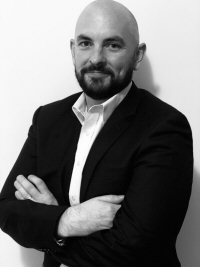 Mr Gilligan has been impressed with the start-ups accelerated so far."We're noticing an increase in empathy on both sides of the table (the bank and the fintech) for the environment the other operates in," he said. "Increasingly, the bank is understanding more the needs of the fintechs, such as faster decision making, reduced friction in commencing proof of concepts, and clear paths to commercialisation. Similarly, fintechs are understanding the complex and highly regulated environments that banks operate in and are adjusting their approach to accommodate this. This increased awareness on both sides shows the maturation that is taking place from a collaboration perspective."Mr Gilligan finds Hong Kong to be "an interesting market for a few reasons". "The emerging opportunities presented by the [Guangdong-Hong Kong Macao] Greater Bay Area plan, the regulatory landscape which is increasingly encouraging innovation, and the strength of Hong Kong as an international financial centre all make Hong Kong a great place for fintech companies that are oriented at partnering with banks to further develop their fintech solutions," he said.
Rising stars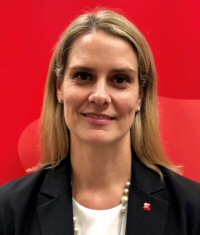 Hong Kong's increasingly dynamic fintech landscape drew Brit Blakeney, Innovation and Ecosystem Head at DBS Bank (Hong Kong), to relocate from New York in April 2018."DBS attracted me as we think more like a tech company than a traditional bank," the experienced technology professional explained. "I saw how fintech was on the rise in Hong Kong, and wanted to help the bank effect that change in a modern and agile way."
Last November, DBS Bank (Hong Kong) announced the launch of a new Startup Xchange programme designed to exclusively match the bank's problem statements to fintech start-ups. It follows the pioneering success of DBS Accelerator launched in 2015.
Rolled out in both Hong Kong and Singapore, Startup Xchange seeks to source the world's best and most suitable start-ups to co-create solutions with the bank on a continuous basis to address business problem statements in real time. The model allows start-ups to tap into the bank's networks to build a sustainable business for themselves over time. The start-ups will also be able to showcase their solutions developed for DBS and name DBS as their anchor client while raising funds.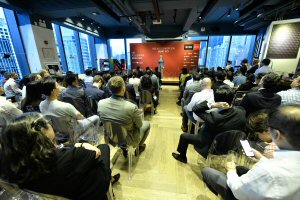 "Fostering a dynamic global ecosystem of collaborative fintech start-ups based on targeted business problem statements, as well as opportunities, is key to helping us reimagine and shape the future of banking," explains Ms Blakeney. "Startup Xchange is a natural extension and evolution of DBS Accelerator, and is a win-win for both the start-ups and DBS Hong Kong, as we are able to explore and solve business ideas together in real time."Since the launch of DBS Accelerator, more than US$16 million in funding has been raised, with all the programme's start-up alumni successfully securing funding support or expanding their business in Hong Kong as a result of their participation. DBS Bank (Hong Kong) has successfully completed proofs of concept with many start-up alumni, including FinChat, Perx Technologies, HyperAnna and Squirro.Ms Blakeney is excited by the solutions being fostered in Hong Kong, and the rapidly rising sophistication of the sector that is helping the business community to prepare for the future of banking.
Open banking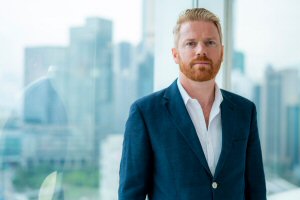 Open banking is another factor which James Lloyd, EY Asia-Pacific Fintech Leader, believes could fast-track Hong Kong's fintech innovation.Mr Lloyd said the market is on the cusp of change following the launch of a series of potentially transformational regulatory and infrastructure initiatives led by the Hong Kong Monetary Authority (HKMA). Notably, he cited mandating retail banks to adopt open application programming interfaces (APIs) in a phased approach beginning in January 2019; authorising a range of new, branchless (or virtual) retail banks starting in the first quarter of the year, with several new market entrants expected by the end of 2019; and facilitating a faster payment system (FPS) to support less costly and more immediate payment transfers across ecosystem players.Mr Lloyd believes it's this combination of initiatives that differentiates Hong Kong's introduction of open banking from that seen in other markets. "In particular, the entrance of new 'virtual' banks – including well-capitalised multi-party joint ventures – is likely to bring the disruptive innovation the industry has long needed," he said. In addition to local market opportunities, newcomers are expected to look beyond the city's borders – leveraging Hong Kong's status as a highly credible regulatory market to help launch innovative propositions with regional or even global ambitions, Mr Lloyd continued."The ability of these banks to leverage open APIs and faster payments services will allow them to create a powerful digital offering for Hong Kong consumers, who appear increasingly envious of the more innovative financial solutions available in Mainland China. It's likely that these new online-only banks will use open banking-inspired services to build extended ecosystems beyond the financial sector, integrating other parts of a consumer's digital life – such as retail, transportation, travel and telecommunications."Ultimately, consumers are to be the big winners as Hong Kong's banking sector opens up "and signs are strong that they will take full advantage of the changes", Mr Lloyd added."Compared to other markets, Hong Kong consumers are not active mobile-banking users. However, they show huge adoption potential. They are some of the world's most digitally active customers, with 98% owning a smartphone and 78% social media."With aggressive timelines to meet, Mr Lloyd applauds those financial institutions moving fast to take advantage of emerging open-banking initiatives and stay relevant in a changing competitive landscape. "Making the right strategic choices now will determine their own future success and help fuel Hong Kong's ambitions to become a global leader in financial innovation," he said.The Hong Kong Trade Development Council supports start-ups and fintech developers through many programmers and events such as the Asian Financial Forum, HKTDC Entrepreneur Day, HKTDC SmartBiz Expo, HKTDC Hong Kong Electronics Fair and HKTDC International ICT Expo. The HKTDC also runs the Start-up Express programme offering mentoring and international marketing and networking opportunities, and the HK Start-up Society online-to-offline community providing start-ups with online and offline networking opportunities and information.
Related links
DBS Startup Xchange
EY
Standard Chartered