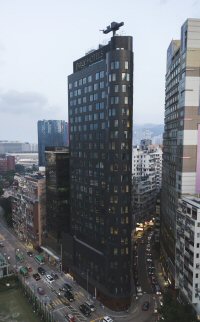 Seeking to create a base for travellers looking for a high-end stay that doesn't break the bank, new hotel brand Page Hotels opened its first branch last month at 148 Austin Road, Tsim Sha Tsui. Part of the Butterfly Hospitality Group, the fastest-growing boutique hotel brand in Hong Kong, the hotel is architecturally inspired by the Flat Iron Building in New York, with its curved corners.
The heart of the hotel is its coffee house in the lobby, Page Common, which encourages guests to mingle by clustering stools around one large table. The bespoke coffee experience continues with Page Common blend coffee-drip bags available in all 197 rooms alongside a 4G pocket Wi-Fi device. The property has a commitment to connect guests with locals – including keen photographers and hikers – who encourage travellers to make the most of their stay based on their interests. This is a unique feature of the hotel, said Philip Chan, Business Development Manager of Butterfly Hospitality Group.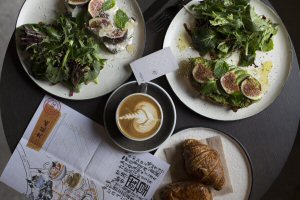 "We want to connect people sharing common interests and allow our curated individuals – who we call 'urban explorers' – to tell their story of Hong Kong. These urban explorers have different interests, including photography, food, hiking and sketching, who we hope will inspire guests to seek out [things they can do in Hong Kong] according to their interest. There is no one person that can paint a picture of Hong Kong; a collective of individuals will portray a better representation of the city," Mr Chan said.Unlike many hospitality brands, Page Hotels isn't going after a particular demographic. "We want those who stay with Page Hotels to have a mindset of immersing themselves in the neighbourhood, and embody their surroundings, and we tend not to classify our clients in terms of usability, or age."
Identifying travellers' needs
Mr Chan believed travellers seeking a hotel are concerned about great location, a good bed and shower, and having a friend on hand to recommend places to visit. "All those features were addressed when we developed Page Hotels, with our brand pillars being locality, people and communal space," Mr Chan said. The rooms of Page Hotels were designed to amplify comfort, convenience and simplicity, he added. "Taking the electrical points as an example, we decided to take the old-school route and eliminate high-tech scene settings to a simple two-button on-off switch to control the room's lighting. Pillows are also key, with a 600-thread count pillow case and choice of latex or feather pillow in all rooms. The bathrooms, meanwhile, are equipped with thick, heavy towels for that sense of luxury."
Sustainable brand
As a hotelier, Mr Chan said the ability to build a sustainable brand – rather than just another boutique or design-oriented hotel – is crucial. "There have been many hotels coming and going the past few years, with a lot of them classified as 'boutique hotels'. We want to build a brand that will be sustainable for the future," Mr Chan said, adding that it has drawn inspiration from hospitality groups including The Peninsula and its strong lobby presence, something it has attempted to replicate in its own lobby with Common Ground.There are many advantages to setting up a new business in Hong Kong, Mr Chan said. "There is something about the city that attracts people to start up a business here. It is, of course, strategically located at the centre of Asia, and closely connected to all of the region's key markets globally." But above all, it's the people that are the city's most valuable asset. "Our labour cost may be relatively high when compared to other Asian countries, but Hongkongers generally have very good language skills and service standards, which is essential in the hospitality industry," Mr Chan said.
Competing with the best
The Hong Kong-based hotel group will open its second property in London this August, which will share the same branding and positioning as its sister property in Hong Kong, Mr Chan confirmed. There will be a rooftop restaurant at the top of the development overlooking Trafalgar Square, and retail units on the ground floor. "As with our hotel in Hong Kong, Page Common is part of the lobby, with the same idea of having a space for locals and tourists to connect," he said.

Giving long-term goals for the hotel brand, Mr Chan said the firm is keen to build a global presence and compete alongside the best boutique hotels in the world. "We want be able to work with the brightest minds, collaborate with interesting brands and attract those with the same principles [as us] to work together."Related links
Butterfly Hospitality Group
Page Hotels