Hong Kong, traditionally a gateway bringing goods and people to and from Mainland China, is receiving a 21
st
-century makeover, transforming itself into a portal for data, finance, talents and services – as well as goods.And nothing highlights this makeover more clearly than the Guangdong-Hong Kong-Macao Greater Bay Area (GBA) project. This scheme unites the two special administrative regions with nine adjacent metropoles in Guangdong province – Zhaoqing, Jiangmen, Zhongshan, Zhuhai, Guangzhou, Dongguan, Shenzhen and Huizhou.This integration comes as enterprises in Guangdong seek to move up the value chain in the face of rising labour cost, a fiercely competitive global marketplace and increasingly demanding customers, whose needs frequently change.A survey by the Hong Kong Trade Development Council's Research division in the southern China region found that more than half of mainland enterprises intended to make greater efforts in developing mature and/or new markets overseas. Many also said they would further expand into the mainland domestic market, enhance their product design and technological research and development (R&D) capabilities, develop-strengthen own-brand business, as well as pursue transformation and upgrade by way of such business strategies as enhancing production technology/automation.Despite the rate of industrial growth in Guangdong dropping from double-digit figures of previous years to 7.2% in 2017, the industrial sector has grown steadily amid rising competitiveness. Average pre-tax profit margin of Guangdong's manufacturing enterprises has risen steadily from about 8.4% in 2000 to around 10.3% in 2017, suggesting their efforts to transform and upgrade have been fairly successful.As production capacities rise, the labour productivity of Guangdong enterprises, as measured by the average industrial value-added per worker, rose rapidly from less than Rmb60,000 (US$8,874) per capita in 2000 to more than Rmb220,000 in 2017, an almost three-fold growth. The installation of more automated production lines has also, to a certain degree, helped raise the contribution from capital input to pre-tax profit. Hong Kong is playing a critical role as Guangdong enterprises move up the value chain and adopt innovative technologies such as artificial intelligence (AI) and big data as the region seeks to become a world leader in innovation and technology. The city has an existing cluster comprising local and overseas players engaging in technological innovation activities. Industry players and services providers in Hong Kong can also meet the needs of enterprises in the region in developing their technology business. Hong Kong recently signed the Arrangement on Enhancing Innovation and Technology Cooperation between the Mainland and Hong Kong (the Arrangement) and the Agreement on Commencing Jointly Funded Projects between the Ministry of Science and Technology and the Innovation and Technology Bureau of Hong Kong Special Administrative Region (HKSAR) Government (the Agreement). The Arrangement and Agreement will serve as guides for Hong Kong as it implements various innovation and technology cooperation initiatives in the next few years.Developing innovation and technology industries is a key feature of the GBA project and Hong Kong's strengths in finance and business services as well as its well-respected legal system and strong communications links with the rest of the world will play a key role in driving this forward.To boost the development of the technology sector, Guangdong has promulgated a Guangzhou-Shenzhen Technology and Innovation Corridor. The long-term goal is to complete the establishment of a technology and innovation corridor by 2050 that will have global influence, providing strong support to Guangdong's position as one of the world's leading innovative regions and fostering the development of the GBA as a leading global technology and innovation centre. The planned corridor begins in the north at the Guangzhou-Foshan border and ends in Shenzhen's Dapeng New District in the south. Planning will focus on innovation clusters along key transport routes. The corridor is approximately 180 kilometres long.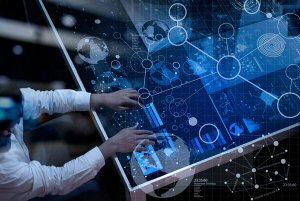 By 2020 authorities expect key indicators on innovation levels should attain or exceed the levels of leading innovative countries/regions; total investments in R&D should account for more than 3.5% of gross domestic product (GDP); the value-added of high-tech manufacturing should make up more than 45% of the total value-added of industries above designated scales; several key industries should have moved to the high end of the global value chain to support the establishment of a national high-tech industry innovation centre in Guangdong and an international technology and innovation centre in the Greater Bay Area.By 2030, the corridor should have become China's "Silicon Valley"; investment on R&D should account for more than 4% of GDP; the value-added of high-tech manufacturing should constitute 60% of total value-added of industries above designated scales; and the Greater Bay Area should by this date have become a world-class innovative hub.Hong Kong has already begun construction projects related to innovation in the GBA. For example, it has invested HK$78 billion in various innovation and technology measures in the last couple of years, pushed forward the development of the Hong Kong and Shenzhen Innovation and Technology Park in Lok Ma Chau Loop, and set up two world-class technology and innovation platforms in Hong Kong Science Park focusing on medical technology and AI and robotics technology.
Technology facilitator
Hong Kong is in a strong position to help foster technology industry development in the Greater Bay Area, especially in areas such as international cooperation. Guangdong enterprises are stepping up efforts to develop standard solutions for Internet of Things (IoT) applications, big-data analytics, new-generation communications (such as 5G) and AI and robotics, but some are limited in these areas by a lack of user experience. Hong Kong industry players are familiar with advanced-technology development overseas and are adept in leveraging standards and technology frameworks commonly used internationally. They can provide technology and management system applications and solutions, and help their GBA counterparts with the commercialisation of technology projects.Hong Kong's legal system enjoys a good reputation and its compliance with international legal practices. Hong Kong industry players are known to treat intellectual property (IP) assets such as trade secrets and information on design and technology seriously and respectfully. As a technology trading platform, Hong Kong is trusted by overseas players in the technology sector and has already set up arrangements with the mainland regarding the mutual recognition and enforcement of judgments from arbitration and civil and commercial cases. Overseas companies can use Hong Kong's judicial system to enforce arbitration awards or court judgments and to protect their IP in Hong Kong and the mainland. Hong Kong can also provide a wide array of professional services in IP management, maintenance and audit. As such, it can facilitate technology cooperation between the mainland and overseas technology companies.
Going out
Another survey commissioned by HKTDC Research made it clear that, when "going out" to develop international business in countries linked to the Belt and Road Initiative and elsewhere, mainland enterprises need professional services support. As well as seeking services in marketing strategies and participation in overseas marketing activities, many also need support in product development and design. Half of those businesses in southern China that were surveyed said Hong Kong was their preferred choice when looking for professional services to help them develop their international business.Notably, Hong Kong benefits from several significant advantages, including the free flow of capital and information and its extensive international market network. Being an international financial centre, Hong Kong can provide the loans and financing services needed for technology cooperation projects and help the businesses involved to obtain cost-effective capital and lower their financing costs.Some of the enterprises in Guangdong have said they are taking a page from Germany's "Industrie 4.0" strategy by trying to incorporate advanced information and communications technologies (ICT) into manufacturing while bringing in external partners and technology solutions via the Hong Kong platform.It is no coincidence that participants of the Symposium on Intelligent Manufacturing and Interconnected Production Processes on State Secretary/Vice Minister Level held in November 2018 pointed out that, as the pace of integration of ICT technologies into manufacturing is now picking up, and as the speed of transformation from digital manufacturing to web-based and smart manufacturing quickens, the new methods of production and fresh industry formats created as a result will give fresh impetus to high-quality economic development. Since the Chinese and German manufacturing sectors are highly complementary to each other, there is tremendous potential for cooperation between the two countries in the practical areas of setting up smart manufacturing demonstration sites, formulating technology standards and establishing industrial parks.Thanks to its strong machinery and equipment manufacturing industry and advantages in IT, embedded systems and automation engineering, Germany is now further consolidating its leading position in the global manufacturing engineering industry. With that as a foundation, the Industry 4.0 strategy aims at creating "smart factories" through the application of a cyber-physical system in conjunction with IoT, big data analytics, cloud computing and other technologies to improve industrial production processes in manufacturing, engineering, materials utilisation and supply chains.Hong Kong, with its well-established international communications links, is well placed to develop this process.As the GBA develops, governments in Guangdong, Hong Kong and Macau are expected to strengthen cooperation between them and offer more support to industry players in order to increase the benefits of technology cooperation. Sustained improvements in the transport network will also help to boost the flow of talent and technology resources within the region. It is therefore imperative that Hong Kong industry players keep abreast of these developments so that they can capture the opportunities surrounding technology cooperation in the region ahead of others.
Related link
Research reports