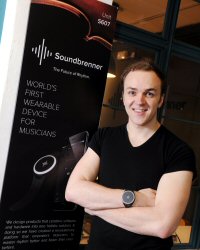 As a hobby guitarist back home in Berlin, Florian Simmendinger – co-founder of high-growth music tech start-up Soundbrenner – had endured the tedium of practising with a metronome.
The tool that helps musicians develop their rhythm is an essential component of the learning process, but with his technology background Mr Simmendinger knew there had to be a better way. Together with friend and now business partner Julian Vogels he established Soundbrenner and set about developing innovative smart-music wearables.
They had to move to Hong Kong to carry out their plan.
"In Berlin in 2014, we saw potential to bring better design and technology into products for the music industry, so we decided to start a company," Mr Simmendinger said.
"Unfortunately, in Germany, it is very difficult to develop electronics as there is not a lot of know-how, or even components, because it's been done in Asia for so long," he continued. "We decided Hong Kong would be a much better headquarters to build this company."
Massive response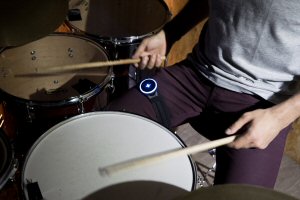 Soundbrenner's first product, a vibrating metronome called the Pulse, hit a high note when launched on the crowdfunding platform Indiegogo in March 2015. In less than 24 hours, it had accumulated more than US$239,000 in pre-orders from backers in more than 70 countries, reaching 200% of the initial funding goal.Explaining the product's appeal, Mr Simmendinger said the Pulse met a universal need."Every musician has the same challenge: playing on time with the beat," he said. "The only tool to practise that is a metronome, which you set up and try to play along with. The problem is that it's extremely annoying – everybody thinks it's torture. Our idea was to replace the sound with vibration, so that you could actually feel the beat as you play."The company's second product, the Soundbrenner Core, debuted to an even bigger response. In addition to a vibrating metronome, the Core functions as a magnetic twist tuner, a decibel meter and an everyday watch, making it possibly the most versatile music tool on the market. "Combining four tools in one device, the Core is designed for every musician in the world, from beginner to professional and regardless of the instrument," Mr Simmendinger said.
Second success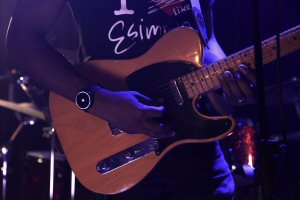 The Core launched in October 2018, raising US$503,000 in orders on Kickstarter, and an additional US$87,000 so far on Indiegogo.
Mr Simmendinger believes this makes Soundbrenner the most successful music tech crowdfunding campaign in Kickstarter history. "We are humbled and overjoyed by the amount of support from musicians for the Core," he said. "We are experiencing a shift towards smart music technology and we are dedicated to becoming the leading expert in this new environment."
In addition to its own developers, the company works with a roster of industry advisers including Misfit Founder Sonny Vu. "It's an exciting time for tech and especially for connected experiences, where Soundbrenner is at the forefront of the music movement. I'm a believer in the team's potential to innovate and disrupt the music industry with their vision," Mr Vu said.
Speaking from his office in Sheung Wan, Mr Simmendinger further explained the rationale behind the partners' move to Hong Kong.
"Hong Kong is an amazing place to access China, where there is all the know-how to design and build electronics, access to components and also suppliers," he said. "From Hong Kong, we can easily travel to factories in Mainland China and talk about making a custom product, which is just not possible from Europe."
Hong Kong's logistics network, including the world's busiest air cargo hub, is another plus. "The city has affordable warehousing, and one of the largest harbours and air shipping hubs in the world. This is important as we have customers in over 100 countries," Mr Simmendinger said.
"It's a very international city, welcoming people from all over the world who come to Hong Kong to work. In our office we have 22 employees from 15 countries. The city's low[-intensity] regulatory environment is attractive to start-ups, and in Hong Kong you can find talents who understand both Chinese and American consumers, which are Soundbrenner's key markets."
Future plans
The founders now focus on manufacture and delivery of the Core, due to ship in the second quarter of this year, while planning a more affordable product designed for children. In tandem, they are further developing proprietary software, including mobile apps, to work alongside the hardware.
Already, Soundbrenner's Metronome app has been downloaded more than two million times. It is currently free, as part of the start-up's marketing strategy, but will be monetised in the future to diversify the company's income stream, Mr Simmendinger said.
"Our long-term goal is to provide valuable services through the app that we can also monetise – for example, a cloud service to back up all your music," he said. "But first you have to build a great product.
"If you only sell hardware, you only have one leg to stand on. A successful company needs more legs. Software is one thing we are good at, and we feel will be important in the future."
Hong Kong has a rapidly expanding innovation and technology ecosystem. The best option for a safari through this digital forest is to visit one of the related Hong Kong Trade Development Council's related events. These include the ICT Expo and Hong Kong Electronics Fair in April.Related link
Soundbrenner