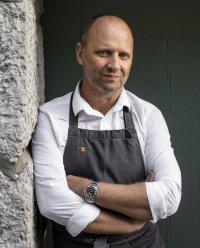 Simon Rogan's dedication to locally sourced produce led him to set up a farm in the United Kingdom's Lake District to supply his restaurant, L'Enclume, where the chef's farm-to-table philosophy – paired with exquisite plating techniques – earned him two Michelin stars. Last year, he opened Roganic in London, which runs alongside development kitchen Aulis London. He has replicated this in Hong Kong with Aulis and Roganic in Causeway Bay. Aulis opened in December 2018 as Mr Rogan's first international restaurant, while Roganic will open at the end of February.
Why did you decide to set up your first overseas restaurants in Hong Kong?
In our restaurants in the UK, we get a lot of Asian guests – we have a massive Asian following and I suppose our food is quite healthy, natural, very Japanese in its construction, precise and particular. We've done pop-ups in Singapore, Manila, Bangkok then Hong Kong last March, which was a massive success, and an opportunity to make it a permanent thing. Since that first visit, I've fallen head over heels with Hong Kong so it was a no-brainer really. Asia's such a fantastic part of the world, but Hong Kong just had the edge for me.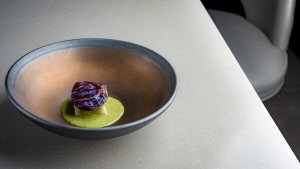 What do you like about the city – do you have any favourite food markets or restaurants?
I love the chaos of the city, how it never sleeps, and the restaurants that stood out for me were VEA and Belon. I was trying to lose weight the last time I was in Hong Kong but it's the worst place for that, as it's a non-stop eating city! Wan Chai market is just around the corner [from the restaurants], and it's got most things we need, then we're topping up with stuff from the farms in the New Territories. You are renowned for your commitment to traceable dining and building up strong relationships with local suppliers. Tell us how that's working in Hong Kong.
In the short time we've been here setting up, we've found two organic farms, and I'm really looking forward to working with them and sampling their wares. When we told people we were coming to Hong Kong, some questioned how I could carry out my ethos [of using local produce] which annoyed me a little bit, but if you look hard enough, you can find farms here. I've been really excited to see what's out there and [have been impressed by] the quality. The farms in Hong Kong grow a lot of the same produce as in the UK – beetroots, carrots, celeriac – and of course there's Chinese greens. I recently saw rows and rows of papaya trees … I'd never seen one before, which opened my eyes to what's out here, and made me think about how I could use it.
Your two restaurants, Aulis and Roganic, are based in Causeway Bay. Will there be much synergy between the two restaurants or will they be separate entities?
They're next door to each other and both follow the same concept, Aulis being the development space for Roganic. We don't want a progression of dishes going from Aulis to Roganic – it will always be tweaked as we don't want diners having the same two dishes. Essentially, Aulis is the sneak peek of what you'll see in Roganic. Tell us about the approach and inspiration for the menu.
We started off with a menu that's similar to Roganic in London, but we've built up our knowledge [of Hong Kong], seen what's about and the menu's changed accordingly. It's evolving all the time – not in its entirety but there's always tweaks going on. In addition to your two Michelin stars, you've received many awards, including AA Chef of the Year 2017 and the Good Food Guide's #1 restaurant for L'Enclume. What does that recognition mean to you?
The awards obviously drive business, and I'm really thankful for that. They're great at attracting and retaining staff too, it makes the staff really proud and gives them the inspiration to push even harder. I try not to take them too seriously, but I'm really thankful to the organisations all the same. Would you like to open any more restaurants in Asia?
The thing with my restaurants is that people think if they come in, they might actually see me. I like to have a really hands-on approach, and there is a good chance if you come to one of my restaurants that I'll be there. If I open too many, I'll lose that personal touch. But never say never, and if it's a great proposition, I'd think about it. Since being in Hong Kong in December, we've had lots of offers to go to other places in Asia as well, and we're looking into whether those are viable or not. Related link
Aulis