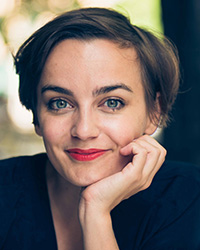 Could you do your bit for the planet by ditching meat for insects? Put your squeamishness to one side as you consider that one-third of food currently produced annually goes to waste. Eating insects for protein has been on the radar for some time and Hong Kong-based start-up Livin Farms is encouraging us to go one step further by farming and eating insects from home. Its indoor insect farm, Hive Home, uses food waste to produce protein-rich edible mealworms, which are characterised by their nutty flavour and crispy texture. The concept was dreamed up by Austrian-born founder and CEO Katharina Unger, who worked as an industrial designer in Hong Kong before establishing the business in late 2015. Since then, her eloquent TEDx talk has helped raise the company's profile, and Livin Farms joined the Hong Kong Science Park's Incu-tech programme last year.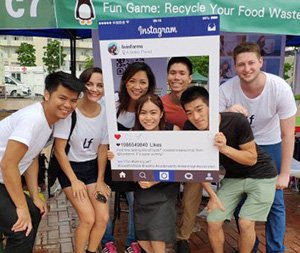 Following the success of its first Kickstarter campaign for Hive Home (while currently sold out, it retails at US$699), the start-up revisited the crowdfunding site with Hive Explorer, a compact, travel-sized version of Hive Home that can be used to teach students about the importance of sustainable farming. Priced at US$139, it is – according to Ms Unger -- the world's first hands-on kit to incorporate the United Nations' sustainable development goals into the daily learning and living of people around the world. Europe and North America are the main markets for the products at present.
Incubation Hub
Livin Farms is one of many start-ups from a broad spectrum of sectors that have set themselves up in Hong Kong, as they find the city a perfect place to do business. Invest Hong Kong's latest start-up survey counted 2,625 start-ups in the city in 2018, a rise of 18% from 2017. These start-ups employed 9,548 people (up 51% year on year) operating in 13,756 workstations (up 120%). This trend is backed by a strong network of incubators, accelerators and co-work spaces, community support, pro-innovation policies and a multicultural ecosystem.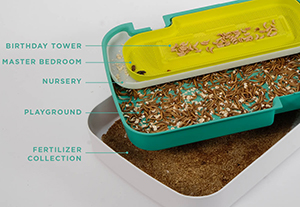 More than a third of Hong Kong start-ups are, like Livin' Farms, founded by people who originated from outside the city. Most come from the United States (17.1%), United Kingdom (15.5%) and Mainland China (12.3%). The start-ups occupy a wide range of sectors, from fintech (427 of the total) to Livin Farms' sector, sustainable / green Technology (43). (The detailed report on the ecosystem is available at www.startmeup.hk/startup-ecosystem).
"The business environment in Hong Kong is dynamic and it has a great location within Asia to expand and explore opportunities," said Ms Unger.
Her firm had been able to source talent locally. Another positive for Hong Kong was its location next to Shenzhen, where the farms are made.
The city also offers plenty of promotion events for Livin Farms to participate in, helping the company scale up and enter the mainstream B2B market, she said.
Grow Your Own Meal
Taking up little space, emitting almost no carbon dioxide and feeding on food scraps; there are many benefits to incorporating insects into your life, Ms Unger said. Researching food systems while studying for a master's degree in Austria, it struck her that the right tools and methods could quickly let us include insects into our diets. With a background in product design, she felt well-placed to take on the challenge. "I saw that insect farming was a mechanical issue in the first place that I could solve. I wanted something that took up minimal space, that people could use in their own home, something that enabled people to grow a whole meal in their home, the protein alongside the vegetables."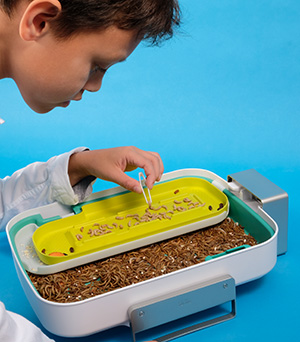 With the technology now in place, there are plans to address the issue of food waste, which accounts for 8% of global warming. "[Our food waste project] will also work with mealworms, but we will transform bakery waste, or any dry waste that comes from food manufacturing, into fertiliser. It's an adaptive technology that can be situated next to the places where food waste occurs to cut down on transportation costs and emissions," she explains. The initiative will be rolled out in March 2019 with an unnamed partner with plenty of food waste. The waste will be turned into protein powder and fertiliser, the CEO said.
An Insect Education
A major hurdle the insect business needs to address is that the product should taste good, Unger believes. "As an industry, we're very focused on the sustainability aspect and on telling people how great it is for the planet, which resonates with people but not enough for it to really take off. I think there's much more work to be done [telling people that] insects can be a delicious food source," Ms Unger said, adding that it plans to partner with some companies to promote this aspect.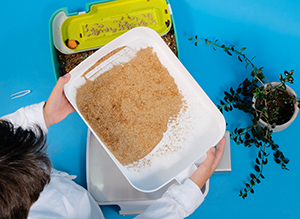 Education is crucial to its cause and Livin Farms will release a book with recipes, the company story and some background on the industry in the first quarter of this year. The start-up will also publish a magazine for Hive Explorer customers, with two issues to be published in 2019, Ms Unger confirmed. "There's sections for adults and kids, and it's largely about sustainability and how we can improve our food system." Livin' Farms runs plenty of workshops in Hong Kong -- including in schools – which will continue to play an important role. "In the West, we've found that people are more willing to grow insects in their own home, but in Hong Kong, more education is needed, and we're [more focused on] getting people to try roasted mealworms."
Building a Movement
There is much more education to be done around insect-eating and farming but Livin Farms has established a niche following of people keen to grow their own insects, Ms Unger said. "We have a very active community platform – they've really built a movement themselves – and we [consider ourselves to be] very community and technology-oriented. We have to create a scalable way of growing the insects, and even though we hold a patent on our technology, we've decided that we'd rather share it with the community and develop it from there rather than doing it in secret." A decentralised approach is needed to change the system, she said. "We'd rather have a modular, adaptive farming model [in place] than focus on going as large-scale as possible."This year is all about improving Livin Farms' existing technology, finding new business partners and building awareness, the CEO said.
"We are working on the scale-up of our technology, meaning that we will develop further opportunities to transform large amounts of waste into high-value ingredients," she said.
"We are building awareness that insects are a great and safe way to convert food waste into fertiliser too. This in turn creates more fertile land resources and saves the environment!"
She adds that Livin Farms is currently working on the next steps towards a scale-up of the technology. "We want to make the food system healthier, and what we can address best with the insects is food waste."