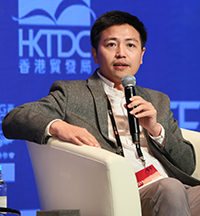 The massive business potential China presents was the standout theme at the Panel Discussion on Start-ups & Entrepreneurship during the Asian Financial Forum 2019. A rapidly growing economy, 1.4 billion population, accommodative attitude towards data privacy and enthusiastic government support all create a perfect environment for innovative high-tech entrepreneurs.The discussion featured three entrepreneurs in very different fields – human-machine interfacing, artificial intelligence (AI)-based language processing and agricultural technology – along with one leading venture capitalist from China and one from the start-up nation, Israel.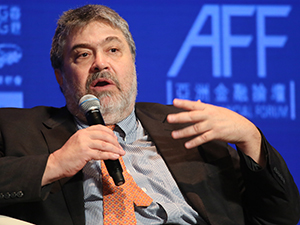 One breakthrough which players in the human-machine interface (HMI) world have long sought is a truly flexible display screen – this would let users wear clothes that changed continuously, give robots many faces or allow smartphones to simply fold out into tablets, among many other applications. Bill Liu – founder, Chairman and CEO of Royole Corporation – showed the panel just such a screen, folding his Flexpai smartphone out into a tablet for all to see (main picture). The Flexpai screen is no mean feat, he pointed out. Despite being shallower than a sheet of paper it carries more than a million transistors. Royole has 2,500 intellectual property (IP) assets associated with the screen.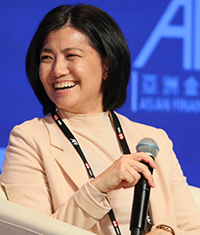 Nisa Leung, Managing Partner at Qiming Venture Partners, saw Royole growing fast and regretted missing the chance to be one of the early funders for the start-up.
Position-based agricultural technology pioneer XAG is seeking to help farmers in China deal with their labour shortages, since many still carry out tasks such as crop-spraying manually. Farmers in the western province of Xinjiang, with one million hectares planted to cotton, wanted to harvest their crops mechanically rather than by hand. To do so they need to spray the cotton plants' leaves so just the bolls remain for a single pass by a mechanical harvester – an ideal candidate for XAG's drone-spraying technology.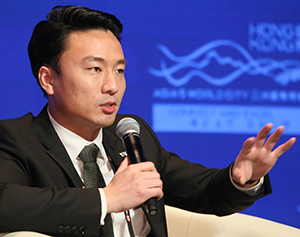 Flexible Farming
Mr Gong said Australia's farming is already highly mechanised but a lack of flexibility – a corn farmer switching to cotton could not use the same spraying booms because of different plant heights, for example – meant their technology would also be useful there.
Mr Medved said agritech was a popular field in Israel but the country is tiny; the massive scale of operations in China made a good case for start-ups being multinational and transnational, not confined to specific geographic regions. Venture capital (VC) remains very local, he said, but needed to become truly global. VC also needed to become more democratic and widely available, which OurCrowd sought to do.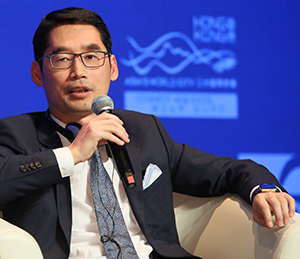 Shanghai-based Xiao-i Robot Technology uses AI for language processing. Max Yuan, the founder and Chairman, said the key to developing their technology was amassing large amounts of data. The massive population of China helped Xiao-i accumulate data to enhance its services in customer service, finance, municipal, office and healthcare applications.
Mr Yuan said a relaxed view of data privacy in China helped Xiao-i accumulate data.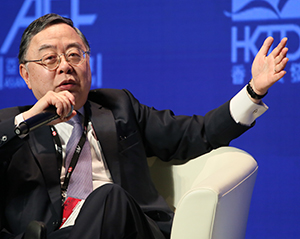 The Panel Chair Ronnie Chan – Chairman of Hang Lung Properties Limited – said smart AI players would form a solid base in China, after which they could move overseas quickly.
Ms Leung pointed out that autonomous driving system developers could accumulate much more data if they worked in China, with its busy roads, than in the quieter traffic of the United States.
Mr Chan mentioned India as another possible rising star in the AI field but Mr Medved said capital flow into AI in India was just 10% of that in China. India also has a more restrictive, western approach to privacy than China does.
In September Forbes noted that the US was the out-front leader in AI development, with 1,450 start-ups, Mr Medved said. China and Israel were very close in second and third place, with 380 and 360 respectively. The US, China and Israel make up the big-three in AI development. India, Japan and Germany follow with about 100 AI start-ups each. Describing the field as being in a "gold rush" mode, Mr Medved said that one key difference with China is that the government also invests heavily in AI.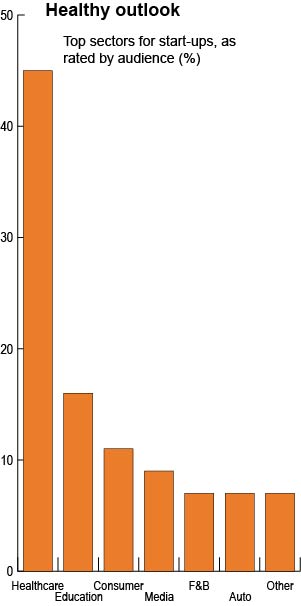 When asked in a poll what the biggest challenges start-ups faced were, the audience saw competition (31%) as the biggest, followed by finding talent (20%), fundraising (19%), intellectual property protection (18%) and regulation (12%).
Ms Leung said competition with big players would be a problem for Internet firms but she was not sure whether it applied in other areas.
Mr Gong said talent posed a problem because XAG often has to take care of its own verticals – when developing agricultural drones, for example, they had to create their own batteries since existing ones were too big or too small, and fast-charging was important.
Mr Yuan pointed out that firms needed to create their own AI talent 15 years ago, because there was none available. Even now, AI talent is still expensive.
When polled on sectors for start-ups, the audience strongly favoured healthcare (45%) followed by education (16%), consumer (11%), media (9%), food and beverage (7%), autos (7%) and others (7%).
Ms Leung said some people see technology firms as "evil" and based on profit. Technology firms needed to point out they were investing for the common good, and consider the consequences of their investments.
Mr Medved said the perception that it was impossible to simultaneously do good and make money was wrong. He pointed out that technology firms had developed exoskeletons, which would let many lame people walk. Agritech firms made money, but they did so by increasing food production for everyone.
Rounding up the session, Mr Chan asked Mr Gong how long it would take for one of his drones to spray the entire auditorium, where several hundred people were sitting, with pesticide. Just one and a half minutes, was the reply. Drawing on this, Mr Chan said that while technologies had great potential for good, there were also dangers to consider.