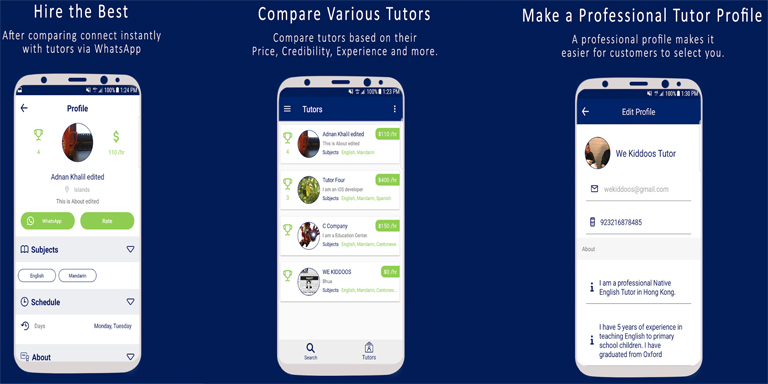 https://hkmb.hktdc.com/en/1X0AG7IX
App Streamlines Tutor Hunt
A Hong Kong start-up gives students instant access to the tutors best suited to their needs.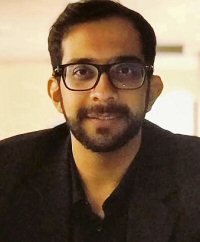 Whether it is language lessons or music tuition, finding the right tutor or an inspiring institution for your child can be challenging – which is where the We Kiddoos app comes in. An app that enables students and educators to easily link up with one another, the inspiration to set up the app initially came when co-founder and CEO Vishal Surtani was helping a relative find an English tutor for her son. "I searched on Google and landed on some websites, but it was very complicated and took a lot of time to reach the actual tutor. I then thought of contacting those companies just to some give suggestions on how they can try to improve their service offerings. I don't think they took it seriously, then I thought maybe I could make this happen," he recalls.

Inspired, his initial ideas for the app were scribbled down on a bit of tissue paper in a Hong Kong coffee shop. "I used it to tell my best friends of the problem I wanted to solve and how could we do it. Those friends then became co-founders of We Kiddoos," he said.
Cutting out the Middleman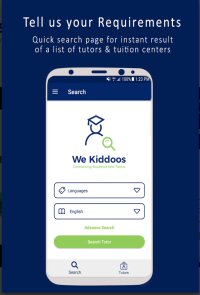 Launched in April 2018 on Google Play and on the Apple app store a month later – it's now listed on the top 100 at both stores – We Kiddoos' premise is simple: to connect students and parents with tutors and institutions in the best and fastest possible way, with no agency fees or commission to worry about. The app covers several categories of tutors, such as Kindergarten, Primary, HKDSE, IB, IGCSE and GCE. "Our most popular categories currently are for academics and music, and we have recently added a sports category," says Mr Surtani.

We Kiddoos now has more than 900 students, parents and institutions using the app to connect with over 2,000 tutors and institutions in the city. As the app is free; the company makes its money by charging to publish a job post on the app. It costs HK$250 per job post, which is valid for 30 days.

"Institutions can not only connect with tutors but also customers. On other platforms, tutors must pay a fee if they get hired. On our platform, we don't charge anything," Mr Surtani said when explaining the difference between We Kiddoos and other apps linking students and educators in Hong Kong.
Finding Believers
There are three core team members working on the We Kiddoos app at present, including Mr Surtani, with a combined background in finance, operations and marketing. Despite the team's expertise, setting up the business has not been without its problems. "There were several obstacles that we've had to overcome along this journey, but I think the most difficult one has been finding the right people who believe in the vision and mission of the company. This is an ongoing issue for us. We haven't overcome this yet, but we are trying our best to find and work with passionate and talented people."

With the app launched in April last year, We Kiddoos is still a very new company. One of the highlights of launching the app for Mr Surtani has been listening to the feedback from users and realising that they had created an app that was making a difference. He admits, however, to being something of a perfectionist. "I never feel satisfied with anything I do, and any feedback we get from our users, we solve it, feel happy, and then quickly jump to the next problem," he said.

As with many tech start-ups, the first users of the We Kiddoos app were friends and relatives. "They then told other friends, and that is how we've been growing – it's been a very organic process," said the CEO, adding that it plans to do some paid advertising to raise awareness around the app as it builds up the business in Hong Kong. Mr Surtani is confident that launching We Kiddoos in the city was the right decision. "For us the major advantages of being here are that Hong Kong people tend to be quick adapters to new technology. They are also easy to approach."

The start-up's plan is to "spread the love for education" via the We Kiddoos platform by making the connection between students and educators the best it can be. Ultimately, the CEO said, it's all about realising a child's true potential. "Every parent has a dream to see their child prosper in education. Our team's dream is to help those parents' dreams come to life."
Education Technology
The education sector, from preschool to post-graduate tertiary, is enthusiastically moving to adopt a whole range of new technologies. Find out more at the Hong Kong Trade Development Council's Education & Careers Expo which runs at the Hong Kong Convention and Exhibition Centre from 24-27 Jan 2019.
Related Link
We Kiddoos