"Customers can have my car any colour they like, as long as it's black," car-maker Henry Ford famously instructed his sales team in 1909. The mass-production pioneer, who disrupted the nascent vehicle industry with the iconic Model T, apparently wanted all the cars painted black simply because that was the cheapest metal paint available. Now, 110 years later, another American vehicle disrupter has come to China and said his customers can do their own configuration, colour included.Tesla broke ground on Gigafactory 3 in Shanghai in January at an event attended by CEO Elon Musk, Shanghai Mayor Ying Yong, members of the Tesla team, Shanghai government officials and representatives from the National Development and Reform Commission and Ministry of Industry and Information Technology.The United States-based electric-vehicle pioneer Tesla announced in 2018 that it is accelerating construction of Gigafactory 3, using many lessons learned on the Model 3 production ramp in North America. The firm said its ground-breaking in Shanghai marks an important milestone and comes just as Tesla announced that customers in China can now configure their Model 3 online. Deliveries for new, made-in-the-US, Model 3 orders are expected to begin in March, with some of the earliest reservation holders taking first deliveries in February.
500,000 a Year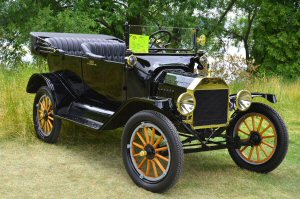 Tesla said Gigafactory 3 will allow the firm to localise production of Model 3 and future models sold in China, with plans to eventually produce approximately 3,000 Model 3 vehicles per week in the initial phase and ramp this output up to 500,000 a year when fully operational (subject to local factors including regulatory approval and supply-chain constraints). The Shanghai factory will concentrate on making the lower-priced models while more expensive ones will be made in the US.Information blog Teslarati quoted an interview Mr Musk gave to KNews, in which he said he expected the plant in Lingang Industrial Zone would be completed rapidly. Mr Musk has previously estimated the plant will be able to produce its first vehicles in two years, a deadline considered ambitious by many. He based his optimism on the pace of progress experienced during a large Supercharger network installation in Shanghai – achieved in just 12 days – along with the resources available in the city as reasons for his optimism. "I kind of was expecting rapid progress because I know how quickly things can be built in Shanghai," he said. "I've been very impressed with the construction in Shanghai. It's very efficient, it's very fast and high quality… And I first saw that when we were building the Tesla supercharger network." The big supercharger in downtown Shanghai took just 12 days to build. "It was like the fastest we'd ever built anything in the world," he told the KNews reporter."We can set a new Tesla record for construction and make a beautiful sustainable factory that is our most advanced Tesla Gigafactory in the world and do so in the fastest period of time that we have ever built a Gigafactory … and do so because of the great resources and capabilities in Shanghai," he remarked.See the interview [https://youtu.be/2oIdndqmQ2k]
Government Backing
Tesla said the Chinese government's support of Tesla's presence in the country has also been clearly evident via access to low-interest loans from local Shanghai banks and an unchallenged bid for the site Gigafactory 3 will occupy. The energy around Tesla's new construction and business endeavours in China clearly have Musk excited for its future.The Model 3 is a smaller, simpler, and more affordable electric car and the top-selling sedan in its segment in the US. The Model 3's intelligent design lets the car comfortably fit five adults and all their gear, while its powertrain provides zero to 96 kilometres per hour acceleration in as little as 3.5 seconds."China is becoming the global leader in electric-vehicle adoption, and it is a market that is critical to Tesla's mission to accelerate the world's transition to sustainable energy," Mr Musk said. "Over the last six years, we have opened 60 Tesla locations, nearly 1,500 Superchargers, and more than 1,850 destination chargers in the country. This week, we've started taking online orders for Model 3 in China, so that customers can configure their vehicle to take delivery in the weeks ahead, and Gigafactory 3 is another example of Tesla's commitment to the China market." Ford drastically changed the vehicle industry – mass production with a tight focus on cost control let the Model T rapidly outstrip its competitors. Two other factors were critical – Ford's location in the US, which was rapidly growing into the world's largest economy, and at a time when petrol costs were falling rapidly. Go forward 110 years, and the equally disruptive Mr Musk with his Tesla is taking advantage of similar favourable factors. Plummeting battery prices mean car users can switch to electricity, which is cheaper, joule for joule, than petrol or diesel. This focus on energy is reflected in the products coming out of Tesla's first two Gigafactories. Located near Reno, Nevada, Gigafactory 1 – in a venture with Japanese electronics firm Panasonic – churns out batteries for cars and homes. Their Gigafactory 2 in Buffalo, New York, produces photovoltaic cells for Tesla's domestic power firm, SolarCity.Advances in information technology mean customers can choose features for their cars without the firm having to sacrifice the advantages of mass-production – the term "mass customisation" comes to mind. China is now the world's largest market for all vehicles as well as electric ones. Just as Detroit, Michigan – in the heartland of a newly industrialising North America – was the perfect site to start Model T production more than a century ago, so Shanghai is likely to prove ideal for Tesla – hence the siting of Gigafactory 3.
Tariffs Fall Away
A blog on the Teslarati information site reports that the Model 3 configurator in China reflects the vehicle's updated prices – which were released after the State Council Customs Tariff Commission announced it was suspending the extra 25% tariffs it placed on cars and parts imported from the US. The Model 3 Performance sells for 560,000 yuan (about US$81,000). The Long Range AWD variant sells for 499,000 yuan.Both Mainland China's government and the administration of the Hong Kong Special Administrative Region have made innovation and technology key growth areas for the country and the city. The Hong Kong Trade Development Council has several programmes to nurture innovation, such as Start-up Express and the International ICT Expo.
Related Link
Tesla