Start-ups work from the ground up and even if they have sound investor backing, they are bound to suffer hard times before tasting success. Lecker Labs set out to create Yomee – a machine that fully automates the yoghurt-making process – and managed to raise US$300,000 (HK$2.4 million) on two crowdfunding platforms. Another achievement for Yomee is that it is one of the 10 winning entries in a competition run as part of the Hong Kong Trade Development Council's (HKTDC) Start-up Express incubation programme last year. Notwithstanding these successes, Lecker has suffered five major setbacks in the past two and a half years.
Healthy Motivator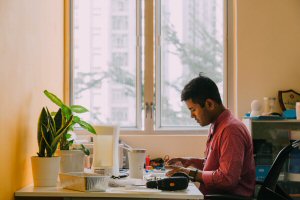 Driven by a desire for healthy living, the founder and CEO of Lecker Labs Ltd Ashok Jaiswal is dedicated to ensuring householders will be able to make yoghurt at home, as easily as they can brew their own coffee."The yoghurt I bought did not keep and had too much sugar. Three years ago, when my daughter was two, she wanted to eat fresh yoghurt, but at home, making yoghurt was more time-consuming than I anticipated," Mr Jaiswal said.He explained that to make yoghurt, he first had to heat milk, then let it cool, then add milk to dilute and stir. After that the mixture needed to ferment and then be kept cold. But the process is difficult to carry out.Indian-born Mr Jaiswal started out as a software engineer and took the MBA programme at the Hong Kong University of Science and Technology. After graduating, he joined Goldman Sachs as a technology-stock analyst."At the end of 2015, I had the idea of making a home-yoghurt machine." Mr Jaiswal said he did not know anything about product design and production but did want to succeed in bringing his idea to life.His original concept was a three-step machine. The user would just pour in milk, add the yoghurt culture pod (similar to a coffee capsule) then use a phone app to select the desired yoghurt type – with Greek style, traditional taste or smoothie options. After the user presses "start", the machine boils and stirs the milk for 15 minutes then ferments it so yoghurt is formed and finally cools the result to 10C in order to preserve. After about six hours, users could add fresh fruit according to their own taste and enjoy the yoghurt.
No Shortcuts to Success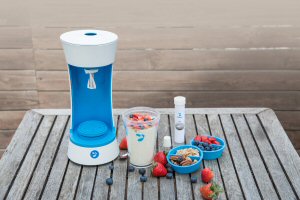 Mr Jaiswal said the concept drew wide support from investors since health is a hot topic. In August 2017, crowdfunding platforms Indiegogo and Kickstarter raised more than US$180,000 and US$130,000 respectively. Lecker also won several start-up awards, one of which brought in a US$40,000 bonus.However, Mr Jaiswal encountered many obstacles before he could turn the concept into a machine – especially the most critical steps, heating and cooling the milk."I don't know how to manufacture a product. I have to hire a product engineer to help me, but Yomee is not just a machine. There is a yoghurt culture behind it," he said. The consultant approached the problem from an engineer's perspective. In two and a half years they produced 16 prototypes at a cost of nearly HK$8 million but still could not put any into production. They even had to delay the delivery date for those supporting them through purchasing Yomee on the crowdfunding platform. Mr Jaiswal then decided to learn by doing, even sleeping in the office. He flew to New Zealand, the United States, Singapore, India and other countries to find partners. Finally, in November, they successfully created the Yomee Prototype."For start-ups, finding the right talent is the biggest challenge," he said. As long as the concept is good, raising funds is not too difficult. However, entrepreneurs need to report back to their backers about the difficulties encountered, the progress of the manufacturing, and the date of delivery.
Eco-friendly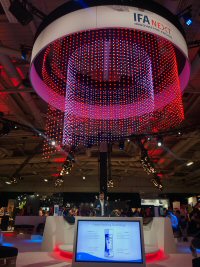 After all the hardships, Mr Jaiswal flew to New Zealand again. "In response to environmental protection concerns, Yomee's pod is made from natural, fully decomposable materials and is produced in New Zealand." The country's yoghurts are famous and meet US Food and Drug Administration standards. The Yomee team is global, he said. The chefs who develop the pods, including the packaging and research and develop formulae are in Vancouver, Canada. Information technology support is in Singapore and India, and mass production in Mainland China. Investors are concentrated in the United States.Mr Jaiswal admits that being a start-ups is not easy. Entrepreneurs must be courageous and adventurous and must actively seek exposure, including through participation in start-up competitions. As one of the 10 winning start-ups in the final contest of the HKTDC's "Start-up Express" incubation programme, he is entitled to participate, free of charge, in a series of major local and overseas activities worth about HK$160,000 (US$20,513) in promotion resources. These include an exhibition in Las Vegas in January 2019. Mr Jaiswal is also preparing to launch a second round of fundraising, hoping to raise US$2.5 million to begin machine production at Yomee. In the first phase, Lecker will produce 5,000 Yomee automatic yoghurt machines.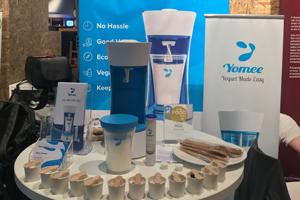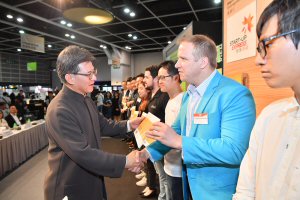 Start-ups in Hong Kong receive plenty of support from the public sector. The HKTDC, for example, provides them with platforms through which they can access potential business contacts and partners, as well as market information. Apart from the Start-up Express programme, relevant initiatives include Entrepreneur Day, the HKTDC SmartBiz Expo and Startup zones at various trade fairs.
Related Link
Yomee on Kickstarter