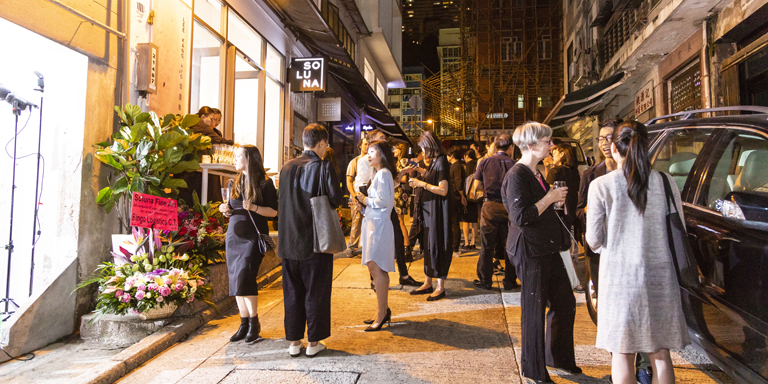 https://hkmb.hktdc.com/en/1X0AFKXF
Korean Art Finds Home in City
Hong Kong's art scene continues to diversify as Korean gallery Soluna Fine Art opens in Sheung Wan.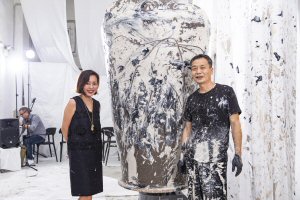 The profile of Korean art in Hong Kong received a boost when Soluna Fine Art, a Korean-based gallery specialising in Asian contemporary fine art and objects, chose the city as its first permanent international outpost. With a mission to present Asian traditional values through a contemporary interpretation, gallery founder Rachel Lee said: "Hong Kong's art market has grown significantly over the last decade, but there is room for a more diversified art ecology. As an international gallery, we are committed to engaging the public and bringing different aspects of the Asian contemporary art world to the Hong Kong audience."

The gallery opened in October with an "action painting" performance by Lee Kang-hyo, a contemporary artist and master of traditional Korean earthenware who used a ceramic jar as his canvas. His work is exhibited at the gallery until 15 Nov.

Why did you decide to open Soluna's first international outpost in Hong Kong?
My family and I have travelled a lot and have seen what the contemporary art scene is like in many other countries, but we are always drawn back to Hong Kong. We admire the cultural diversity here and see the potential – and room – for Soluna's growth. It provides us a great platform to exchange ideas with our artists, colleagues, friends and any art enthusiasts.

Korean artist Mr Lee performed his "action painting" at the gallery on the opening night in October. How was that received?
The performance was a crucial part of the exhibition. We attracted more than 250 people from Hong Kong and overseas to witness this important moment that marks a new phase for Soluna, as well as the Hong Kong art scene.

We are only two weeks into the exhibition and we've already received a great amount of positive feedback from local artists, collectors and our colleagues. There are still people from overseas coming to see Mr Lee's extraordinary masterpieces.

How does the contemporary art scene in Hong Kong differ to that in Korea?
Korean contemporary art was built on a solid foundation of Korean local artists, galleries, art critics and other art professionals. Korea has a supressed history and art was the only way for the people to express themselves. When modernisation started happening, there was already an existing community for artists and a rich history of Korean art. The country has been very supportive and encouraging of its own artists and art community since.

In comparison, the Hong Kong art scene engages not only the local artists and galleries, but also key players on the international art stage. Its diversity and potential attract a lot of investors and established figures worldwide to participate.

Will there be much synergy and cross-collaboration between the two galleries or will they be separate entities?
Our teams in Hong Kong and South Korea work tightly together on a daily basis, even though the two galleries are different in nature. At the moment, our Korean branch focuses on private clients and objects, while the Hong Kong gallery focuses on curated exhibitions and fine art.

What were some of the difficulties you encountered setting up the gallery?
When starting a new business, talent acquisition is the biggest challenge, and I believe that people are the real key to success. It took us a long time – and some luck – to form the team we have now. The biggest challenge in Hong Kong particularly is finding a suitable space that is sustainable for us. Our first [non-permanent] Hong Kong location was at Wong Chuk Hang and the search for our current space in Sheung Wan took about a year.

Which art galleries do you like in Hong Kong and why?
Good art is always inspiring no matter which gallery you display at. That being said, I think each gallery has its own aesthetic and curatorial strategy. We are all different but have the same appreciation for creativity and goal to promote art in all forms.

What other exhibitions do you have planned in the next six to 12 months and what special events will you be holding to promote them?
The first artist we will showcase after Mr Lee is painter Park Yoon-kyung, whose paintings and installations in vibrant colours interact with the audience and the exhibition space. We plan to start bringing in local artists from Hong Kong and other parts of Asia in the near future.

Will you exhibit at Hong Kong's major art fairs, or become involved in other local art events?
We have just participated in Fine Art Asia in early October and will be participating in Hong Kong Art Week and Art Central next year. Our goal is to promote Asian contemporary values and being active in the local art scene is part of the process. In the long run, we aim to further establish our presence in Asia and participate in prestigious events such as Art Basel.
Related Link
Soluna Fine Art